* I gasped aloud when I read this: Harvey Pekar died of an accidental overdose of prescription antidepressants. That's just awful. It was sad enough when you just thought, "Oh, okay, he was getting on in years I guess," but he clearly had so much work and advocacy left in him that to lose him prematurely (even at 70 years old) is really rotten.
*
"Can anyone tell me anything about this Hellraiser movie that doesn't have Doug Bradley as Pinhead in it? I haven't even been sent a script. But I suppose I'm irrelevant now....So this movie exists. It's finished? Well, for a title I suggest: HELLRAISER : FUCKED."
--
Clive
Barker
on
Twitter
, responding to that quickie Hellraiser sequel They're crapping out to hang on to the rights so they can do a remake rumored to be PG-13--which fact Clive's
either--but now
apparently to be done by the My Bloody Valentine 3D team of Patrick Lussier and Todd Farmer
. So it's still going to stink and have nothing to do with what made
Hellraiser
so striking and subversive, in other words, even if there's gore and tits now.
* Comics sales have tanked. Alan Moore's curses must be working! Anyway, get ready for the great contraction.
* Not soon after Peter Jackson and company started making noise that The Hobbit was leaving New Zealand due to labor disputes, those labor disputes were resolved. Funny how that works, innit?
* The Great Slasher Research Project of '10 has completed its first stage! Click the link to see the ten criteria that define the subgenre. I'm already struck by what's missing and what movies would already be ruled out.
* A live-action/CGI Pluto: Urasawa X Tezuka movie? That could be pretty great, actually.
* Closed Caption Comics #9 is coming out this December. Please support your friendly neighborhood ADD guestbloggers!
* I'll never get tired of listening to Grant Morrison talk about Batman.
* Elfworld: The Series! As an Elfworld alum I'm happy about this even if it's the first I'm hearing of it. (Via Tom Spurgeon.)
* Wait--They're making a Bourne movie with Bourne in the title but without Bourne in it? That is the weirdest thing I've heard in a long time.
* Real Life Horror: The Republican Party's repeated intimations of militarization have disturbing implications.
* Here are the details on Robyn's Body Talk Pt. 3, which is basically a compilation of five tracks each from Pts. 1 & 2 plus five new tracks. I'd have swapped out "Dancehall Queen" for "Cry When You Get Older," but oh well.
* Pretty Hate Machine 33 1/3 book? Sure, I'll eat it.
* Nerd pandering initiated...nerd pandering enormously successful!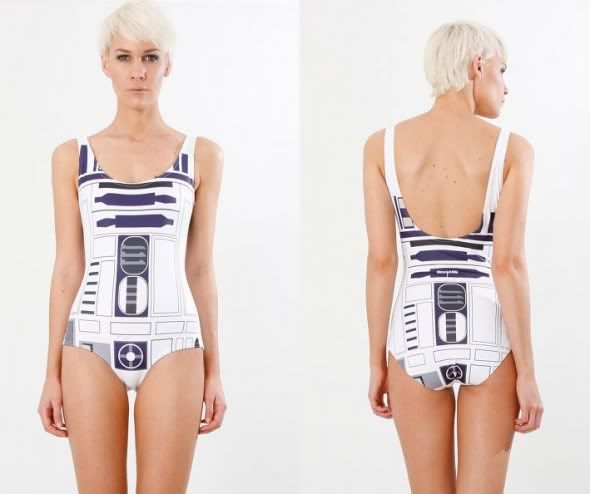 While we're on the subject of Sexy Star Wars, however, I want to take a moment to say something I've been stewing on for a few years now: "Slave Leia." Look, obviously Princess Leia's get-up in Jabba's palace is the hottest thing in human history. No one's disputing that. But for years, when I thought about it, which was often, I thought of it as "Princess Leia's metal bikini" or "Princess Leia's gold bikini" or something like that. The notion that she was a "slave" never entered into it. A prisoner, sure, but a slave? And then sexing up the slave aspect by making it the name of that awesome outfit? There's always been something creepy about that to me. Please allow me to enjoy the image that made me a man without bringing dubious gender-relational issues into it. Metal Bikini Forever!