* Hearing Grant Morrison say "I don't want to get in a fight with Alan" = :( :( :( for ol' STC. Oh well. There's still much to ponder in the linked-to interview with Morrison by Comics Alliance's Laura Hudson, specifically on Pax Americana, Morrison and Frank Quitely's upcoming riff on Watchmen, but also plenty of Batman stuff. (Via Kevin Melrose.)
* Related: Douglas Wolk interviews the underrated Bat-artist Tony Daniel.
* Charles Burns plus Tintin equals...I don't know what, not yet, actually. But Alex Dueben's interview with Burns about X'ed Out has me excited to find out.
* Chris Butcher gently but completely eviscerates the New York Comic Con.
* A tale of two Thor comics: Tom Spurgeon (mostly) praises Roger Langridge and Chris Samnee's Thor: The Mighty Avenger, while Tim O'Neil buries Matt Fraction and Pasqual Ferry's Thor.
* Visual proof of the existence of Boy's Club 4. Wait, is that a new character?!?!?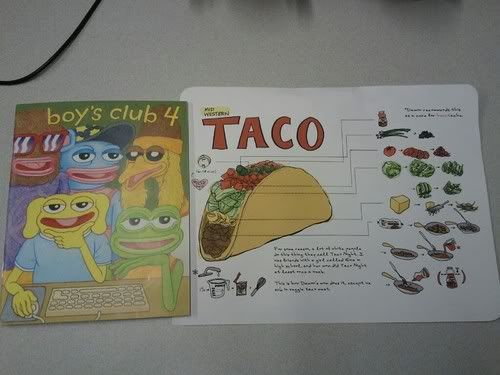 * Matt Maxwell isn't going to make any more comics for the foreseeable future. Bummer.
* Have I heard of this movie Pin before? I have, haven't I? Sounds like I ought to have, at least.
* Just a very nice piece of art by Hans Rickheit.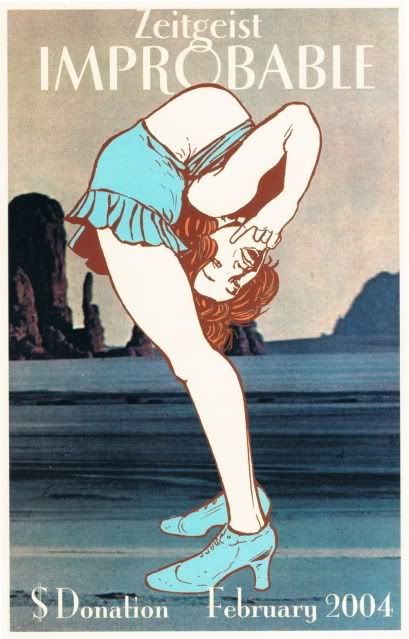 * Ron Rege Jr.'s Yeast Hoist #5, now online for your reading pleasure.
* Garbageman is a terrific name for a superhero.
* Maybe They're going to make the Hellraiser remake teen-centric. That would be awesome if they had the guts to position it somewhere between Gossip Girl and Larry Clark, but I'm guessing they don't.
* I may need to retract everything I've ever said about scorched-earth snarky critics now that I've read the insults in this column from Charlie Brooker, a TV writer for the Guardian who's calling it quits because he's sick of being a professional asshole. Holy god, they are so good.
The moment anyone appeared on screen, I struggled to find a nice way to describe their physical appearance. David Dickinson was "an ageing Thundercat"; Alan Titchmarsh resembled "something looming unexpectedly at a porthole in a Captain Nemo movie"; Nigel Lythgoe was "Eric Idle watching a dog drown". I called Alan Sugar "Mrs Tiggywinkle" and said he reminded me of "a water buffalo straining to shit in a lake". What a bastard. And I'm no oil painting myself, unless the painting in question depicts a heartbroken carnival mask hurriedly moulded from surgically extracted stomach fat and stretched across a damaged, despondent hubcap. I think that constitutes some form of justification.
I laughed for five solid minutes when I first read these last night, then I had to hide in the bathroom at work to crack up when I thought of them again this morning. "Eric Idle watching a dog drown," "something looming unexpectedly at a porthole in a Captain Nemo movie"--
holy shit.
Oh my god more, and this is so funny if you've ever seen Jamie Cullum:
"Cullum should be sealed inside a barrel and kicked into the ocean," I declared, before going on to label him "an oily, sickening worm-boy...if I ever have to see this gurning little maggot clicking into faux reverie mode again -- rising from his seat to jazz-slap the top of his piano wearing a fake-groove expression on his piggish little face -- if I have to witness that one more time I'm going to rise up and kill absolutely everybody in the world, starting with him and ending with me."
Great, now I'm cracking up on the train. "Starting with him and ending with me." LOLOLOLOLOL (Via
Andrew Sulliericidlewatchingadogdrownohmygodthatissofunny
)
* Finally, it's Last Call for The Great Slasher Research Project of '10. Submit your definition of the Slasher Film today!