* Over at Robot 6 today, I've got a big ol' interview with Fantagraphics' Eric Reynolds on the occasion of Mome's 20th volume and 5th anniversary. I've really enjoyed following Mome through the years; it seems like precisely the sort of regularly scheduled, meaty anthology people would be calling for if it didn't already exist. Sure, there have been a lot of duds in there, but it's also published some absolute monsters: Tim Hensley, Anders Nilsen, David B., John Hankiewicz, Josh Simmons, Kiloffer, my single favorite Jeffrey Brown comic, Al Columbia, Eleanor Davis...
* Wow, does this ever look good: Destroy All Movies!!!: The Complete Guide to Punks on Film, coming soon from Fantagraphics. Somehow this book completely evaded my radar, which is unforgivable of me. A flip through the Flickr gallery alone yielded the guy who flips Spock the bird on the bus in Star Trek IV, the surf punks from Back to the Beach, and of course The Road Warrior, which means this could not be more up my alley. I am absolutely fascinated by how punk was somehow most frequently depicted as a post-apocalyptic gang/tribe. Why the hell should that be?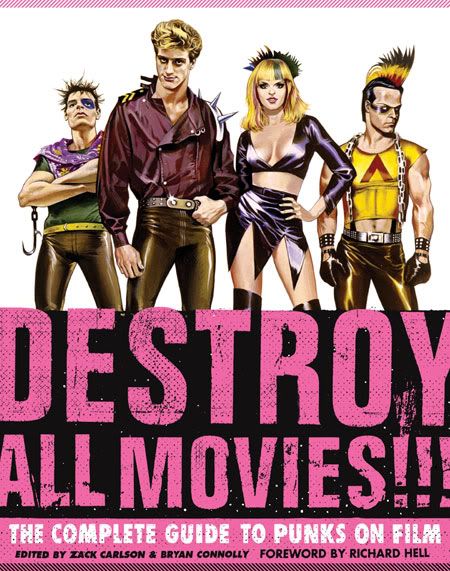 * Speaking of, sort of: Powr Mastrs 3 is almost here!
* Dan DiDio and Jim Lee talk to CBR's Kiel Phegley about DC's price drop. I was struck by Lee's argument that no one's losing work because if you can do 22 pages a month instead of 20 (which is what issues will now run), that means you can do 13 books a year instead of 12. I was also struck by DiDio's characterization of comics as a weekly experience as opposed to one best experienced a trade paperback at a time.
* Meanwhile, Chris Butcher weighs in on the price drop.
* The great World of Warcraft blogger Bruce Baugh is back at it. This time, in anticipation of the big "Cataclysm" thingamajig that I understand will literally remake the map of Warcraft's World, he's putting together a series of videos that take us on a guided tour of some of the WoW places and things that have most impressed and entertained him. I really like this description of WoW maker Blizzard's worldbuilding style: "I once read a comparison to really good mainstream rock and pop acts, and that seems to me right on -- it's about combining the available material and spinning it just right, each time."
* I've barely ever played this (because I always sucked at video games and lacked the patience to get better) but even I'm excited by the news that the classic Konami X-Men beat-'em-up arcade game will soon be ported to XBoxes and PlayStations. That thing really was the star attraction of any arcade it was at. (Via Chris Conroy.)
* This little Jim Fusili Wall Street Journal profile of Trent Reznor and Atticus Ross's score for The Social Network really gets at what the music Reznor has made in this vein is about. "Or, as Mr. Reznor describes it, 'The piece communicates tension, vulnerability, sadness and something unpleasant.'" (Via Whitney Matheson.)
* My chums at Found Item Clothing, makers of the best movie t-shirts I've ever seen, present their annual Halloween Costume Guide. I don't know if I ever realized how glorious Edgar Frog's t-shirt from The Lost Boys is. Look at this thing! It doesn't make any sense at all...and yet I agree with every word.