* Another big big day on Robot 6...
* Both DC and Marvel are reducing prices on their comics. DC is scrapping the $3.99 price point for ongoing series in favor of $2.99, and dropping page counts as well to a 20-story-page standard. Marvel hasn't made their plans clear but they're working on it, I guess. In both cases the changes will take effect in January. I'm glad to see both publishers basically say "We tried something, it didn't work, so now we're gonna do something else"--I think that $3.99 price point on all the most popular titles was absolutely murdering the midlist, and not doing wonders for the most popular titles either. Of course, reducing content means reducing creator income.
* Fantagraphics is having a 20% off/free shipping on everything sale, as long as you can wait till October 20th for your order to be shipped. Worth the wait.
* New Hellboy and B.P.R.D. miniseries are launching in January.
* Hellen Jo has joined Jordan Crane's webcomics portal What Things Do by posting Jin & Jam #1 in its entirety. This site, man, I'm tellin' you.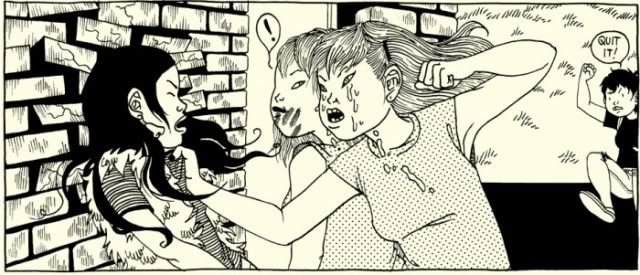 * Scott Pilgrim vs. the X-Men! Well, he already fought Captain America and Superman, so why not.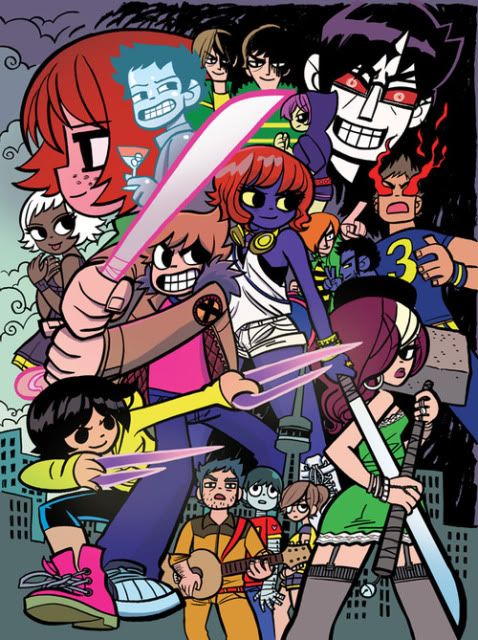 * Today's must-read: Curt Purcell on Al Columbia's Pim & Francie: Golden Bear Days, which got my vote for Best Comic of 2009 if you recall. Money quote: "Honestly, as I closed the book upon finishing it, I almost regretted having exposed myself to it, and I've since experienced some intrusive thoughts of unwanted imagery from its pages." Yes.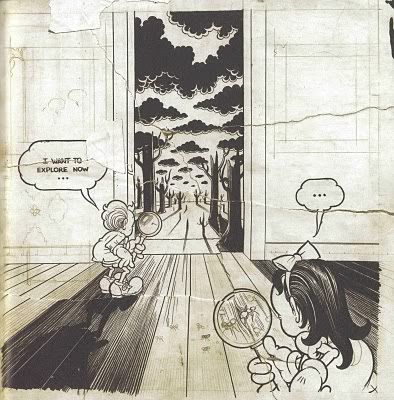 * Aw man, I screwed up the link to CRwM's very awesome Great Slasher Research Project. That's the right link--please go visit and put your two cents in. My take so far is that people are painting with too fine a brush, although now I also see flaws in my own suggested definition.
* Without linking to anything in particular, I just wanna point out that Alan David Doane and Christopher Allen have relaunched Trouble with Comics and it's been rock-solid so far: Linkblogging, reviews, interviews, commentary, minimal invective. ADD relaunches his blog almost as frequently as Marvel relaunches its Hercules comics, but I hope this version sticks. It looks nice, too.
* Stalwart HBO-drama director Tim Van Patten, late of Boardwalk Empire and best known for The Sopranos, will be working on Game of Thrones. That's very good news.
* Lately my pal Rob Bricken of Topless Robot has been on a "my sentiments exactly" tip with regards to nerd news of note. Here he is on Zack Snyder directing Superman:
At least -- and I mean at least -- with Snyder directing, I can take solace that in this movie Superman will probably fucking punch somebody.
And
here he is on the triumph of James Cameron and Avatar
:
Look, I know that pretty much none of us give a shit about Avatar any more, if we ever did. But every time this movie gets brought up, it makes me more and more upset. Seriously. It's the #1 movie in the world, and the #1 Blu-ray. And yet it's not very good. Oh, I still think the 3-D was impressive and worth seeing in theaters, but buying it on home video? Watching it again without 3-D? Or hell, watching it again in 3-D in the theaters? I just can't fathom who would want to do that or why. I feel like I've woken up in a parallel universe where everything's the same except an exceedingly mediocre, albeit expensive, film is the most popular movie in the world. I do not understand.
Nerd bafflement is vastly preferable to nerd rage, don't you think?
* Real Life Horror #1: I'm not sure which side--the ones who concocted the stupid thing or the people who got really upset that other people would sink so low as to concoct it--Nate Silver was picking on when he tweeted about how the "ground zero mosque" has disappeared from the news and thus it might be time to "start making fun of those who called it a 'game-changing issue,'" but my first thought was that "it sure changed the game for Muslim-Americans," and sure enough.
* Real Life Horror #2: Here's a solid post by Daniel Larison on the egregiousness of the Obama Administration's extra-legal American-citizen assassination program. Or murder, if you prefer. (Via Glenn Greenwald.)
* Now here's a great idea for a comic: A period piece about three junior high kids roaming around town one night trying to rent a copy of Dead Alive before the video store closes. Make it high school instead of junior high and I have been that kid. Cartoonist Brent Schoonover, creator of The Midnight March, if you're listening, please get in touch so I can read this thing!