* These long weekends have been bizarrely link-rich as of late, so rather than make this evening's regularly scheduled Carnival more like a Disney Theme Park, I figured I'd throw an A.M. edition together. Great day in the morning!
* I did keep busy over the weekend--be sure to check out my list of 80 Great Tracks from the 1990s That Aren't on Pitchfork's Top 200 Tracks of the 1990s List.
* Well I'll be a monkey's uncle: Robin Hardy's The Wicker Tree, the...thematic sequel, I guess? to his '70s horror masterpiece The Wicker Man, is actually happening, and this teaser trailer is the proof. Nearly impossible to say for sure with a few lines of dialogue and five seconds of footage, but dare I say it actually seems good? (Via Bloody Disgusting.)
* whoa: "Right Thing the Wrong Way: The Story of Highwater Books", an art show based on Tom Devlin's late great publishing imprint and featuring work by Jeff Zekaj, Megan Kelso, Brian Ralph, Ron Rege Jr., Marc Bell, Greg Cook, Jordan Crane, and Kurt Wolfgang, coming soon to Boston's Fourth Wall Project. I'm actually tempted to drive up there for this.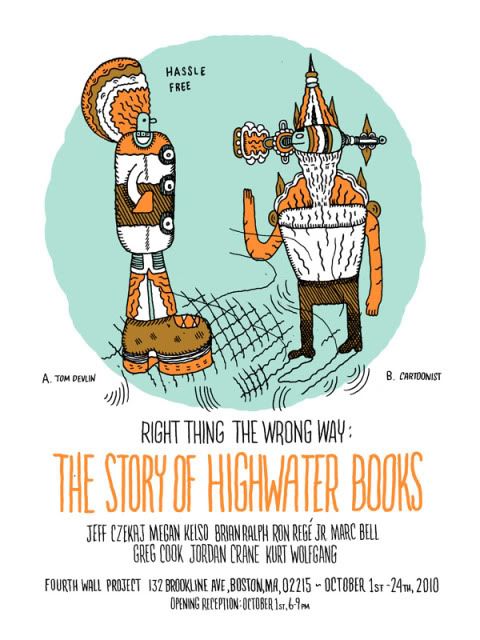 * Brian Chippendale's If 'n Oof is almost here!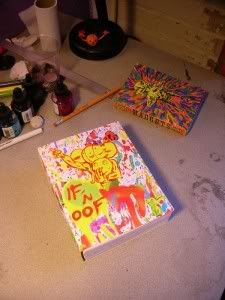 * Recently on Robot 6: Ron Rege Jr.'s Yeast Hoist now available in convenient webcomic and beer formats;
* Chris Arrant talks to Paul Pope about THB and Battling Boy--one thing I like a lot about Paul is how candid he is regarding behind-the-scenes goings-on;
*and Chris Arrant also notes delays in Grant Morrison's work for DC. It has to be a concern for the publisher that, for all intents and purposes, two guys drive their entire line. I'd be more worried about any hiccups in Geoff Johns's schedule, given just how much of the line he holds down singlehandedly, how much the rest of the line revolves around the stories and events he cooks up, and the fact that he just got a major desk-job promotion that surely takes time away from his comics writing.
* Ooh, I really like the looks of this new stuff from the great John Hankiewicz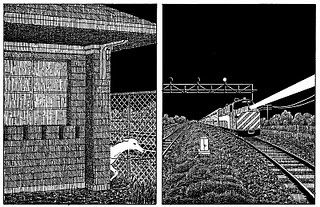 * Christ Almighty, Josh Simmons.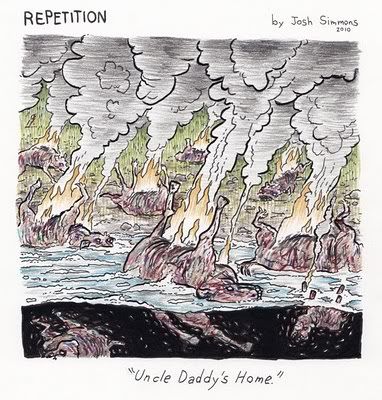 * Oh dear, I don't much like the looks of this drawing called "meeting" by Renee French. Who or what is meeting who or what?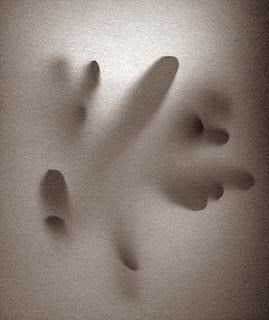 * Either it has disappeared from his blog or I bookmarked a bogus link, but regardless, a young Jason drew U2;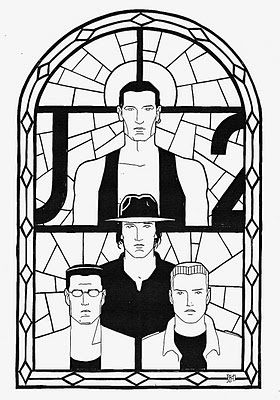 * Frank Santoro muses at length on inking and coloring in comics, and asks why the former is necessarily the basic stuff of drawing comics as opposed to the latter. He also posts some lovely looking work by Manuele Fior.
* Ben Morse of The Cool Kids Table takes a whack at my personal comics pinata: '90s mutatnts with vague energy powers. I don't think I realized just how vague they got--like, to the point of going for a year or two without even being introduced or explained--until I read Ben's piece. "[Cable's] powers would be incorporated into the character in a major way as time went on, but if you had said he was a super-fast typer or something, it wouldn't have changed his first two dozen appearances."
* I've been watching The Young & the Restless lately, and I'm so hugely thrilled by the density and byzantine complexity of the relationship drama on that show I can hardly tell you. To me it's delivering in practice what serialized comic books are supposed to be delivering in theory. With that in mind I endorse Douglas Wolk's call for more weekly comics, but without a lot of optimism. Of the bonafide weekly comics we've seen over the past several years, two have been among the worst comics I've ever read, and moreover I just don't know if they'll ever contain anything nearly as entertaining as Victor Newman.
* Over the weekend I saw several people on Tumblr lose they shit over this four-part essay on 28 Days Later and the allegorical difference between slow zombies and fast zombies by Christian Thorne. Longtime readers of this blog will be unsurprised to learn that I wasn't quite as impressed, given how ruthlessly allegorical all readings of horror movies by non-aficionados have become and how inured (if not actively hostile) I am to them. Like most such readings, Thorne's overreaches in some areas and elides complicating details in others. Meanwhile, the prestige of his trick here, in terms of the complexity of 28 Days Later, is sort of no-duh stuff if you ask me--certainly if you've ever seen any of the countless films well and truly referenced by the ending of that film, not to mention the similar audience-sympathy shenanigans of The Wicker Man. But I still think it's worth your time, if only because, for me at least, the fast zombie is the enduring stuff of nightmares. Seriously, I had one this weekend! The more information I can get on why they bother me so much, the better, even if I'm reasonably sure it has nothing to do with a craving for the Strong Leader. (Given my history you don't need to look as far afield as my affection for Zack Snyder's Dawn of the Dead remake for evidence of that!) (Via Mike Barthel, among others.)
* Andy Khouri has been creating cool little grids of album art for various astutely art-directed artists' complete works. Here's New Order, and here's Bjork, and I'm told there are more to come. I saw this done with the Smiths and Morrissey once; talk about a guy with a well-formed aesthetic.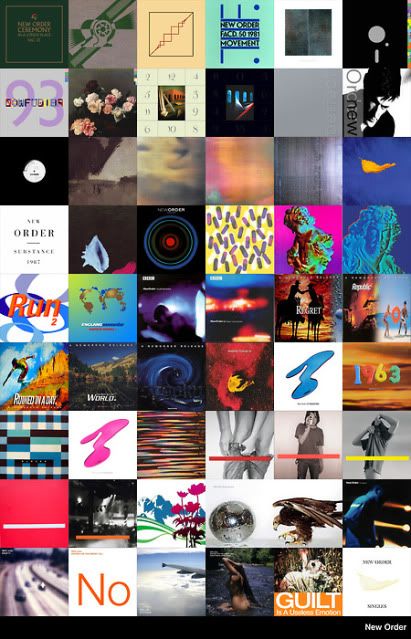 * Finally, Rob McMonigal reviews seven Matt Wiegle minicomics, including my own collaboration with Matt (and Matt Rota and Josiah Leighton), Murder. He says nice things, which will help me get through the day.