* Your must-read of the day: Peggy Burns on Tom Devlin and Highwater Books. Yes, they're married, and no, that doesn't matter to this essay at all. Peggy writes convincingly of Highwater as comics' introduction to the sensibilities of emo and twee indie rock, not only in aesthetic terms but as a whole business and philosophical mindset:
I think, however, what affected Highwater's sensibility most is that Tom was the first comics publisher to directly come out of the zine/minicomic/indie-rock generation, rather than before it, like Fantagraphics, or alongside it, like D+Q. With that DIY ethos in mind, during its existence, Highwater did more with less.
She also gets points for referring to Highwater's Free Comic Book Day giveaway as their bestselling title. The fact that I wouldn't be where I am today if not for the existence of Highwater is an exceedingly minor entry on the list of its legacies, but it's true. (Peggy played a pretty big role too, come to mention it.)
* Major layoffs at Vertigo. I don't really know Joan Hilty or Jonathan Vankin, but I've done some freelance jobs related to several of Pornsak Pichetshote's books and he strikes me as a guy with an editorial viewpoint worth watching. In general I just don't like layoffs, especially not now and not in this business and not now in this business. I hope the people involved, and also anyone in similar circumstances whose departures aren't seen as newsworthy, do well for themselves very soon.
* Rest in peace, Arthur Penn. One of my all-time favorite drug experiences was seeing Little Big Man while cataclysmically baked, a recipe for a memorable movie-watching experience if ever there was one. Every single wild tonal shift hit me like a really fast turn on the Cyclone.
* Paul Cornell is pitting Lex Luthor against Darkseid and Ra's al-Ghul in an Action Comics annual? I did not know that. Count me among the mid-five-digit number of people who get quite excited about things like that. Also, after the Lex story is over, he's allowed to write Superman!
* DC is publishing a Geoff Johns Flash omnibus. I'm glad about this for a couple reasons. First, I like Johns's stuff and that's a run I've been wanting to check out for ages; it seems like it could contain the seeds of the style that first made Johns click with me on his Green Lantern and Action Comics runs. Second, I think it's good for publishers to put creators first and foremost and package runs of comics accordingly, especially given the dizzying profusion of similarly titled titles out there.
* Filing this away for later #1: Jeet Heer on Love & Rockets: New Stories #3. Can someone tell me if I need to be totally caught up on the Locas-verse to get "Browntown"? Please tell me NOTHING ELSE ABOUT THE STORY BUT THAT, if you would.
* Filing this away for later #2: Jason Adams on Monsters, the latest first-person horror jam.
* Interesting: A recap page done in comics format, assembled from previously seen panels. Also: an excuse to run Gabriel Hardman/Bettie Breitweiser Hulk art. (Via Agent M.)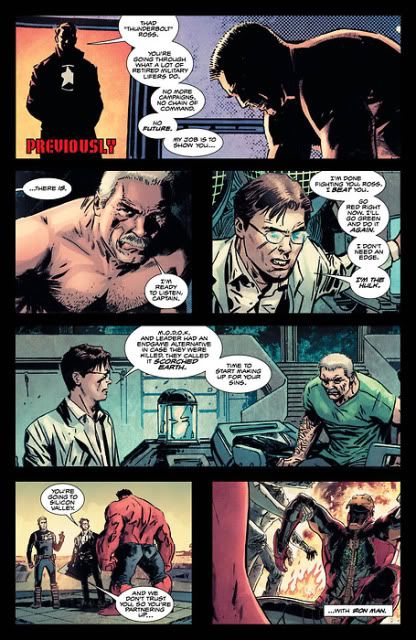 * Today was a good day to like David Bowie, thanks to the recent release of a deluxe edition of Station to Station. Here's Stuart Berman reviewing the set for Pitchfork; here's Matthew Perpetua reviewing "TVC-15"; and here's Perpetua wondering aloud if Bowie's Klaus Nomi/Joey Arias-abetted performance on SNL was the weirdest in the show's history. You tell me:
* I fully support the new My Chemical Romance song "Na Na Na (Na Na Na Na Na Na Na Na Na)", though I'd like to state for the record that nothing touches "Teenagers." (Via Tom Ewing.)
* Ta-Nehisi Coates reminds us of the Junior M.A.F.I.A./Jeru the Damaja player battle, which is always a good thing. Contra Coates I think "Player's Anthem" remains phenomenal. That Biggie verse (eg. "Big Poppa never softenin' / Take you to the church, rob the preacher for the offerin' / Leave the fucker coughin' up blood and his pockets like rabbit ears / Covet the wife, kleenex for the kids' tears") is one of my favorite verses by anyone on anything ever.

Junior mafia - player's anthem
Uploaded by dougpark17. - Watch more music videos, in HD!
* Happy blogiversary, The Cool Kids Table! Maybe Kevin will actually post something during the next two?