* Grant Morrison plays a villain in this video promo for My Chemical Romance's new album Danger Days: The True Lives of the Fabulous Killjoys. Outstanding.
Also, wasn't that, or something like it, the name of the graphic novel MCR frontman Gerard Way was doing with Becky Cloonan? Could this in some way mean Cloonan will eventually end up in Morrison's stable of artists, which I think we can all agree is her rightful place?
* I've got a hunch that many readers of this blog will be intrigued by Baby's in Black: The Story of Astrid Kirchher & Stuart Sutcliffe, an upcoming graphic novel by Arne Bellstorf. More on Facebook. (Via Tom Spurgeon.)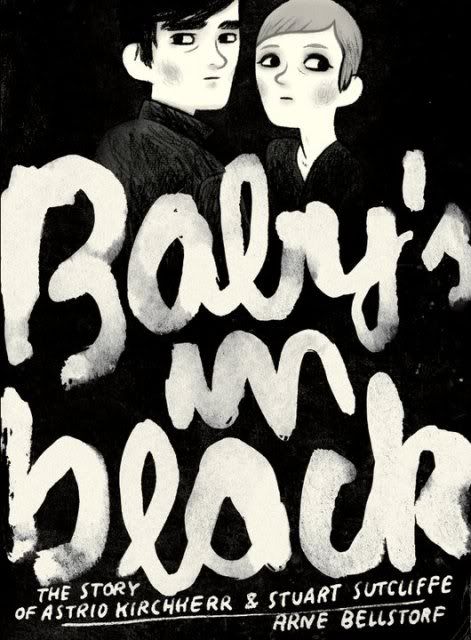 * Here's a provocative post from Frank Santoro on whether the current generation of minicomics makers are falling down on the job. Frank's thesis, with which I don't disagree, is that cartoonists who work in minicomics mostly don't work with the raised bar of previous "generations" of minicomics in mind--each one tends to start with the tabula rasa of plain white pages and builds from there. And that's true--you're not seeing the equivalent of the aesthetic arms race between today's Fantagraphics, Drawn & Quarterly, PictureBox, AdHouse, Top Shelf, and (sniff) Buenaventura to release The Most Beautiful-Looking Graphic Novel of All Time. But I was hashing this out with cartoonist Dustin Harbin on Twitter, and he made me wonder: Should we expect that? I've always seen minicomics, first and foremost, as the pre-Internet era's easiest and cheapest way to publish comics, and the Internet era's easiest and cheapest way to print comics. It's certainly wonderful when cartoonists who are publishing through minicomics experiment with format, printing, and suchlike, but it's pleasant the way gravy on a tofurkey is pleasant. It's gravy, not tofurkey. Now, if Frank's arguing that he's not seeing anything that delivers a knockout blow as comics, rather than something with a super-impressive silkscreened cover, that's a line of argument I'd have an easier time engaging with, pro or con. But I think that as opposed to when Frank was starting out, there simply are a lot more full-fledged alternative-comics publishers around today--Fanta, D&Q, Top Shelf, AdHouse, PictureBox, Sparkplug, Secret Acres, Koyama, until recently Buenaventura and Bodega, even various big NYC prose houses--publishing a lot more comics by a lot more cartoonists and abrogating the need for young-ish cartoonists to keep working on their own. So that's where a lot of that energy went.
* and my pal Ben Morse talks about (among other things) Justice League: Generation Lost, X-Factor, and Thor: The Mighty Avenger for our weekly "What Are You Reading?" feature. There are few writers on superhero comics, and certainly none who are primarily superhero comics readers like Ben is, whom I enjoy reading more than Ben; he just dials right in on what aspects of a given title or character work for him and why.
* Tom Spurgeon asks his readers to name five favorite Fantagraphics comics not written by Charles Schulz, Los Bros, Chris Ware, Dan Clowes or Peter Bagge. The result shows just how deep a bench that publisher can field. Greatest comics publisher of all time.
* On a similar note, my pal Ryan Penagos, aka the redoubtable Agent M, lists his favorite Marvel collections. That publisher put out a lot of quality work over the past ten years, a lot of which you can get your hands on relatively easily, and this is a pretty solid shopping list in that regard.
* Filing this away for later use: Jason Adams on Mark Romanek's Never Let Me Go and Christian eschatology.
* Jim Woodring refers to this image from his upcoming Congress of the Animals as "spectacularly unpleasant goings-on." Yep!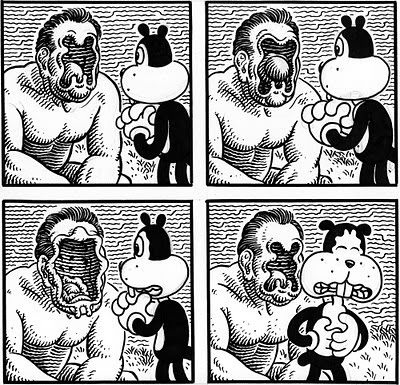 * Speaking of Woodring, it depresses me mightily that his receipt of The Stranger's Genius Award for Literature was controversial because he makes wordless comics. That's like saying Premier isn't a hip-hop artist because he's not an MC.
* Dan Nadel brings us a few tantalizingly tiny images from the Mat Brinkman art show now going on in NYC.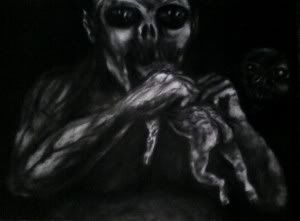 * Jason made homemade bubblegum cards of pop-culture icons. Jason is an international treasure.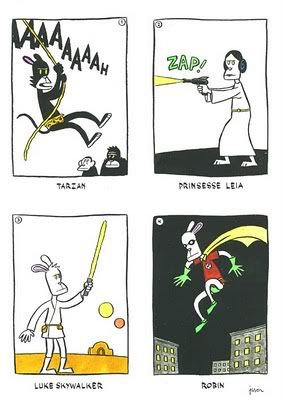 * Closed Caption Comics member and erstwhile Attentiondeficitdisorderly blogger Zach Hazard has a new comic up at Vice. Memo to Nick Gazin: Please set up a comics-only RSS feed for Vice's website.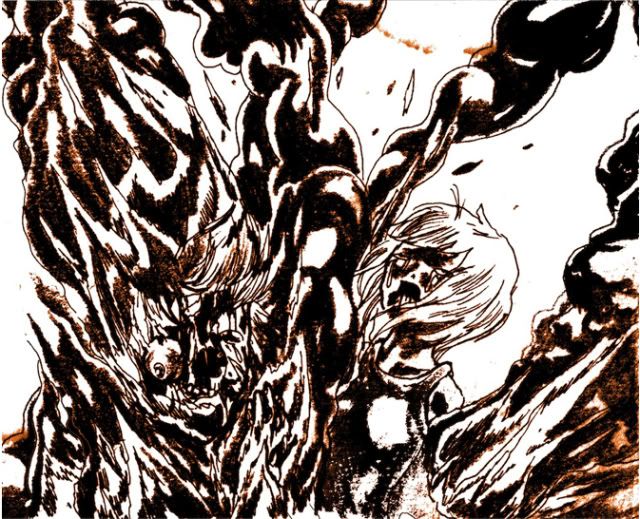 * Not sure whether to file this under Real Life Horror or simply very good writing, but Ta-Nehisi Coates beats the living shit out of The New Republic's bigot-in-chief Marty Peretz and his enablers.
* Photographer Vee Speers' series Immortal combines a couple of my favorite things: apocalyptic imagery and attractive naked people. (Via Andrew Sullivan.)