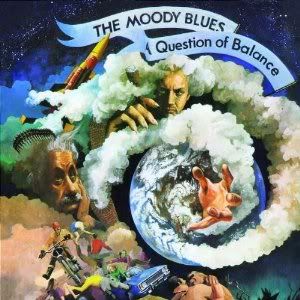 The Moody Blues
"Question"
from A Question of Balance
Threshold, 1970
Buy it from Amazon.com
The Moody Blues are best known for orchestral prog-pop slow burners like "Nights in White Satin," as love-it-or-hate-it an affair as rock's baroque period ever produced. To me that song's a real killer--I dig the application of Lord of the Rings instrumentation and atmosphere to a love song right off the bat, but beyond that there's real pain in the way Justin Hayward holws "Oh, how I love you!" over that barely human-sounding chorus of high keening backing vocals. In other words it's the urgency of the song that sticks with me rather than the quiet groove of it.
That's why I've gotten so into the band's up-tempo singles from its late-'60s/early-'70s peak, "Question" being foremost among them. Lyrically it's a very of-its-time blend of the personal and the political, assembled from two separate unfinished songs "Day in the Life"-style: It kicks off and ends with a breakneck attack of horns and acoustic guitar over which Hayward demands answers for his "thousand million questions about hate and death and war," sandwiching an AM-radio-worthy ballad in which he says "I'm lookin' for someone to change my life." This is a not-uncommon lyrical ploy for songs from that era, I suppose--the Moodies did it again, albeit in a slightly less bifurcated fashion, with "The Story in Your Eyes" the following year. It's the sort of thing that's quite easy to write off as everything wrong with that entire generation, an implicit belief that achieving personal happiness is sufficient answer to the world's ills, but so what? Isn't that as far as most of us are gonna get anyway? I can't find fault with someone for seeking refuge, and there's something so sincere in the way Hayward's quavering tenor expresses both rage and yearning.
But what interests me more about "Question" is the production, and not just how the frantic pace of the opening and closing crashes in and out of the gently strummed central section. For a song that was supposedly recorded live as a band in part as a response to how difficult all their previous material was to play while touring, there's some bonkers production work going on here. In the galloping fast sections, instruments will abruptly fade in and out of the mix, either highlighting or shoring up Hayward's vocals. The acoustic guitar that forms the backbone of the piece sounds like it's being strummed about four inches away from your ear. The drums are absolutely overpowering, at least until they suddenly drop out of the recording altogether--a bassless pounding. The bass guitar is responsible for the melody. There's this huge sinister hum that tracks the "ahhhh-ah-ah-ahhhh" vocals from what sounds like deeper brass instruments but I suppose could be some crazy low-end Mellotron sample. And of course there are the call-to-arms trumpet blasts that really launch the song and also announce the start of its final section. "Question" could have been a fairly straightforward, if compositionally sectionalized, rock song, but the band decided to play with dynamics to a pretty much unnecessary degree. But all great spectacles, of course, are characterized by being unnecessary.