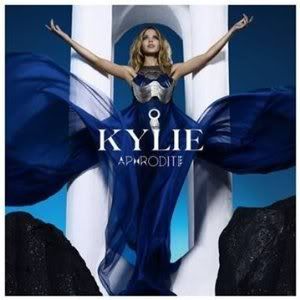 Kylie Minogue
Aphrodite
Capitol, July 2010
Buy it from Amazon.com
"Nice. Nice. Not thrilling...but nice."--Emperor Nero, History of the World Part I
Right around the turn of the millennium, I learned to love pop. David Bowie started it: If there's one thing I learned from my sudden fixation on his chameleonic career, with its endless cycle of absorbing influences, incorporating them into his work, and confidently putting them aside for the latest thing that fascinates him, it's never to feel guilty about pleasure. Electroclash continued it: Now I was learning that the New Wave sounds my Bowie fandom eventually led me to reevaluate and love could still be explored, exploited, and expanded upon by contemporary acts. And when I picked up my copy of Kylie's breakthrough record Fever--the first full-fledged, no-bull pop record I'd gotten since middle school, after years spent reflexively defining myself against the mainstream--my journey was complete.
To be fair, Kylie made it very, very easy. The music she was making on that album really wasn't a world away from either the electroclash that was its contemporary or the "electronica" I'd spent the previous half-decade-plus immersed in. But now all those icy electro elements and thumpy beats were being funneled into pure sexy joyful hookmongering of the most irresistible sort. To call Fever's two astonishing singles "Can't Get You Out of My Head" and "Love at First Sight" Kylie's "One More Time" and "Digital Love" is to pay Daft Punk a compliment as much as the other way around. Perhaps the greatest testament to the strength of Kylie and her collaborators' songcraft on that record is that the two most ubiquitous pop songs of 2010, Ke$ha's "Don't Stop" and Katy Perry's "California Gurls," both crib the pre-chorus melody from "Love at First Sight" for their choruses. Strategically singing "And everything went from wrong to right..." etc. etc. at the appropriate moments in each song is probably the only thing that's kept me from tearing my car radio out with my bare hands over the past couple months.
Since then Kylie's reign as the queen of the sexy, tiny blonde pop princesses to whom rock nerds like me turn when they wanna get down has gone on more or less uninterrupted, cancer, double-live/remix albums, and Robyn notwithstanding. It certainly helped that Fever's follow-up, 2003's Body Language, was arguably even better. A little bit slower, a little bit funkier, a lot more textured, and at times downright odd--I still don't know how to describe the weird, wonderful in-and-out hook of "Still Standing," while I'm reasonably sure "Sweet Music" is a love song about Michael Hutchence's ghost--it shimmered and twitched its way across a variety of pop subgenres but still felt like the unified product of an artist determined to make everything sound interesting. 2007's X wasn't as much of a knockout as its predecessors: You could blame maybe its opening track/lead single, the lackluster Goldfrapp cabaret pastiche "Two Hearts," or maybe the flagrant diminished return to the "Love at First Sight" well that was "Wow," or maybe even the weird sequencing that threw things off toward the end of the record with the Britneyish "Nu-Di-Ty." But even so, there's some real balls-to-the-wall electro-disco going down on there, from the roller-rink glide of "Speakerphone" to the Moroderisms of "The One," and it certainly works as an anthology of ear-catching individual songs.
So what does it say that I had to listen to Aphrodite three, four, five times before it made enough of an impression on me for me to feel up to writing about it at all? Once again you can blame a below-par opening track/lead single, in this case the blandly four-on-the-floor anthem-by-numbers "All the Lovers." The difference here is that that's pretty much the vein the rest of the album proceeds in, even on the level of song titles alone--like, if someone every made a Spinal Tap-style mockumentary about a pop star, you could slip "Put Your Hands Up (If You Feel Love)" into the "Tonight I'm Gonna Rock You Tonight" slot pretty neatly. The beats just sort of plod, rather than bend and twist and bounce, the lyrics are paeans to dancing and loving and loving to dance that feel not universal but merely cliched, the hooks are "Gentleman's C"-level material instead of the A-plus-plus stuff that made past Kylie records an ongoing process of discovery and delight upon first listen. Gone is what always felt to me like a desire to surprise--what you get here, you can see coming. It feels placid in a way that perhaps befits the love-goddess conceit of the title, but which runs counter to the Kylie who used to take the lead even within the confines and constraints of good-time dance music.
Of course, Minogue has too much taste and talent to produce something completely undistinguished. Every once in a while something interesting will shimmer to the surface--the kinkily Bowie-esque line "You see me with him and it's turning you on" in the refreshingly manic "Get Outta My Way"; brief flashes of "Since U Been Gone"-style guitar strumming and a sudden, epic onslaught of floor-to-ceiling afternoon-sun synths in "Cupid Boy"; the "sounds like they're having a good party down the block" quality to the central keyboard hook in "Can't Beat the Feeling." And overall, y'know, it's a Kylie Minogue album--like pizza, sex, and Shakespeare, even when it's bad, it's still pretty good. But for the first time in a long time...well, I'll leave the "the music she was playin' didn't blow my mind"/"it's not love at first listen"/"I can get her out of my head" business to you. I'm too bummed to pun.