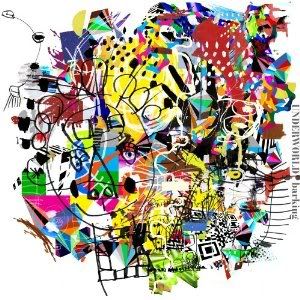 Underworld
"Always Loved a Film"
from Barking
Listen to it on Pete Tong's July 16, 2010 radio show (cue it up to 33:40 or so)
Pre-order it from Amazon.com
Boom-BAP boom-BAP boom-BAP boom-SSSLAP --man, I'm really into this beat, how they drag out and delay that fourth clap. It makes it sound tangible and physical and stretchy, giving the song's bouncy pace a real push and pull. And this is one of the song-iest dance tracks Underworld have done in years: intro, verse, chorus, verse, chorus, bridge, chorus, fade. The song starts by repeating the words "the rhythm" over and over! The bridge features a passionately strummed acoustic guitar and the phrase "And I don't know if I love you more than the way you used to love me"! The chorus is just the repetition of the words "Heaven" and "Can you feel it?"! Certain lyrics rhyme! Perhaps credit goes to the production team of Mark Knight and D. Ramirez, who've previously worked with the band and are among several more straightforward acts drafted to spice up the songs on Underworld's upcoming, collaboration-driven album Barking. But Karl Hyde and Rick Smith have been working together for 30 years, fully a third of which was spent in pop bands, and over the past few years the huge widescreen sound for which they've become known has increasingly incorporated their old tricks--less panoramic, a more concise structure, an emphasis on the immediate oomph of the sounds. There's still a tension between the minor-key music and the heaven-in-a-moment-lyrics, lest you think this is just pandering. But regardless, I'm just as happy to have an Underworld song with a chorus you can sing along to on the first listen as I am to have one made for staring out the window of a train and watching the world blur.