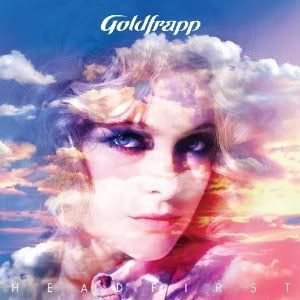 Head First
Goldfrapp
Mute, March 2010
Buy it from Amazon.com
Goldfrapp are forever associated in my mind with the Grand Theft Auto: Vice City soundtrack albums; Head First sounds like it could be one. Though I'd heard of the group during their downtempo Felt Mountain phase--anyone who was ever compared to Portishead was bound to bleep across my radar screen, however fleetingly--the first time they truly entered my consciousness was the spring of 2003, courtesy of their abrupt left turn into electro-glam on Black Cherry. At the time, I was now two and a half years deep into a Velvet Goldmine/David Bowie/Roxy Music-inspired, electroclash-abetted binge on all sorts of music I'd previously rejected as BULLSHIT, from disco to Depeche Mode. I was simultaneously playing the bejesus out of Vice City in both videogame and CD box-set form, to the point where the Pointer Sisters' "Automatic" was my '03 summer jam. Enter Goldfrapp's publicist, who offered me an all expenses paid trip to London to spend several days hanging out with and attending gigs by the band as the basis for a feature in A&F Quarterly, lacrosse-player/Chelsea-Boy clothing retailer Abercrombie & Fitch's "lifestyle publication" (i.e. catalog/magazine/softcore-porn hybrid) and my gig at the time. (Don't laugh. See those interviews with Clive Barker, Frank Miller, Underworld, the Dandy Warhols, Chuck Palahniuk, and Betty friggin' Page in my sidebar? Brought to you by the creators of Hollister!)
Now, because we'd already planned interviews with Goldfrapp's fellow Gorgeous Ladies Of Electro Miss Kittin, Peaches, and Shirley Manson, and because I am very stupid, I turned the offer down. It wasn't until the 2006 release of Supernature that I finally cottoned to Goldfrapp's pitch-perfect blend of like a million things I really love--for pete's sake, they're basically an Age of Apocalypse version of the Glitter Band fronted by a beautiful woman who make sexy horror-tinged videos that raise uncomfortable animal rights issues. But no matter how heavily I got into the high glam of "Ooh La La" or the underrated Sunday-morning-coming-down follow-up album Seventh Tree, for me Goldfrapp are still connected most closely with the months I spent passing up potentially life-changing British bacchanalias and fake-murdering people to the strains of "Self Control" by Laura Branigan.
That connection is likely why I'm not buying the notion that Head First represents a relatively easy and shallow retreat to the Totally '80s for a group who'd previous crafted a more groundbreaking fusion of glamorous pop traditions. Sure, we've had a decade's worth of artists reclaiming and/or rehashing New Wave, post-punk, electro, synthpop and the like. These days, La Roux can become an inescapable New York City radio staple and Christina Aguilera can transform herself into Goldfrapp 2: Electric Boogaloo and hardly anyone bats an eyelash. But on Head First, Goldfrapp proper are mining far less surface-cool, and therefore far less shopworn, source material. They're not making James Murphy's proverbial Yaz record, they're recruiting synth (and emotional) tones from "Jump" and "Jump (For My Love)," from "Physical," from "We Built This City"--such stuff as Vice City's FM radio stations are made of. And they're not cloaking it or commenting on it with the alternately ironic and melancholy haze of chillwave any more than they're falling back on their previous disco-dominatrix poses to make it palatable. No, Head First is utterly naked in its attempt to make bright, happy, confident music from the brightest, happiest, most confident constituent parts it can.
"Rocket," the album's kiss-off kick-off track and lead single, makes the case clearly. Over keyboard stabs so perky and insistent you can all but hear Marconi playing "La Bamba" in the background, Alison Goldfrapp bids farewell to a failed affair by lyrically blasting it into space. "You're never coming back!" she sings, the exclamation point pretty much audible. Even this slight tinge of regret is eschewed entirely by the subsequent two tracks. "I'm a Believer" has a rhythm made for legwarmers to rapidly stomp up and down to, while "Alive" could have been written for "Xanadu"-era Olivia Newton-John. In both cases, the repetitive choruses say everything you need to know: "I'm a believer, I'm a believer, I'm a believer in you now!" "I'm feelin' alive again! Alive again!"
Head First is a short record, and not everything clicks as hard. I tend to find Goldfrapp's slower, more minor-key songs toward the bottom of my iTunes anytime I sort by play count, and "Dreaming" and "Hunt" aren't gonna break that particular curve. Another pair of tracks bucks the record's concept, if you can call it that, in favor of harkening back to past glories: "Shiny and Warm," as you can maybe tell from the title, is a shimmeringly staccato cabaret number in the vein of Supernature's "Satin Chic," while the album's jaunty, piano-driven title track wouldn't have felt out of place with the pastoral Paul-isms of Seventh Tree. (Yes, alas, "Head First" isn't the double entendre that memories of lines like "put your dirty angel face between my legs and knicker lace" from "Twist" had led me to hope for.)
But by album's end the Top 40 transcendentalism is back with a vengeance, and Goldfrapp seems to hunger for a feeling of joy even more intense. There's a bracing desperation in penultimate track "I Wanna Life" and its chanted plea for liberation in the face of "the longest night I've ever known." When the song's melody flips upward in the chorus, something really clicks for me--a sense of the rawness, the yearning for a bigger, brighter, better life, that to me has always lurked beneath the '80s and their neon Nagel-print stereotypes. Put on gaudy enough clothes, consume the things you love conspiculously enough, listen to shiny enough music and perhaps you can usher that life into being through sheer force of will, you know? That's a beautiful notion, I've long thought--beautiful when Bowie and Bolan and Ferry and Eno did it with costumery and three-minute songs for teenagers to neck to, beautiful when everyone from Barry White to Giorgio Moroder wanted people to get dressed up and go out and dance like earthbound angels, beautiful even when drenched in hair spray and shoulder pads and asymmetrical blouses. Indeed, Head First ends with "Voicething," a wordless, pulsing composition constructed from Goldfrapp's unearthly vocals that sounds like what you might hear if you were ever able to poke your head above the skyline and smog of Blade Runner. In other words, it sounds like the album cover looks. The message is clear: That life of beauty beyond this one, that Vice City of the soul, is out there, and if you want it badly enough, it's yours.