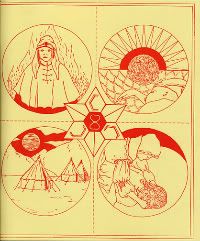 Closed Caption Comics #8
Erin Womack, Pete Razon, Lane Milburn, Zach Hazard, Mollie Goldstrom, Chris Day, Molly O'Connell, Ryan Cecil Smith, Andrew Neyer, Erin Womack, Eric Stiner, Conor Stechschulte, Noel Freibert, writers/artists
Closed Caption Comics, February 2009
80 pages
$8
Buy it from Cinders Gallery
Maybe you can buy it at the Closed Caption Comics blog someplace too, beats me man
This is the kind of comic that makes me excited to be into comics. The eighth installment of the Baltimore-based CCC's flagship anthology resembles nothing so much as a great early Wu-Tang Clan posse cut, with all eleven (!) members contributing powerfully cartooned, hungry-feeling work that's alternately funny, frightening, and fearless. Me being me, I was particularly struck by the issue's sometimes dueling, sometimes intertwining apparent themes of horror and sex. In that regard the standout piece was by Conor Stechschulte, who turns in an absolutely brutal story of a circle-jerk gone horribly awry, augmented by his pitch-perfect evocation of a shadow-soaked suburbia. But on the flipside I laughed hard at the dirty jokes from Zach Hazard and Chris Day, the bathroom humor from Hazard and Andrew Neyer, and the monster-comic goofs of Lane Milburn (impeccably, muscularly drawn as always). Noel Freibert serves up maybe his most left-field EC Comics-inspired story to date, with some genuinely unpleasant and painful imagery; its rawness, ugliness, and reliance on bare, ropey line is like some sort of cross-artist call-and-response to the esoteric, almost mystical loveliness of the images concocted by Erin Womack, or the strange...I wanna say floral body-horror of Molly O'Connell. Eric Stiner channels Tom Gauld, Ryan Cecil Smith channels Brian Ralph channeling Tatsuo Yoshida, Mollie Goldstrom comes across like a maximalist John Hankiewicz, and Pete Razon submits some funny scribbles to round out the package. 80 pages, eight bucks, renewed faith.