* Someone got stabbed in the eye with a pen over a seat in Hall H. People, nothing you can see in Hall H is worth stabbing anyone in the eye with a pen over, and I say that as someone who saw the sneak preview of the Lost pilot in Hall H.
* Over at Robot 6 I interviewed Chester 5000 XYV's Jess Fink and Incredible Change-Bots Two's Jeffrey Brown about their upcoming Top Shelf releases.
* I also posted a one-page preview of Alan Moore & Kevin O'Neill's The League of Extraordinary Gentlemen Vol. III: Century #2 - 1969.
* Wow: Fantagraphics and Disney are teaming up to release the complete Floyd Gottfredson Mickey Mouse comics. Given Disney's relationships with both Boom and Marvel I'm a little surprised, but only a little. I imagine that if you walk into a conference room with an armful of the Complete Peanuts, Dennis the Menace, Popeye, Krazy & Ignatz, etc., you probably walk back out with a handful of contracts.
* Congratulations to Tom Spurgeon for his much-deserved Eisner Award win last night. Glad to see Joe Sacco pick up a trophy, too.
* Spurge's reports from the floor continue to be very comics-focused and very entertaining. For the second time he notes bad news for Fantagraphics, this time that they were shut out at the Eisners, which Fantagraphics does not ever deserve to be.
* The women of Drawn & Quarterly. That's quite a line-up to field.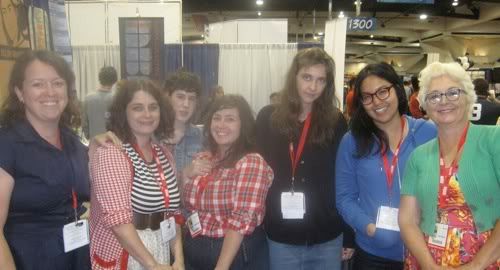 * Mark Ruffalo is Bruce Banner and Jeremy Renner is Hawkeye in the upcoming Avengers movie. It's a strong cast, certainly. I have to say, it's feeling really good to have been a Renner fan since Dahmer these days.
* Here's a trailer for the long-gestating DC MMORPG. It's a post-apocalyptic scene in which the few surviving villains, led by Lex Luthor, basically wipe the floor with the few surviving heroes, led by Superman. I understand that a six-minute vignette in which Deathstroke strings Batman up with Wonder Woman's Lasso of Truth and beats him with a baseball bat until a jealous Joker blows them both up with a rocket launcher, followed by Lex Luthor stabbing Superman to death after the Man of Steel was poisoned by the kryptonite-booby-trapped corpse of Wonder Woman, isn't going to ameliorate a lot of people's concerns about where DC is today, aesthetically. That said, really impressive sense of scale, action choreography, stakes, and even lighting with this thing. If you like your superheroes hilariously grim and gritty, or just wanna see what a big giant rumble with the iconic characters might look like in a semi-realistic setting, check it out.
* The red-band trailer for Robert Rodriguez's Grindhouse spinoff Machete is almost Crank-level crazy. (Via Topless Robot.)
* I am not at all sold on the Thunderbolt Ross Red Hulk as a concept even when Jeph Loeb isn't writing him, but Gabriel Hardman sure can draw the shit out of him and just about everything else (Atlas #3 was really somethin'), and I've got some faith in Jeff Parker, so I'll check out the team's newly announced Hulk run with the character.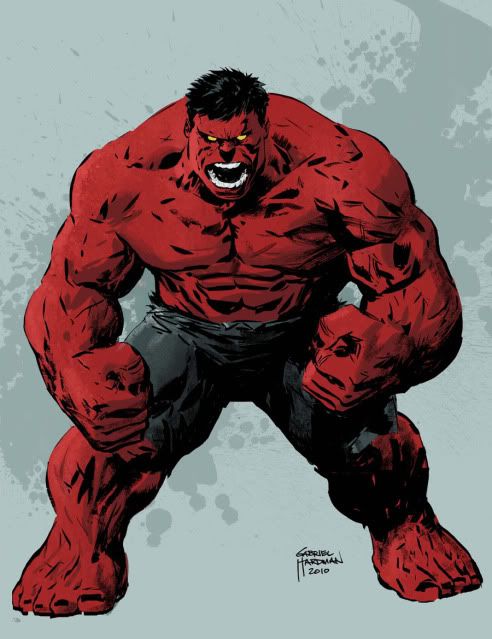 * Emma Frost cosplayer hates Tom Neely.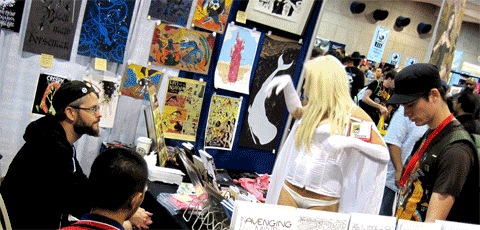 * Darkseid cosplayer killed Jim Lee.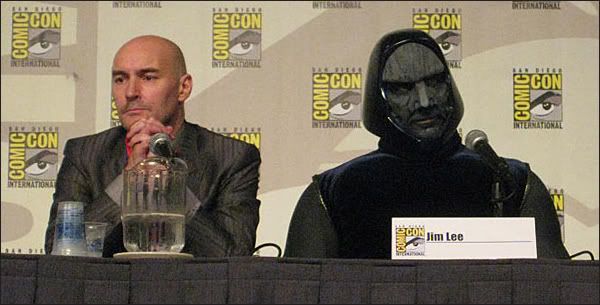 * In non-Con news:
* Matt Zoller Seitz gives Salt a rave review, and suddenly I'm interested in Salt.