* Comic-Con International 2010 opened up yesterday in San Diego and had its first full day today. A ton of news and news-esque substances come out of the show every year. To follow it all I'd recommend clicking here for Comic Book Resources' complete coverage and here for Robot 6's slightly more curated and comics-centric coverage and here for Spinoff's movie and TV-centric coverage. Those are the sites I'm following, and of course I'm writing for Robot 6 as well.
* So far Tom Spurgeon has reported a ton of actual news about good comics right from the show floor, which is astonishing in its way. The wording's unclear, but for me the big news from that report is that (I think) Jordan Crane's one-man anthology series from Fantagraphics Uptight is ending after its next issue.
* Strange Tales II is on the way from Marvel, featuring Los Bros Hernandez, Harvey Pekar, Frank Santoro, Rafael Grampa, Jillian Tamaki, Kate Beaton, Jon Vermilyea and many more.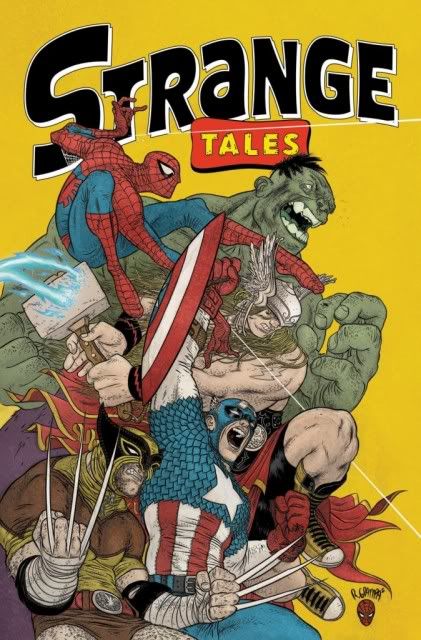 * DC Comics may move to Los Angeles. I hope they make the decision soon so that the employees aren't left wondering for another year or so.
* Fred Van Lente is writing a new Power Man & Iron Fist book. The Power Man in question isn't Luke Cage, but still, a new Iron Fist ongoing is fine by me.
* Is there anything lovelier in all of comicdom than a fully-stocked Fantagraphics convention table?
* I just love these screenshots from the freshly announced Marvel Super Hero Squad: The Infinity Gauntlet videogame. I'd read a comic that looked like this.
* Now Tom Devlin is writing in-character Dakota Fanning as Cherie Currie/Alexis Bledel as Rory Gilmore femmeslash as part of his previously established Edward Cullent/Michael Cera-verse. Peggy, is there something we need to be told here?
* In "sort of interesting things that might eventually happen one day" news, maybe They've cast Brad Pitt in the movie They might make of Max Brook's World War Z and maybe They'll make a movie out of Kurt Busiek and Brent Anderson's Astro City.
* Wow, someone in the Green Lantern art department sure loves the "Bodies" exhibit.
* BREAKING: Major studio manages to assemble two minutes of reasonably entertaining footage from two-hour science-fiction-fantasy-action-CGI blockbuster with teal-and-orange color scheme.
* In non-Con news:
* Good for Alan Moore for rejecting DC's offer to give him back the rights to Watchmen if he agreed to sequels and prequels. I'm with Steve Ditko on this sort of thing: A is A. Either the book rightfully belongs to Moore, in which case you should give it back to him yesterday no strings attached, or it doesn't, in which case who cares. But clearly someone does care enough to feel bad about the current state of affairs, which is an indication that, well, A is A.
* Tons and tons of Scott Pilgrim music is on the way.
* Ron Rege Jr./Marc Bell jam piece!
* Does Dave Kiersh draw the sessiest ladies in comics?
* Scott Tobias's New Cult Canon series at the Onion A.V. Club tackles American History X. I admit I did a Find for "curb" immediately upon opening the page.
* Finally, here are paintings of Wonder Woman masturbating and Spider-Man preparing to make love to Cicciolina, by Giuseppe Veneziano. "Cicciolina, Cicciolina, Cicciolina per l'Italia!" (Via Spurge.)