* Tom Spurgeon's Harvey Pekar obituary is masterful. Neil Gaiman, Seth, Denis Kitchen, Alison Bechdel, Phoebe Gloeckner, Dean Haspiel, Diana Schutz, Frank Santoro, R. Fiore, Tim Hodler, Larry Marder, Gerry Shamray, and more all contribute.
* I also liked Eric Reynolds's piece on Pekar's importance to alternative comics and to his role in them personally.
* Busy day on Robot 6 today. AdHouse becomes a distribution house, adding Koyama Press and more;
* Jeff Parker's Atlas is ending for good with issue #5;
* There's another Grant Morrison Batman one-shot and a David Finch solo Batbook on the horizon;
* and the Black Lanterns are coming back.
* At the risk of once again summoning a grumpy Tim Hodler, Beetljuice-style, I will link to an Alan Moore interview, but only to say this: If you're going to take the to-my-mind unimaginative and untenable standpoint that there's something inherently ethically gross about superhero fiction, I actually think that Moore's concept that they embody the American un-value of Peace Through Superior Firepower is a lot more convincing than the usual accusations of fascism. Moreover, if you ascribe to the viewpoint that Moore's status as an artist should trump any concerns about whether his stabs at criticism in interviews are or aren't cockamamie, then I also think it's pretty easy to see how the way he describes superhero comics here dovetails both with his work in Lost Girls, The League of Extraordinary Gentlemen, and even From Hell--all of them tales of the moral superiority of fucking to fighting--and how a pacifist artist would have experienced the past nine years of real life. So that's nice. Actually, I think Moore comes off better here than he has in many an interview. The most groan-inducing bits, like a part where it's argued that comics haven't produced any work as sophisticated as Watchmen since that book's release, fairly obviously stem from not necessarily thought-through in-the-moment word choices in the process of a conversation. You'd have to be a TCJ.com contributor (or, y'know, me circa 2003-2004) to wanna make mountains out of those molehills.
* Matt Seneca reviews several recent Big Two comics of note: Fraction & Ba's Casanova #1, Morrison & Quitely's Batman & Robin #13, Langridge & Samnee's Thor: The Mighty Avenger #1, Claremont & Manara's X-Women #1, and Sturges & McCarthy's House of Mystery #27. Calling Chris Claremont "one of the more notably feminist writers of superhero comics" is, uh, one way of characterizing the author of the Hellfire Club saga, I guess. Elsewhere, Seneca applauds that show-stopping Frazer Irving Batmobile panel from Batman & Robin #13.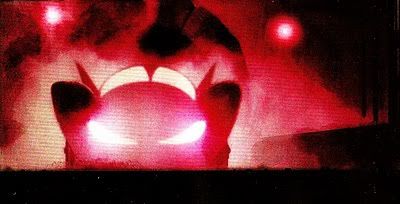 * What happened when Glenn Danzig finally heard about Henry & Glenn Forever? This.

* Ready to lose a couple hours? Complex has teamed up with DJ Cipha Sounds to present The 75 Greatest Tunnel Bangers, the hip-hop tracks that went over biggest at the hugely influential late-'90s NYC club night "Mecca" at the Tunnel. I've got a a very weird love-hate relationship with a lot of this music. The late '90s were the period in my life when I listened to more hip-hop than any time before or since, but most of it was emphatically not from the Bad Boy/Ruff Ryders/Roc-a-Fella trifecta that ruled the Tunnel and my local hip-hop station Hot 97 via those outlets' mutual mastermind Funkmaster Flex. But with the remove of time it's much easier to appreciate this stuff, particularly the ear-pummeling hugeness and savagery of the beats constructed by Swizz Beatz, the Hitmen, and so on. It's an entire subgenre based on BIGNESS--like if late-'90s alternative music consisted of dozens and dozens of awesome songs that sounded like "Army of Me." The relentless lyrical focus on status, money, and (for lack of a better word) hardness can grate, but in the moment, this stuff's a lot of fun. (Via Tom Breihan.)