* Today on Robot 6: Scott Pilgrim vs. the World as potential action-movie gamechanger. I love the word "gamechanger." Gamechanger gamechanger gamechanger. If everyone stopped saying "throw under the bus" and started saying "gamechanger" I'd be so much happier. And it's a shame, because "throw under the bus" is such an effective turn of phrase. I guess that's why everyone says it. Wow, this has nothing to do with Scott Pilgrim and action movies anymore, does it.
* Whoa, Frazer Irving on Batman and Robin #13.

* Geoff Grogan has changed the title of his upcoming comic about a blue-skinned superwoman from Mystique to Fandancer. Probably a smart move. The Mouse sees all, Geoff!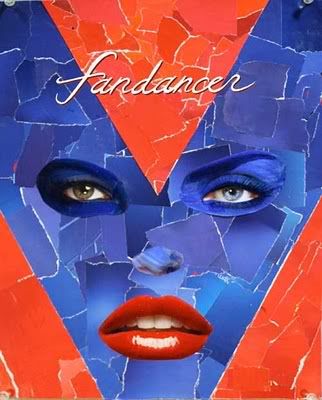 * The ever more blog-prolific Josh Simmons has started a new blog for The White Rhinoceros, "a racially-oriented psychedelic fantasy comic currently being serialized in Mome." Well, this should prove to be not at all troubling in any way!
* Jesse Moynihan is deploys his trademark blend of heady mysticism, two-fisted combat, and take-this-job-and-shove-it dialogue in "New Age Fights," a new strip for Vice, which under the watchful mustache of Nick Gazin has definitely become a keep-your-eye-on-it destination for comics.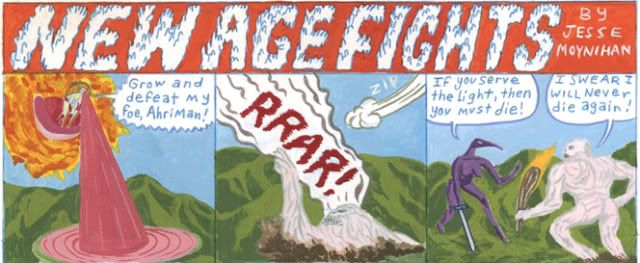 * Matt Seneca is now reviewing comics for Newsarama, so please adjust your "reading Newsarama" levels accordingly.
* The Mindless Ones are going through all the Bat-villains alphabetically, belatedly making up for the unfortunate omission of Amygdala but otherwise gloriously geeky fun.
* Real Life Horror: "Albert Fentress, the former Poughkeepsie schoolteacher who killed and cannibalized a Town of Poughkeepsie teenager in 1979, will remain locked in a mental hospital for at least two more years, a Dutchess County prosecutor said." I think they should count themselves extremely lucky this person was caught only one murder deep into his career as a killer.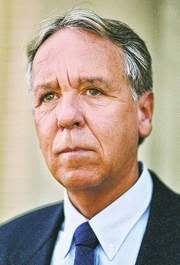 * Real Life Horror 2: When you see the lengths to which the British Conservatives are going to address their country's use of torture--and I don't know enough about British politics to judge how sincere or legit this effort is or will be, I just know it's a million times better than what we've seen here in the States--it's hard not to resent the Obama Administration, to say nothing of American conservatives.
* Semi-Real Life Horror: I like cryptozoology, I like Flash artist Francis Manapul, so I see little reason I wouldn't like Beast Legends, a Canadian cryptozoology TV show that utilizes Manapul to illustrate mythological and cryptozoological creatures. (That's Manapul on the left.)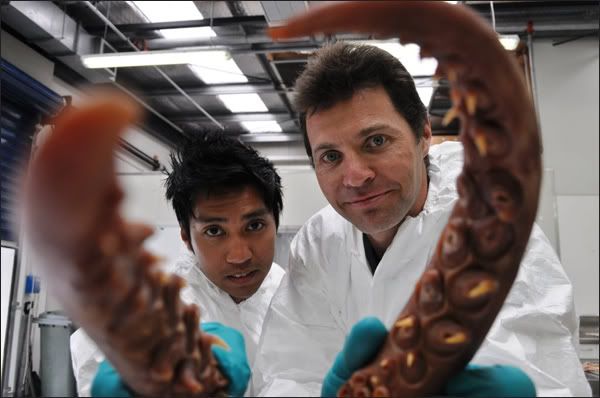 * Zak Smith has the best ideas. If you have ideas, you should compare them to Zak Smith's first to make sure they're worth extracting from your own brain.
* I recently watched Ken Burns's The Civil War and started reading a bit more about the conflict, and one of the things that struck me hard and immediately is that Ulysses S. Grant is a fucking monster of a general, a fine writer, and a person to be studied and celebrated. That simplifies it, of course, but it's certainly closer to the truth as we can understand it than the narrative even a Yankee like me was fed, where Grant was a drunk fuck-up who lucked into beating a reluctant warrior-poet who was in every way save his eventual defeat Grant's moral and tactical superior. Moreover, it seems pretty clear to me that the "Lee > Grant" bubbe meise is the product of a concerted century-long effort to delegitimize both the cause and effect of the War, the ramifications of which are still at work in fairly obvious ways today. With all that in mind I'm happy to see Grant moving up in the rankings of the best and worst presidents. His presidency was a mess in a lot of ways, but I think the opprobrium directed toward him was never commensurate with his administration's sins and had more to do with psychological payback.
* Meanwhile, the godawful atrocious comment thread at the aforelinked Matthew Yglesias post on Grant reminds me to point you to this brief, interesting discussion of comment-thread culture. I've never had a lot of comments here, but I've tended to really enjoy them; this reached its apex during the Lost discussions of this past final season. I'm super-proud to have in some way inspired the level of discourse in those threads. I'm not sure what exactly I did to shape it here, but back when I was a mod on the Wizard board--which wasn't the ADDTF comments, to be sure, but was hella civil compared to comparable outlets--we rained hard on troublemakers and dickheads, with the result that the community quickly became self-policing. That's an approach I'd love to see replicated pretty much everywhere.
* I straight-up loved Madballs.