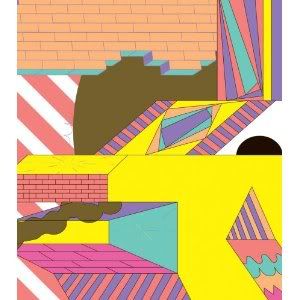 New Painting and Drawing
Ben Jones, writer/artist
PictureBox, 2008
32 pages, hardcover
$20
See a preview at BenjaminQJones.com
Sold out at PictureBox
Buy it from Amazon.com
You can't understand New Painting and Drawing until you have it in your hands. It shimmers, as though the Platonic ideal of the color Orange just gave birth to a bouncing baby book. I actually think the Platonic ideal is a good concept to keep in mind when looking at Paper Rad honcho Ben Jones's stuff. It's like, "So be it--if I must draw a dog, then let it be the best of all possible dogs!" So you get a dog that is as wide-eyed and jolly as any dog you've ever petted, but he's also bright orange and pink and yellow and aqua and another shade of orange, and he looks like he just stepped out of some sort of electronic animal shelter run by Shigeru Miyamoto, and he's placed against a background of white-and-gold diagonal stripes, the better to pop him off the page and into your eyeballs. You get religious-iconography pastiche, but the icon is like Jesus and Mary and a Greek Orthodox saint all rolled into one, and he's wearing Joseph's Amazing Technicolor Dream Coat and a Ring Pop, and he's got a mustache and is pointing almost like Buddy Christ, and he's placed against a sky that looks like Apocalypse Tron. Jones's obsessive use of patterns, stripes, brick fields and so on, each tier done in as bright a neon as you please, serves to foreground everything, backgrounding nothing. Every part of every drawing is designed to be as exciting as possible. It is such a thrill looking at this book.