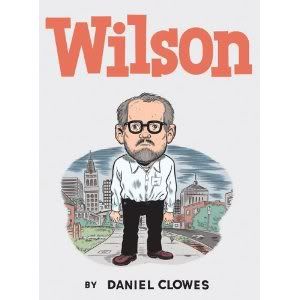 Wilson
Daniel Clowes, writer/artist
Drawn & Quarterly, April 2010
80 pages, hardcover
$21.95
Buy it from D&Q
Buy it from Amazon.com
All apologies to Ken Parille, but I don't think the kaleidoscopic array of styles in which Daniel Clowes drew Wilson says much of anything. I think that's the gag. And I mean this aside from the fact that these are all styles you saw Clowes employ (and no duh--as with Ware, it's almost boring at this point to mention that the guy is an absolute titan of craft) with full shock-of-the-new force in Eightball #22/Ice Haven, where the Sunday-funnies format made their import a lot clearer. Here, it's like Thirty Two Short Films About Some Dickhead, or that guy who pointed out that all New Yorker cartoons are funny if you caption them with "Christ, what an asshole." Draw it how you will: Wilson's always there, in medium close-up more often than not, a wide-eyed and open-mouthed expression of guileless wonder on his face more often than not, saying something fucking horrible almost constantly. No matter how you shake and dance, the last two drops go in your pants; no matter whether he's detailed or abstracted or realistic or cartoony or full-color or two-tone or black-and-white or whatever the hell, Wilson is a massive, massive tool.
Wilson is sort of like the refined, sharpened, weaponized version of Mister Wonderful. Marshall is self-absorbed, Wilson is self-absorbed and cruel. Each single-page unit of Mister Wonderful is paced like a gag strip; the same is true of Wilson, only there are four times as many of them, and they're at someone's expense. There's hope for Marshall; Wilson ends on a note akin to The Godfather Part II. Mister Wonderful is funny; Wilson is hilarious--I read this on the train and was embarrassingly vocal in my enjoyment of it. The second I got to a computer I made "PROPERTY OF SIR D.A.D.D.Y. BIG-DICK" my Google Chat status, I emailed my friends the entirety of Wilson's disquisition on The Dark Knight, and even now I can't think of "Hey, it talks!" without laughing out loud. Marshall is preoccupied with making a connection with someone outside himself, even if he's constantly hamstringing his attempts to do so; the only times Wilson appears able to take that step is when death has rendered it too little, too late. This book is utterly mean and hilarious, and I loved every page.