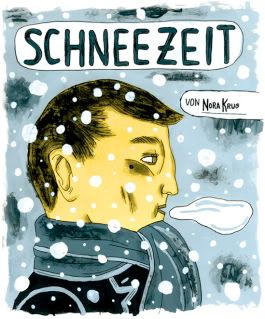 Snow Time
Nora Krug, writer/artist
self-published, 2010
12 pages
I don't remember what it cost, but I remember it wasn't cheap
Read it for free, in German, on Nora-Krug.com (click the "Book/Comic" section, then click the third image)
How I love little arty morality plays. Hot-shit illustrator Nora Krug follows up her ambitious Red Riding Hood Redux project--probably my big find for MoCCA 2009--with this short, achingly lovely to look at story of weather and murder. Like Red Riding Hood, Snow Time hides some rough stuff beneath its pretty surface, this time around telling the story of a man whose mother's suicide has left him with dangerous abandonment issues. None of this is made clear until the middle of the story, after which the man's apparent delight and attention to the snowman he's built in his front yard in the middle of a weeks-long spate of snowstorms takes on a new (albeit only implied) punchline quality, and it's a refreshingly chilling one. (Pun intended, but seriously, the image it implies through one quick panel of the snowman melting is sticking with me.) Snow Time is also an exercise in getting rich, sumptuous green-blues and manila-yellows to not just sit on a page, but radiate off of it, the way you can feel cold coming off of something metal. It ends with a tableau of grim discovery that reminds me of Taxi Driver of all things. It was worth the coin.