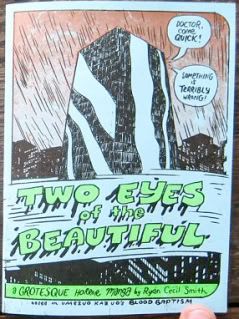 Two Eyes of the Beautiful
Ryan Cecil Smith
self-published, 2010
26 story pages
$5
Buy it from Ryan Cecil Smith
Based on Kazuo Umezu's Blood Baptism, this minicomic from Closed Caption Comics stalwart Ryan Cecil Smith--labeled "a grotesque horror manga" on its cover--is funny and queasily suspenseful in equal measure. One one level it's an experiment in wedding Smith's thin-lined, loose altcomix style to the doe-eyed, slackjawed strangeness of Umezu's character designs, and to the spectacle of his horrific "punchline" panels and pages. The wedding's a happy one, milked mainly for the blackly comedic effect of the contrast. This ironic tinge helps to capture the over-the-top emotional absurdity of this kind of material--in this story, a famous actress literally walks away from her own life and goes into hiding with her daughter on the promise of some sketchy doctor to heal her facial disfigurement if and only if she were to completely disappear from society. (Jeez, I consult the Internet for a second opinion over cough medicine.) Once we learn that the actress has been instructed by the doctor to procure one pure, beautiful young girl for his presumably nefarious purposes, Smith has a lot of fun ratcheting up the tension in horror-comedy style, first via a long, overly specific interrogation of the little girl by the actress, trying to make sure she hadn't told anyone she was coming over as she slowly locks all the windows and doors to prevent her escape; and second via a pictureless depiction of the actress's struggle to tie up the little girl, a series of blacked-out panels where the action is conveyed solely through sound effects ("MMMMMPHHHH, KICK, EEE, MMMPHH, PANT, TIE, STRUGGLE, PANT").
Yet at the same time, given the kinds of cruelty to children we know these comics are capable of, the material is actually quite dreadful amid its goofiness. You hate to think what this vein, horrible woman will do to this poor innocent orphan (you BET she's an orphan), and then you hate how easy it is for the woman to shift the blame to the little girl when she escapes and seeks aid. I was quite prepared to be sickened by whatever would happen to this poor kid; I dodged a bullet, but I know it was only through the restraint of the cartoonist that this occurred. For a formal exercise, it's striking stuff.