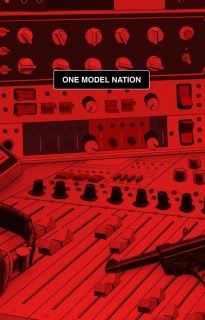 One Model Nation
C. Albritton Taylor, Donovan Leitch, writers
Jim Rugg, Cary Porter, artists
Image, December 2009
144 pages
$17.99
Buy it from Amazon.com
Well, here's a strange little number. Let's take it step by step. C. Albritton Taylor is Courtney Taylor-Taylor, lead singer/songwriter for the Dandy Warhols, but the only reason I know that is because artist Jim Rugg said so on his blog months and months ago. Donovan Leitch, scion of "Atlantis" troubadour Donovan and a musician himself, is credited as the book's "historian" and shares with Taylor the credit for "original concept," which I assume means he helped concoct the Venn diagram of its plot, in which late-'70s radical West German politics and terrorists overlap with a breed of Cold War art rock, highlighting a very, very specific niche. Rugg's work here looks nothing like Rugg's work anywhere else I've seen; it's like he purposefully threw his usual slick and kinetic art out the window, employing a rough, thin, uncertain pen style instead. Riding shotgun for a few-page framing device is artist Cary Porter, working in a mushy all-pencils style that reminds me of Nikolai Maslov's Siberia. Taylor is billed as "producer" along with Image's Joe Keatinge and cartoonist Mike Allred; if the incongruously colorful David Bowie who shows up in the middle of the story to chat with the titular band isn't drawn by Allred himself, then Rugg is doing the world's best Red Rocket 7 impersonation.
The story: In 1977 or thereabouts, a four-man band called One Model Nation--from what we can gather, a stylistic, sonic, and sartorial melange of Kraftwerk, Einsturzende Neubaten, Joy Division, Gang of Four, and Berlin-era Bowie--appear poised to become West Germany's, and perhaps the world's, next big thing. But the peril of being the voice of one's generation is that sometimes one's generation is filled with terrorists, as was the case in the Germany of the day, plagued as it was by the nihilistic/Communistic violence of the Red Army Faction, aka the Baader-Meinhof Gang. When people peripheral to OMN's world--friends, fans, exes, roadies--turn out to be involved in the killings, the intense public, political, and police scrutiny forces the bandmates, particularly sensitive Sebastian, to come to terms with the at-times dueling imperatives of fame and creativity.
It's tough not to read the book as thinly veiled autobio at times, or at least as a soapbox upon which Taylor can talk about issues he clearly cares about a great deal. It's easy to imagine the framing conversation between a fellow-traveler of OMN's and a documentarian investigating their disappearance as a variant of ones that took place between Taylor and Ondi Timonder, director of the excellent Dandy Warhols/Brian Jonestown Massacre doc DiG! Ditto the band's chat with Bowie--a friend of Taylor's--and his droll observations about taste, art, and politics. Ditto, almost didactically so, a comparatively long discussion of critics, pundits, the press, and their deficiencies. The very idea of the book, a fictionalized account of a particular era of rock and roll that its makers find fascinating, reminds me of a discussion I had with Taylor when I interviewed him long ago about the film Velvet Goldmine, which, despite his admiration for director Todd Haynes, he dismissed as "jocks dressing up like rockers." This is sort of like Velvet Goldmine "done right."
And it is done right, I'd say. I mean, it's a weird weird beast. I think Rugg's style here is going to throw a lot of people--it's so understated, so scratchy, with muted colors, and a really rigid panel grid with wide gutters. The rectangular word balloons and computerized lettering meshes with those big white lines to create a feeling of artificiality and distance. The character designs are at times difficult to distinguish from one another, and they frequently sit on the page as if they're uncomfortable being there, all awkward elbowy arms and long faces with dull hair hanging limply. The plot kind of weaves in and out and back and forth: Sebastian leaves the band, fed up with the attendant nonsense, comes back, high-tails it after a raid, comes back again... Cameos by the Red Army Faction and the actual, Russian Red Army are given equal weight as cameos by, say, Klaus Nomi. The whole thing ends with a whimper, too. There really aren't any epiphanies or climaxes. I imagine that if you don't share my fondness for the creative team or the subject matter, you'll walk away shrugging.
But I think that's the idea. Making art, the book seems to argue, is an ongoing process of decision-making rather than a vocation handed down by the gods. Obviously innate gifts and talent are a part of it, but hitting upon the sound and style that rockets you to the top is the product of countless factors beyond your control. A lot goes into being a hero, and if you make it, terrific, but some people are heroes just for one day, for one reason or another. Nomi died of AIDS; One Model Nation peters out in the face of the revelation that the terroristic public image thrust upon them was just that--an image. They make a decision to stop making the decisions necessary to be rock stars. Some of it's in our control; a lot of it isn't. What you do may be dramatic, it may be influenced by dramatic events, but whether you do it or not is not a drama. It's kind of a gray message. It's kind of a gray book. I'm still mulling it over.