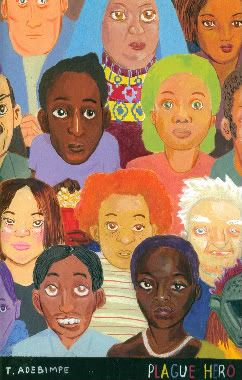 Plague Hero
Tunde Adebimpe, writer/artist
Suciotone, December 2009
28 pages
$4
I can't find anyplace to buy it--let me know in the comments if you know of one
I'm not going to lie: I checked out the comic Tunde Adebimpe was selling at a table at BKCGF because of his day job. But come for the "Staring at the Sun," stay for the, bright, fun, and effective painted fight comic. Printed on thick, glossy paper, Adebimpe's paints really leap off the page as they illustrate his simple set-up, subtitled "A Few Notes on Being and Not Being Myself": A pink horse guy and a green bird guy (his name's Myself) square off from the left- and right-hand side of each spread in a boxing match narrated by a strip of playfully metaphorical first-person text running across the bottom. The anthropomorphic fighters are built like characters from an all-ages boxing video game, and indeed the simple two dimensional plane of the action reinforces that feel: Since all they can do is move forward, move back, and punch each other, it's easy to feel like you've got a ringside seat to an all-action button-masher/slobberknocker. When the combatants land a blow, their wounded opponents explode with color at the point of impact; a similarly visually explosive cut to a pair of audience members ("prospective employers, future ex-wives") manages to convey the roar of the crowd with similar effectiveness. Adebimpe's writing bounces along with the hardboiled patter of an old-school sports columnist: "That's when I decided to step in...and Reagan '84 the poor jerk"; "It was our pan, and we were flashing." In the end one of the fighters is declared the "WINNAH!" by knockout, which depending on how much you're willing to play along with the Myself/Not Myself metaphor could Mean Something. But really it's an exercise in convey action and movement through color and telling a story with a memorable voice--and a successful exercise at that. I hope to see more.