* Now this is a treat, film lovers: The great critic Matt Zoller Seitz elucidates the greatness of the great critics David Bordwell and Kristin Thompson, declaring them The Critics of the '00s on IFC.com. My feelings about Seitz are no secrets, and like many film students I'll never forget the way Bordwell & Thompson gave me the vocabulary I needed to articulate things I'd always known but could never say about cinema. I may have forgotten many of those words since then, like I've lost my French, but I won't forget that I knew them.
Digression: In writing about film for this blog I've noticed that I don't talk about form the way I do with comics. Like I said, I've lost a lot of that vocabulary, which in turn limits my ability to think that way, and that's really sad. When I first started regularly reviewing comics--probably for The Comics Journal--it took a shot by Milo George at the state of comics criticism to make me realize that I was doing the usual formula: Three or four paragraphs about the writing, one paragraph about the art, a "to be sure" paragraph, and a conclusion. Figuring out that comics are a visual medium ain't rocket science, so to confer upon myself a rocket-science degree if you will, I tried to fix this the easiest way I could: I began forcing myself to start reviews by talking about the visual aspects of the comics. Eventually it got to the point where I was comfortable and conversant in that area, so now I feel like I don't have to make myself do that anymore. I'll start wherever I feel it makes the most sense to start. When I wrote my review of A Serious Man the other day...well, I'm pretty happy with it, but it occurred to me maybe it's time to start writing about form first. Of course this is harder with movies you're seeing in the theater, since you don't have them in front of you to flip through, and until I'm a paid film critic there's no way I'm taking notes at a movie theater, man.
* Today at Robot 6: Hot deals from Drawn & Quarterly and hot art from Cameron Stewart and a Hellboy art show by The Autumn Society.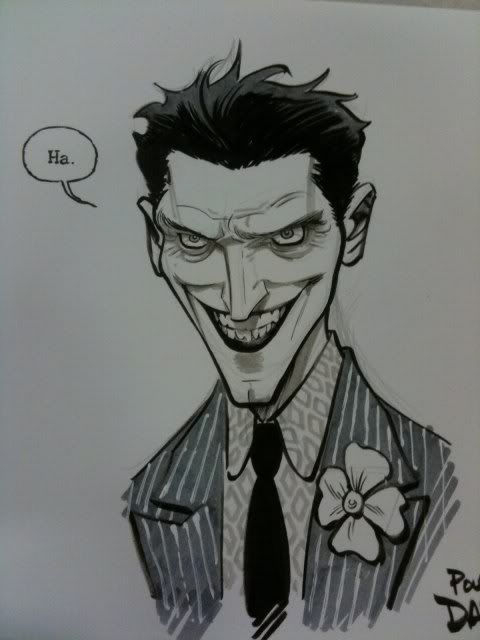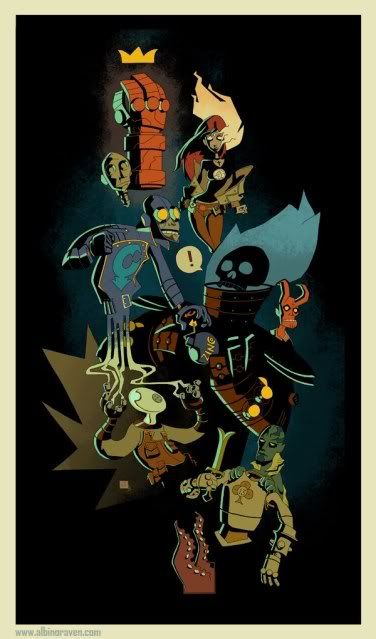 * That Kentucky library that fired a couple of employees for improvised censorship of Alan Moore & Kevin O'Neill's Black Dossier is moving relevant graphic novels to the adult section. Which is where a lot of them probably belong, so that's fine. It just really grinds my gears that a couple of bluenoses took it upon themselves to remove books from a library that they worked for. Barbarians at the gates.
* Hurm.
* I'm a little hesitant to draw attention to this eBay auction for a bunch of zines by Josh Simmons and some other people because I want them, but in the words of Godspell, "if that light is under a bushel, brrr, it's lost something kinda crucial." (Via Josh Simmons)
* Someone beat World of Warcraft. Seriously, someone did every single thing there is to do in the game right now. Unlike my esteemed colleague Rob Bricken at Topless Robot, who brought me word of this, I actually am impressed by that. That's a fucking achievement. But the comment thread is less about what the guy did and more about whether or not we should make fun of him, or anyone. As an example of nerd etiquette in the field, it's fascinating.