* I don't really have a dog in the Twilight race other than a wife who enjoys it and my own tentative plans to watch New Moon again while under the influence, but I want to take a moment to praise the coverage of the franchise, and of similar projects like Kevin Williamson's The Vampire Diaries tv show, by Dread Central. They've completely eschewed the kneejerk macho borderline-gaybaiting tone taken by the other major horror and geek news sites, and their coverage is all the better for it. (Particularly of TVD, which turns out to be a pretty ripping vampire yarn. Magic rings!)
* Dave Simpson's profile of the Cocteau Twins' Elizabeth Fraser for the Guardian is pretty extraordinary in that it simultaneously renews your faith in artists and crushes your hope for artistry. You don't even need to be a big Cocteau Twins fan to get a lot out of the story of how Fraser's break-up with her romantic and creative partner Robin Guthrie essentially drove her into artistic seclusion. It's powerful stuff, and next time you hear "Teardrop" or "Song to the Siren" or "Pearly Dewdrops' Drops" you'll be haunted. (Via Matthew Perpetua.)
* The new Comics Journal website launched today, kinda sorta but not really.
* Chris Mautner tackles three recent releases from First Second.
* Bookmarking it for later until I get ahold of the book: Tom Spurgeon reviews Gilbert Hernandez's The Troublemakers.
* The Maxx on DVD! Good.
* Paranormal Activity on DVD! Bad, because they're saving the original ending for the Blu-Ray release only, same as they're saving shitty old Terminator Salvation's director's cut for the Blu-Ray only. I sort of resent being frogmarched into a new format if I wanna be a good nerd. (Via Jason Adams.)
* Go read Joe McCulloch's post on manga and Manga, the least preachy and not coincidentally most convincing "ignore this stuff at your peril, comics readers" thing you'll ever read.
* I know sweet fanny adams about the economics of hardcover and softcover collection release patterns from either a publisher or retailer perspective, but I nevertheless sympathize with this statement from Chris Butcher strictly as a person who buys superhero comics pretty much only in trade paperback and wants them to come out more quickly so I can purchase them in a timely fashion:
While I appreciate the short-term $$$ that comes from charging an extra $10 for a hardcover on a book, I think they're really hurting long-term sales. I know that the whole superhero section of the industry seems to be predicated on short-term thinking, but I think that if it was about giving consumers choice simultaneous releases would be the way to go. This is a bit of a bigger problem than I have time to give it right now, but DC and Marvel mandating hardcover exclusives for 4-6 months means that their biggest, newest, 'hottest' storylines remain considerably more inaccessible until well after the heat has entirely dissipated on the series. The Justice Society relaunch is the hardest-hit series I can think of, but Green Lantern and Spider-Man and Runaways from Marvel are also suffering, from my POV, for having long gaps between HC and SC collections.
*
Curt Purcell articulates a pretty convincing recipe for compelling event-comic tie-ins.
The idea, which he's expressed before, is that an event comics and its tie-ins are like a bank of tv monitors, and when the main action goes off in one direction, the tie-ins are what continues to play on the monitor the main action just left. The only flaw I see in this is that fans are conditioned to want "what matters," i.e. what moves the plot forward. Filling in gaps isn't their cup o' meat. I suppose the key is to make the filling-in crucial to the sub-story going on in that particular tie-in series.
* Elsewhere, Curt elaborates his thoughts on Blackest Night #5, focusing on the physical portrayal of characters like the Flash and Nekron.
* A Matt Zoller Seitz video essay on Clint Eastwood and vengeance? Sure, I'll eat it.
* I can't wait until Habibi drops.
* I haven't been linking to the previews of Johnny Ryan's Prison Pit Vol. 2 that the Fantagraphics blog has been posting, but that's not because they're not totally awesome, as this supposedly final installment of the preview post series would indicate. Raise your game, New Actioneers!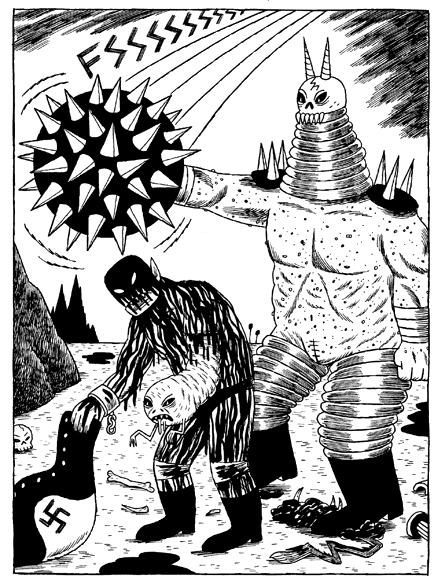 * Alltooflat maven Kennyb's post on hammerhead sharks made me laugh to beat the band. I won't spoil the punchline, but it does include this sentence:
what you're seeing in this picture is a horrifying sea monster with a sixth sense for hearing the physical manifestation of your terror, and smell/taste receptors which are attuned to the scent of your blood in the water.
*
Roland Emmerich vs. Lars Von Trier
: Fight!