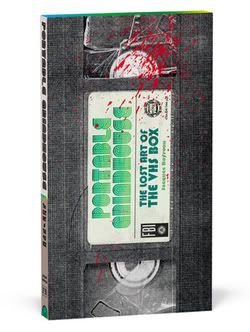 Portable Grindhouse: The Lost Art of the VHS Box
Jacques Boyreau, editor
Fantagraphics, 2009
200 pages, slipcover
$19.99
Buy it from Fantagraphics, eventually
Buy it from Amazon.com eventually too
My entire circle of friends has been clamoring for this long-delayed collection of video box art for over a year--and could this be any more in my wheelhouse right now? If you made a Venn diagram out of the New Action, the Manly Movie Mamajama, and everything I talk about it that Dark Knight Strikes Again review, you'd find this right in the sweet spot. Even if this book didn't exist, it would be necessary for me to invent it.
So let's start by talking about what I didn't like about it. Well, "didn't like" is probably too strong--it's fine, just not what I was looking for--but I couldn't help but be let down by editor and compiler Jacques Boyreau's introduction. You get a brief sketch of his personal history with home video, a lengthy technical history of the format, and a diatribe about the evils of digital. Actual discussion of "the lost art of the VHS box" is reserved for an interesting but meager two-paragraph rumination on the way their display in video stores made them the iconic equivalent of the films they contained, but this quickly gives way to one last swipe at DVDs, downloads, and digital projection. Nothing about any of the artists or designers involved, nothing about the evolving aesthetics of box art as home video went became a megabusiness, nothing about any of the covers on the pages that follow. If you're looking for information about the business and creative decisions that led to the creation of this childhood-memory art form, you'll come away disappointed.
But if you're simply looking for a gallery of those memories and beyond, Boyreau did you right. He and designer Jacob Covery wisely chose to present the front cover of every box in the context of a product shot, rather than simply scanning the art and running it full-bleed--he's absolutely right to argue that these images are inseparable from their status as objects. The box shots of the front cover (and spine) occupy the right-hand side of every spread, while the left-hand side reproduces the back cover. And here they do scan it and run it full-bleed, which actually just makes it funnier. Why? Well, it was clear from the start that what you needed to do with the front of your VHS box was make the image as lurid and eye-catching as possible, so there are surprisingly few variations in that regard beyond obvious budget and talent limitations in some cases. But what to do with the back cover? For a long time, no one seemed to know. The familiar tagline/teaser blurb/stills/credits framework was far from universal, and in its place were long lists of other movies released on home video by the studio (on the back of Vanishing Point, Magnetic Video Corporation listed fully fifty-eight), terse flat-affect plot summaries (The Chamber of Fear's blurb begins "The crevice of the volcano is very deep. Scientists are searching for a form of underground life that according to theory still exists."), poorly written catalogues of the depraved behavior contained inside (Blood Spattered Bride notes "Although not rated this film contains nudity and scenes of graphic violence"), and in one memorable case (The Best of Burlesque--somehow I doubt it!) just a flipped and blown-up segment of the front cover's airbrushed T&A illustration. Seeing all this proto-professional weirdness on the page normally reserved for placing the image next to it in some sort of factual context is hilarious.
But let's face it, you're here for the front covers, and they don't disappoint. You've got titles like Drive-In Massacre, Don't Go In the House, and Slave Girls from Beyond Infinity. You've got taglines like Video Violence's "...When renting is not enough!!", Slashdance's "SAVE THE LAST DANCE...FOR HELL!" and The Lift's "TAKE THE STAIRS, TAKE THE STAIRS. FOR GOD'S SAKE TAKE THE STAIRS!!!" You've got images you likely remember from the scary sections of your local mom-and-pop video shop--the girl-gun of Master Blaster, the knife-through-the mask of Friday the 13th: The Final Chapter (the back-cover blurb appends a question mark to that increasingly inaccurate adjective, by the way), and the genuinely striking redneck cheesecake of 'Gator Bait. You've got bloody knives, Giger knock-offs, urban warriors, and underboob.
As is probably clear by now (if it wasn't already from the book's title), the bulk of these boxes are for B-movie genre pictures. The exceptions are therefore often all the more interesting. Go Hog Wild is a glorious example of a truly lost art, the cartooned/painted high-school sex comedy poster. Barbie and the Rockers: Out of this World, with a 1987 copyright date, demonstrates the by-then astonishing moneymaking potential of the medium--a full rental fee for one 25-minute cartoon! The box-art design for Sidney Lumet's Network, though crude by today's standards, provides a representative look at the far classier approach to A-list studio affairs.
Most anomalous of all are the non-fiction efforts. A Johnny Bench documentary stands out for its blandness, while the Unknown Comic's bag-clad noggin and overall awfulness could, with a little tweaking, fit right in with the various monsters and slashers. There's a Gulf War I cash-in from ABC News, simply repackaging a military briefing from Norman Schwarzkopf. Grossest of all is an obliviously bloodthirsty hunting documentary called Bowhunting Whitetails: Just for Fun!: A grinning hunter holds a dead deer's head by the antlers on the front, the back-cover copy revels in the hunter's triumph over the poor stupid unarmed animal he slaughters, and there's a tagline advertising "5 Vivid Arrow Impacts!" Even more than hilariously inept stuff like the Lon Chaney/John Carradine vehicle Alien Massacre and its crosseyed cover babe, it's these documentaries and hobbyist videos that show just how widely the doors were thrown open to media producers and consumers of all stripes by the home video revolution.
And believe it or not, a couple of the covers even succeed as art! Boyreau smartly puts the two that do best right next to each other--the jagged '80s splash-of-paint surrealism for the euro-slasher Eyeball (featuring an extremely rare artist credit, for illustrator Dick Bouchard) and the striking still of a loincloth-clad Cornel Wilde running from his life from spear-chucking African natives that bedecked the colonialist adventure The Naked Pray. Elsewhere, the bold two-color art for Walter Hill's rock'n'roll fantasia Streets of Fire is ripe for reinterpretation today, I'd say; it's easy to picture a Scott Pilgrim promotional piece riffing on its look and pose. And did I mention 'Gator Bait? Step it up, Terry Richardson!
Now here's the thing: A little Google Fu and you could probably come up with jpgs of nearly all the titles I've mentioned, and more besides. Boyreau laments how digital phased out analog when it comes to our movie viewing; has the Internet done the same with his book commemorating the losing side of that battle? I say no. It's not just because of the tremendous job Boyreau and Covey did with the cover reproductions, or the lovely, solid paper stock, or the cutesy slipcase. It's because Boyreau is right: the aura of the object is irreplaceable. A book collection of VHS box art contains preserves what was special about them in a way a Flickr gallery just can't. Next time you have a trashy movie marathon, pass this around between movies--unlike your laptop, you won't even need to worry that much about spilling beer on it.