* I'm pretty happy with how my piece on six great alt-horror cartoonists for "Robot 666" came out.
* And I'm really happy with how my review of Frank Miller & Lynn Varley's The Dark Knight Strikes Again (and glo-fi and Paper Rad and Tim & Eric and so on) came out. In both cases, hyperlinks are truly the blogger's best friend!
* Now that I've watched Matt Zoller Seitz's "Zombie 101" video essay, I'm linking to it all over again. You know, for a subgenre that's so dominated discourse about horror this decade, the canon, as demonstrated by Seitz's choices, is really pretty small--the vast majority of the major clips come from the Romero and the 28...Later movies, with Shaun of the Dead for laughs and pick your black and white voodoo-zombie movie for roots.
* Seeing these lists of "Best of the Decade" lists for music makes me realize--have you seen any such lists for comics yet? I haven't. And I sure haven't made one, because frankly the prospect is too daunting. Not only does this decade contain virtually my entire comics-reading life, it's also just such a seismic time period. It includes everything from Jimmy Corrigan to Kramers Ergot 7, you know? I think you could do a 100 Greatest Comics of All Time list that could conservatively be 25% books from the last ten years.
* Ridley Scott says the Alien prequel he's working on will take place about 30 years prior to Alien. Just getting that out there.
* I like Rich Juzwiak's review of the Michael Jackson concert-rehearsal film This Is It.
* Purple Reign: Meet the Flamingo, terror of the Gotham City underworld and apparent Prince fan. (I don't know what it says that it feels like this is the first time we're seeing him even though he's already appeared in this series at least twice, but hey.) Gotta love that this got out there on the same day I spent all this time comparing a Batman comic to colorful '80s-conscious pop art.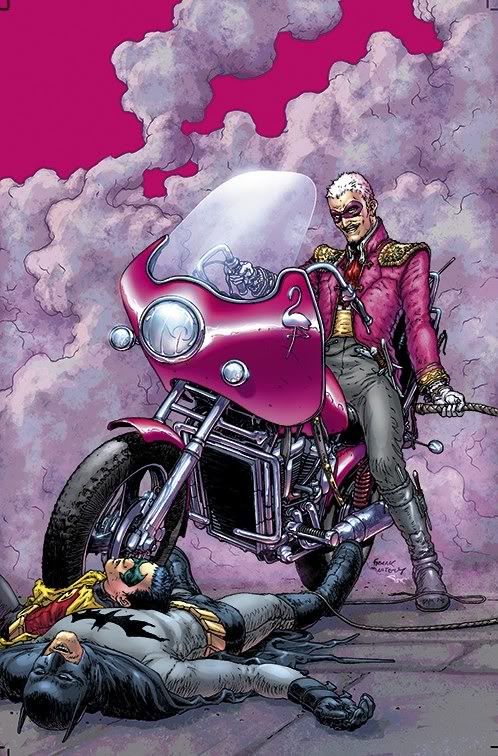 * And here's another song I coulda linked to in that DK2 post had the review gone up at the right time. Woo doggie, more like this please.