* If you read any SPX report this year, make it Jog's: Subtitled "Comics and Connecting Fabric"--in that order for a reason--it's mostly an excuse to review nearly everything he got at the show, including a bunch of Cold Heat comics, Driven by Lemons, Ganges #3, James McShane's Archaeology, that weird "fuck you Craig Thompson" minicomic, the Buenaventura three-for-all, Jonathan Chandler's 2BY2, and Marvel Fanfare #40 featuring holy shit David Mazzucchelli: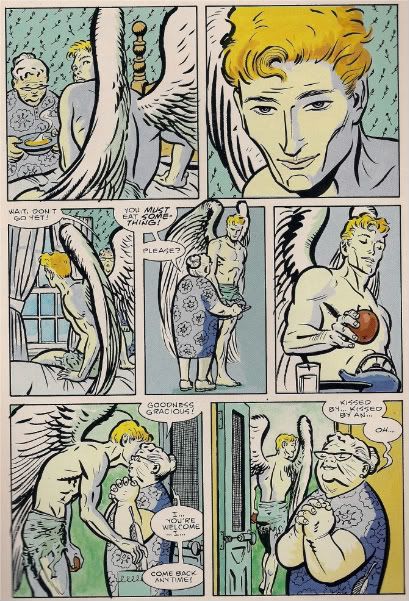 * Frank Santoro's brief report contains some gems too. For example, this was apparently the first time Frank met John Porcellino, but they've been corresponding for sixteen years! Also, there was a couple of the original "Gloriana" Supermonster issue by Kevin Huizenga for sale at the PictureBox table?!?!
* The Are You a Serious Comic Book Reader? crew continues weighing in on SPX: Here's Sammy's second post, and here's site quasi-editor Brandon Soderberg commenting downblog. Both guys (Sammy a bit more stridently) decry what they perceive as an unthinkingly oppositional stance on the part of the independent comics community regarding "mainstream"/Big Two/superhero comics. Which I suppose is true for some people? Maybe? Gary Groth, for example, though I don't think anything Gary does is reflexive, except maybe arguing with Tom Spurgeon. Indeed, when Sammy slams Jeffrey Brown's loving Transformers parody Incredible Change Bots as poorly drawn and irony-filled and therefore acceptable to the indie-comics hoi polloi in a way that unnamed sci-fi comics pioneers aren't, or works in a sarcastic dig about how the only pamphlet-format comics that are cool to this crowd are published by Fantagraphics, I start to detect an oppositional militancy of a different kind. And one that's largely waging war against an army of strawmen to boot: Judging from the Critics Roundtable, for example, Gary and Rob Clough's "no superheroes please, we're critics" stance is a minority position, while the notion that indie people don't like pamphlets is belied by all the hoopla about the Buenaventura and Ignatz lines, Cold Heat, etc.. I totally agree that the new wave of altgenre comics is thrilling in part for how it doesn't take a purely oppositional stance, but the extent to which by virtue of their existence they're taking slaps at Clumsy or Blankets is by far the least interesting thing about them to me.
* I got my Uzi back, you dudes is wack, face it, The Horror Blog is back! And spending the month asking various horror luminaries to list their top ten horror films to boot.
* The astroturfed "word of mouth" release pattern for Paranormal Activity continues, with a bunch of added towns and a contest to add more. Whatever works, man, though particularly after reading Jason Adams's report on the bungled midnight sneak preview I almost went to, I'm a little sour on the way the studio's handling this, even though in principle I think any deviation from the standard "how it does on Friday night opening night basically determines its entire future" operating procedure ought to be applauded.
* Ceri B.'s month-long series of short sharp shocks on horror continues with a concise salute to Kyle Reese's concise explanation of how the terminator works in the first Terminator film. Weirdly, I was just re-reading my T1/T2/T4 review roundelay last night, and it too centered on the effectiveness of that speech.
* Kevin Mutch and Andrei Molotiu debate the readability of abstract comics. Can they work as "stories," i.e. things you sit down and read by proceeding from beginning through middle to end, or are they best experienced as "ambient comics," i.e. by flitting in and out and back and forth through them at your leisure, accruing an understanding in dribs and drabs rather than in one discreet read-through? I think I'm on Team Andrei here--I have yet to dive into his Abstract Comics anthology, but in my experience (Hankiewicz, Nilsen, Cotter, Mattotti) abstract comics are not as attention-deficit-disorder-defying as Kevin makes them out to be.
* Part Charlie White, part David La Chappelle, part "when you see it, you'll shit bricks" internet meme, the horror photography of Joshua Hoffine stages scenes based around various familiar horror tropes, sometimes with a no-beating-around-the-bush tip of the hat to famous works, often with an admirable willingness to go there when it comes to linking horror to fairy tales' menacing of children. Here are a couple strong images: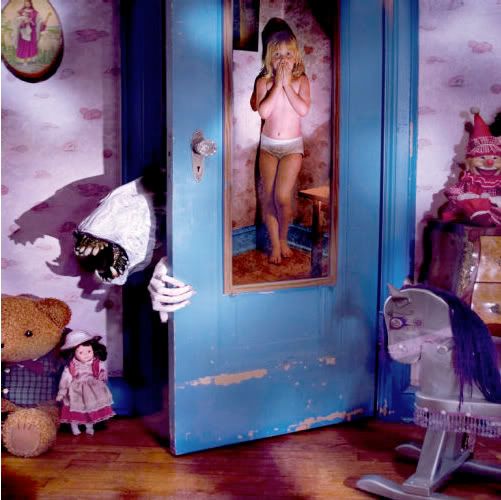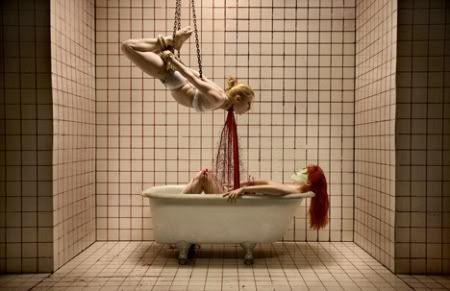 * The Love & Rockets Facebook page's photo gallery is indescribably awesome. It's the kind of thing where there's a picture of Jaime and Gilbert Hernandez with Paul Westerberg and it isn't even close to the coolest photo. Here are a couple of my favorites: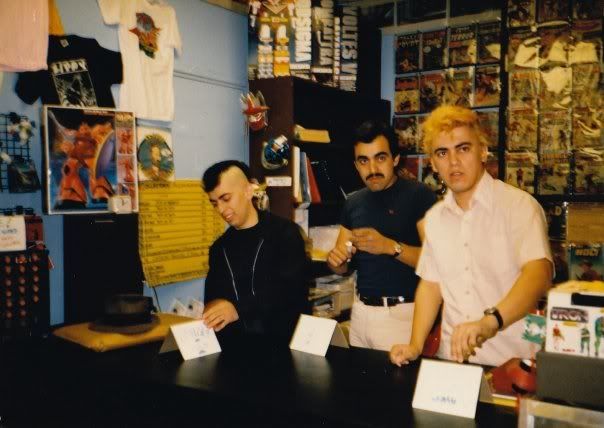 Punk as fuck, circa 1982.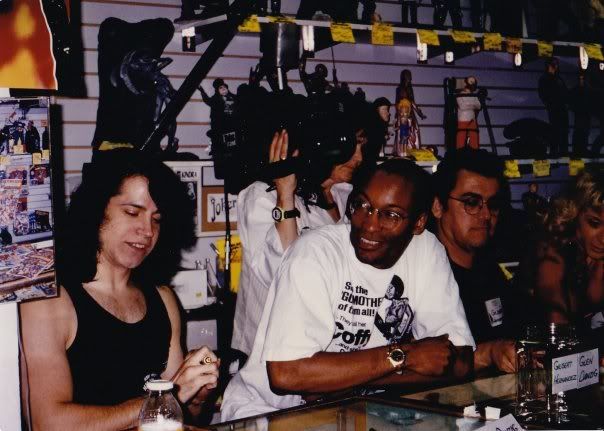 From left to right, that is, I shit you not, Glenn Danzig, John Singleton, Beto Hernandez, and Nina Hartley. Other photos feature Robert Crumb and Aline Kominsky, Russ Meyer, Hank Ketcham, Sergio Aragones, the Flight of the Conchords, Vampira, and Michelle Shocked. Jiminy Christmas, go become a Fan and browse the whole thing. (Via Mike Baehr.)