* My latest Strange Tales Spotlight interview is with Jhonen Vasquez. He's doing a MODOK comic!
* Honestly? Spike Jonze's Where the Wild Things Are is not for me. I like Maurice Sendak's original picturebook as much as the next guy, but because I've been a brilliant genius from a frighteningly young age I got through my picturebook phase pretty quickly and never latched onto any of them as hard as I did, say, The Hobbit. Meanwhile the whole indie-whimsy, Yo Gabba Gabba, "fairy tales for grown-ups" thing is very, very much not my thing--you can take your Arcade Fire-soundtracked wide-eyed wonder and pound it up your sister's ass, to be blunt. So there's that. On the other hand, Vice Magazine's Johnny Ryan-curated comic tribute to Where the Wild Things Are, featuring Ben Jones & Christina Gregory, Benjamin Marra, Dan Zettwoch, Esther Pearl Watson, Frederic Fleury, Hellen Jo, Jordan Crane, Josh Simmons, La Merde, Lisa Hanawalt, Mark Todd, Martin Ontiveros, Matt Furie, Matthew Thurber, Nick Gazin, Ray Sohn, Ron Rege Jr, Sakabashira, Sammy Harkham, Shintaro Kago, Skinner, Ted May, Tony Millionaire, and Vanessa Davis? That very much is my thing. (Via Ben Marra.)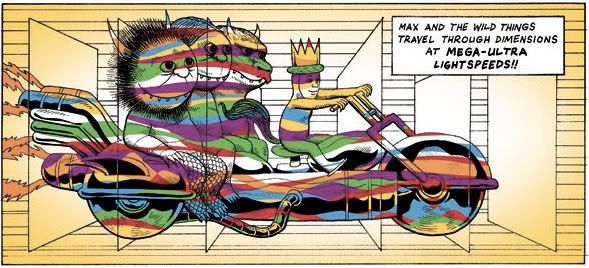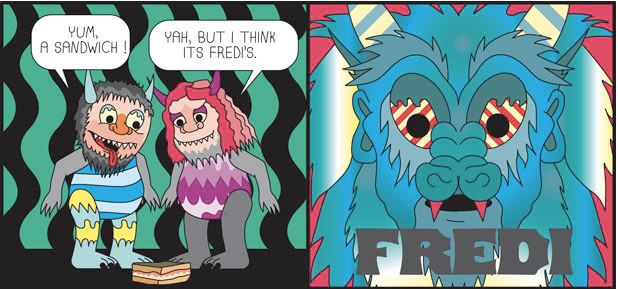 * My find of SPX: Cold Heat Special #6 by Chris Cornwell, which only made it to the show on Sunday. Suck it, Saturday-only-ers!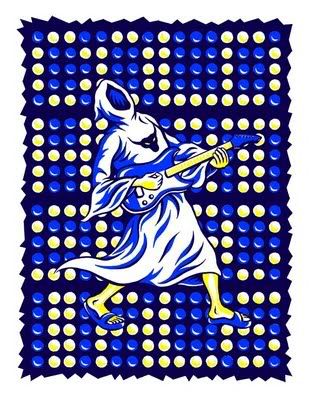 * I was really glad to see Acme Novelty Library #19, the best graphic novel of the year, be named the best graphic novel of the year at the Ignatz Awards. And since I kvetched during the Critics Roundtable panel about how little discussion we saw of that book, I'm gonna link to my review again. (I stole this idea from Ken Parille.)
* Gitchyer Predators plot summary here.
* The secret origin of The Groovy Age of Horror: Curt Purcell reveals the history of his horror fandom in the League of Tana Tea Drinkers' "Meet the Horror Bloggers" interview series.
* Elsewhere, Curt reviews Jeph Loeb & Jim Lee's Batman: Hush, mostly by way of comparison to the way, ahem, I reviewed it. I was so much older then; I'm younger than that now.
* Brian Chippendale on the Fantastic Four: He reviews some Millar/Hitch and Hickman/Eaglesham issues, argues that Mat Brinkman deserves a huge Pantheon book deal (agreed!), then assembles his own FF with Frank Santoro, Richard Corben, Jungil Hong, and Rashied Ali. It is a fucking awesome post.
* Happy one-year blogiversary, The Cool Kids Table! To celebrate, Ben Morse highlights Nova's rogues gallery, not a single member of which I've ever heard of.
Wow. They're like Savage Dragon villains, and I mean that as a compliment. Money quote:
If today's writers can't find a place for a Chinese genius vampire hunter turned brain in a mechanical body who can pose as a Sherlock Holmes robot at will, perhaps they aren't really earning their paychecks.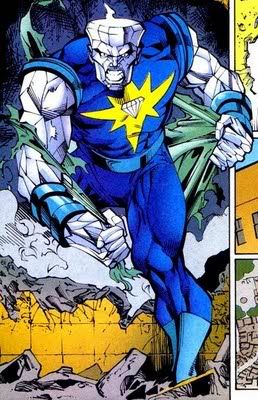 * Real-Life Horror: Prominent Republican Liz Cheney loves torture, and Republicans love her for it.
* I have no idea why COOP sent me a picture he took of an Andy Warhol Star Wars bounty hunter action figure, but I'm very glad he did.