* SPX starts tomorrow! Tom Spurgeon presents a mini-guide to the show in the vein of his epic San Diego advice posts but much shorter, while Chris Mautner lists some must-see books, tables, artists, and panels. And here's what I'll be up to if you missed it.
* Paranormal Activity had some midnight screenings here and there last night and was the talk of Twitter this morning; lots more "SCARIEST MOVIE EVER"s to chew on. On the "first-hand reports from people I trust" tip: Jason Adams, Stacie Ponder, Jason Adams again. Nutshell: Jason says it's really scary, but that's all it is; Stacie says it's really scary, and that's exactly what it should be. I love a horror movie that's so intensely suspenseful and frightening it's a physical experience, but the last time I got one of those it was [REC], and for me that was just a particularly effective movie-long jumpscare. It has a certain naive charm, but no muscle. If you're going to compare something to The Blair Witch Project, I want it to traumatize me the way The Blair Witch Project did. Is it too much to ask for horror art to inflict emotional damage?
* Jeffrey Brown takes us behind the scenes for the making of his Bart Simpson's Treehouse of Horror strip. This is particularly interesting if, like me, you've dug the holy hell out of Jeff's magic-marker coloring technique over the past couple years.
* He-Man and the Masters of the Universe dressed as hipsters. Complete with captions listing the clothing label for each garment. These are by artist Adrian Riemann. I have no idea why these exist; I think I'm glad they do? Teela looks hot as hell, but that's a given. (Hat tip: Dustin Harbin.)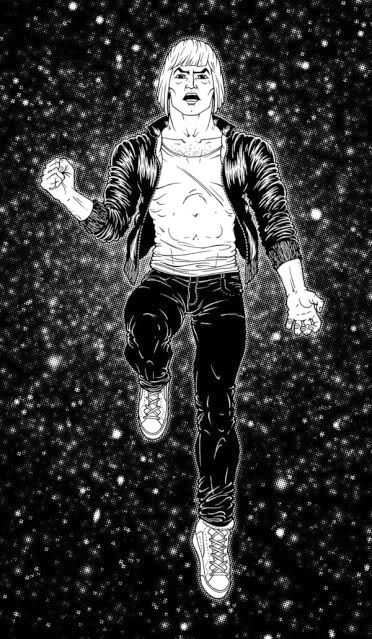 * Pandorum is good? Didn't see that coming.
* Real-World Horror: Some people cannot wait until they have an excuse to excuse torture.
* The Incredible Hercules team of Greg Pak and Fred Van Lente talk about (separate) work on Incredible Hulk. That book hasn't been doing it for me, certainly not on the level that Herc does, but those guys are worth paying attention to. Also, suddenly I have a vision of the original Hulk himself making a return to this franchise and having a big storyline involving him fighting every other Hulk and Hulk-esque character one at a time until he's the undisputed King of the Hulk People again: Red Hulk, Skaar, the other Son of Hulk guy, A-Bomb, Abomination, the Blue Hulk if there's a Blue Hulk someplace, Thundra, Lyra, She-Hulk, let's throw Juggernaut and Colossus and Hercules and Thor and the Thing and the Blob in there too, just non-stop giant dudes and chicks whaling away on each other until the Hulk stands atop them all in purple pants. I would buy each issue three times.