* Okay, so Clive Barker's Hotel is being set up as a series on ABC involving Barker, the guys who wrote Saw IV-VI, and McG. I don't know, you tell me if this sounds interesting or not. I will say that ABC has been the best network in terms of taking risks on dramas for quite some time, so if it had to end up at a network as opposed to AMC or HBO, I guess that bodes well. (Via Dread Central.)
* Because I am a webcomics moron I haven't read Vito Delsante and Rachel Freire's FCHS, but I've gotta say this 17-page preview of the high-school drama's forthcoming AdHouse Books collection makes it look pretty appealing. I mean, it's difficult to tell from the opening pages how well-rounded everyone ends up being--as the recent postmortem lionization of John Hughes goes to show, people love high-school stereotypes--but Delsante's pacing and dialogue and Freire's line and character designs are all refreshingly calm and no-bullshit. It doesn't hit you over the head with OMG ADOLESCENT EMOTIONS RUNNING ON HIGH in every panel like a lot of teen books do. (Via Kevin Melrose.)
* Fantagraphics' long-awaited VHS box-art art book Portable Grindhouse is finally headed to the printers! I and virtually every magazine I write for are very, very excited about this.
* This year's judges for San Francisco comics retailer the Isotope's annual minicomics award include Brett Warnock and Tom Spurgeon.
* Speaking of minicomics, farewell to Size Matters, Shawn Hoke's minicomics review blog, which is calling it a day.
* Comics Comics goes Mome: Incoming contributor Frank Santoro salutes the work of Tom Kaczynski, while veteran Momer Dash Shaw praises Tim Hensley's Wally Gropius strips.
* Related: I'm not sure Frank should be allowed to go on the way he does about how the vast majority of contemporary alternative comics are unreadable garbage without citing a lot of examples. From where I'm standing this is a pretty contrarian POV about the state of comics in 2009 and I want to see where he's coming from.
* Lord only knows what Noel Troll is up to here, but I like it.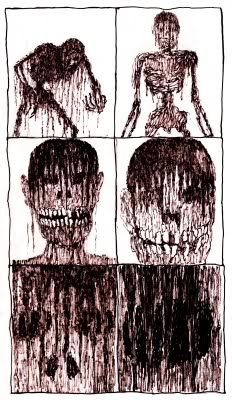 * Stacie Ponder's list of made-up titles for horror films she'd like to see is very very funny. Children Are the Corn, ladies and gentlemen. Rod Roddy Has Risen from the Grave.