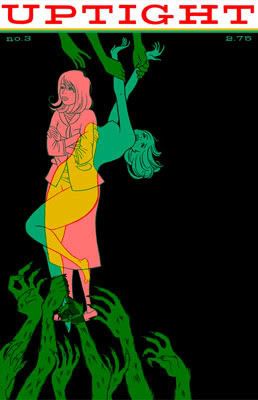 Uptight #3
Jordan Crane, writer/artist
Fantagraphics, May 2009
24 pages, including the covers which you should since they're comics pages
$2.75
Buy it from Fantagraphics
Without Jordan Crane's The Last Lonely Saturday and NON #5 I wouldn't have this blog--heck, I wouldn't have this life, that's how much of an influence those first tastes of the big wide world of alternative comics had on me. So it's difficult to be objective when reviewing Crane's new stuff. Fortunately it's very very good so that's not much of an issue. The long-awaited third issue of Crane's Eightball-style one-man anthology series comes to us with a different cover and contents than we were originally promised--instead of a severed head, we get the kind of ingenue who used to grace NON's covers, her soul nude (aren't they all?) and torn between heaven and hell (aren't they all?). Instead of another installment of Crane's loooooooooong-gestating serialized graphic novel of marriage and miscarriage, Keeping Two, we have the debut chapter of a new story, Vicissitude, which itself marks the debut of a new art style for crane: less of an emphasis on delicate, feathery, perfect line, oceans of gray, pointier noses. The plot is a bitter little thing, steeped in infidelity, alcohol, career dissatisfaction, hints of class self-consciousness, and frustration with the path your life has taken--like a Pulp song, almost. The visual shift to the second feature, a direct moments-later sequel to The Clouds Above, couldn't be more dramatic--the grays disappear, the line transforms, the detail increases tenfold, and blam, we're in Sam 'n' Jack's world of buoyant, byzantine adventure. Crane's Sam and Jack stories unfold like the pipes and vents upon which this tale centers: they bend and twist and wind in comically baroque ways, yet Crane's control of his visuals and the story's tone are so self-assured that it all seems completely logical, like a mind consciously built it this way and if you have a little faith, it'll work like it's supposed to.
The great crime of Uptight is that it barely ever comes out, and given the hostile climate for alternative comic book series these days, I'm not convinced that's going to improve anytime soon. Best we can do is read the heck out of these bargain-priced gems anytime we get our hot little hands on 'em.