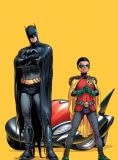 Batman and Robin #1
Grant Morrison, writer
Frank Quitely, artist
DC, June 2009
22 pages, $2.99
I wonder how long it will take everyone who complained about Morrison cramming so much information into Final Crisis and Batman R.I.P. that it went all the way back around again into vapidity to complain that nothing happens in this comic? (Answer: not long at all!) I'm a guy who loved how much shit was going on in any given issue of Final Crisis, a guy who very much bought into and enjoyed what Morrison was up to with his supercompressed storytelling techniques and the emotions and ideas they engendered, so on that level this comic's a bit disappointing. You really can breeze through it in minutes, if you're the sort of person who feels comfortable glazing over the art of Frank Quitely. But that of course is crazy, and that's also the point of this comic--it reads to me like Grant Morrison's reward to Quitely for sticking all the way through All Star Superman and delivering the Oscar-caliber character performances that 12-issue story required to get its point across. Here, Quitely just gets to run wild designing creepy new villains and a younger, fresher Dynamic Duo whose characteristic physical comportment and interactions he gets to invent out of whole cloth--a virtuoso performance of another sort entirely. His line is finer and scratchier than ever, no doubt a result of once again working without an inker enhanced by swapping his usual colorist Jamie Grant for Jim Lee's go-to guy, Alex Sinclair. For his part, Sinclair gets to execute one of the book's more amusing visual gags: The flying Batmobile that the megalomaniacal new Robin designed sure has a whole lot of red, doesn't it?
Meanwhile we're introduced to a trio of new bad guys: Morrison shifts from Lewis Caroll to another pillar of British children's fiction about anthropomorphized animals to introduce the villainous Mr. Toad, there's a new entrant into comics' grand tradition of Head-On-Fire Guys, and the big bad, Professor Pyg, owes his look to a combo of Leatherface and Hostel with goons straight out of Alan Moore and Brian Bollan's Killing Joke freakshow. Best of all, since they're drawn by a stylist like Quitely, they've got a chance of sticking. On the hero side, Morrison pulls some neat tricks to show that Dick Grayson and Damian Wayne are on a learning curve--I particularly liked the bit where Damian dismissively refers to Alfred as "Pennyworth," but then immediately adds a polite "Thank you" in the next word balloon: He may be an enfant terrible, but he's trying. Elsewhere, under the ostensible cover of training Damian for the field, Morrison manages a dig at all the DC Comics where everyone calls each other by their first names as though every superhero battle is a high school reunion. To cap it off, Morrison and Quitely even crib from Geoff Johns's delightful recent technique of adding a page or two of decontextualized images from future issues as a teaser for the rest of the run. This isn't a book I instantly rushed to re-read like I would with each new issue of Final Crisis or R.I.P., but otherwise I think it's safe to say that I've waited all my comics-reading, Batman-loving life for a monthly Batman comic that looks and feels like this.