* I really liked Kiel Phegley's three suggestions for how to approach Free Comic Book Day as a chance to have fun with friends and family.
* This is a terrific bit from Tom Spurgeon's post on Drawn & Quarterly's new Doug Wright collection:
The great thing about cartooning is that sometimes the texture and feel of the way cartoonists approach the form can be as important as the content of the narratives. That's why, to use a famous example, you can look at an end table drawn by Charles Schulz and feel his entire world through its line.
That's a crackerjack insight no matter what, but what makes it even better is that before I read the post I just sat and gawked for a bit at the Wright panel Tom chose to illustrate his piece: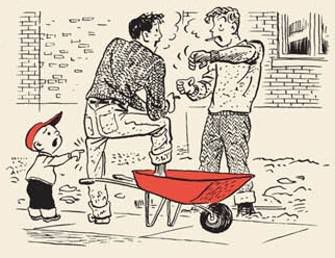 I think different kinds of comic geeks geek out in different ways: Lately I geek out by marveling at things like just how goddamn well-drawn that dude's jeans are. I'll tell you what, you draw jeans like that and your comics have instantly earned a lot of credit with me.
* Here's a bizarrely eloquent post on Wolverine by national-security blogger Spencer Ackerman. I'm impressed by the way he unpacks the character as better understood through a series of small personality-based revelations throughout his publishing history than through a comic or movie that purports to be his "origin." Also, it's funny to look at Barry Windsor-Smith's Weapon X through a topical lens. Thank god we stuck with waterboarding and didn't give Khalid Sheikh Mohammed an adamantium skeleton.
* I did not care for James Turner's Nil, but I still think it's an ugly and ominous development when the monopoly distributor of comics to the market system in which the vast majority of comics are purchased opts not to carry a book of obvious seriousness of intent and execution like Turner's new project Warlord of IO from a publisher of long standing like SLG yet still makes room for Frog Thor busts.
* There's nothing about Harry Knowles's post on the Wolverine movie that isn't totally hilarious at the expense of both Harry Knowles and the Wolverine movie.
* The Viggo Mortensen-starring adaptation of Cormac McCarthy's The Road has been pushed back from Oscar season 2008 to Oscar season 2009.
* They're going to make a Hollywood movie out of Death Note. (Via Dread Central.)
* Artist Ryan Dunlavey reveals his part in one of my favorite things ToyFare magazine ever did: The Bearriors, an '80s toy line and cartoon series starring anthropomorphized warrior bears...that the magazine invented from whole cloth as a hoax.
* Sea monster porn: a CGI reenactment of Predator X, the most powerful carnivore in the history of the world, in action. (Hat tip: Matt Maxwell.)