* This is so delightful to me: Curt Purcell interviews Josh Simmons. If you've been reading my recent reviews of Josh's minis, I think you can imagine that there's a lot to talk about.
* Yesterday it was discovered by the Internet at large that Amazon had somehow and for some reason tagged pretty much any book touching on homosexuality in any way as "adult" and therefore removed it from all-important sales rankings, a blow in terms of both searchability and marketability, not to mention common decency. Instantly I saw people posting about how they were canceling their Amazon accounts and stripping links from their sites, but it seemed to me so clearly a case of either a technical or personnel fuck-up rather than a conscious decision to smear the queer at a company level that I figured publicizing its ridiculousness was all it was appropriate to do. (The initial reports of customer service reps more or less defending the move struck me as the actions of employees who didn't really know what was up and offered an explanation based on what they assumed must have been happening as though it were a conscious decision on a company level.) Sure enough, today we've seen Amazon begin relisting a lot of the books, and various conflicting but convincing explanations emerge regarding how coding glitches, hackers, "let's you and him fight" meta-trolls, and/or bureaucracy are more likely culprits for the move than Jeff Bezos catching a bad case of the Maggie Gallaghers. Gawker has one theory, while Patrick Nielsen Hayden and his collection of relevant links have more.
* Fantagraphics offers a sneak peak of some of its upcoming projects, including an odds'n'sods collection from Paul Hornschemeier and a Steve Ditko collection.
* Did I already know that Dan Nadel is working on Art Out of Time 2 and forget it, or is that news? Very, very welcome news? That really is the book that launched a thousand other books and opened a couple thousand eyes, although Craig Yoe will pop up in your comment thread and make cryptic statements to the contrary if you say so, bless him.
* It's come at last. At last it's come. The day I knew would come at last has come at last: Topless Robot's Rob Bricken reviews Dragonball: Evolution. His subsequent shame spiral into alcohol-induced unconsciousness is mercifully left to your imagination.
* Bryan Lee O'Malley talks about Scott Pilgrim and the classic video games that influenced it to Kiel Phegley.
* Tim O'Neil reviews Alex Ross, Jim Krueger, and John Paul Leon's Earth X, noting what the book's differences from Ross and Mark Waid's Kingdom Come say about the differences between the Marvel and DC Universes. Hint: the central figure of Marvel is a soldier, while the central figure of DC is a savior.
* Chris Butcher explains what's up with those (to my eyes) obviously cockamamie New York Times bestseller charts for graphic novels. The problem, he says, has to do with the fact that the "final sale" in the bookstore market is from store to customer, while the "final sale" in the direct market is from Diamond to store, and how that discrepancy creates glitches in the way the chart is tabulated.
* Monster Brains notes the upcoming release of Knowing Darkness, a book containing Stephen King-based art by the likes of Bernie Wrightson, Lord of the Rings creature designer Gino Acevedo, and Monster Brains mastermind Aeron Alfrey himself.
* Glenn Greenwald and Spencer Ackerman call out the Obama Administration's attempts to preserve, if not expand, certain Bush Administration policies regarding such issues as state secrets and indefinite detention, particularly at the Bagram detention facility in Afghanistan. One of the theories that Greenwald notes--that in order to preserve some vestige of inter-partisan comity the new administration is doing whatever it can to prevent investigations and prosecutions of the past administration even if that means giving its active and ongoing imprimatur to that administration's practices--is to me a) the best explanation and b) a terrible excuse.
* Renee French: still creepy.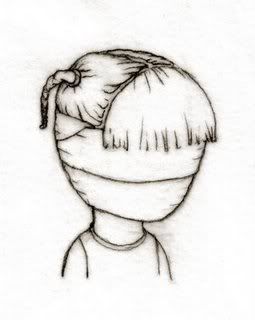 * Attention Marvel: Please let Jon Vermilyea draw Venom.
* I deeply want someone who was around back then to tell me that this shot of Howard Chaykin and his amazing friends circa the early '70s is what all gatherings of comics culture looked like back then.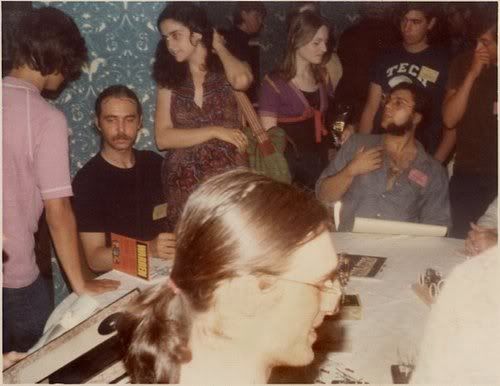 * Shaggy has my favorite take on James Dobson's admission of defeat in the culture wars.