* Your first must-read of the day: Tom Spurgeon presents the best comics of 2008. It's interesting to see how much emphasis Tom places on the importance of weighing works qualitatively against one another as a goal of criticism--I suppose that goes without saying when it comes to a year-end ranking, but even in that case, I tend not to place so much importance on qualitative distinctions myself. And again, it makes me wish I'd read as much about Acme Novelty Library #19 as I have about Final Crisis (which I liked!). Tom also takes his fellow critics to task for their lack of engagement with books like What It Is and Kramers Ergot 7, a bit unfairly if I recall correctly, but hey, it takes different strokes to move the world.
* Your second must-read of the day: At MCAD's "MOMEntum" exhibition, the great Eric Reynolds of Fantagraphics holds forth on the evolution of alternative comics from comic book to graphic novel, and what that means for young cartoonists like those in the audience. (As a side note, it always does my heart good to see Jordan Crane's NON given credit alongside Sammy Harkham's Kramers Ergot. Had more people been able to see it, I don't doubt NON #5 could have had the impact of Kramers Ergot 4--it certainly did on me.) (Via Dirk Deppey.)
* Speaking of Kramers, Dick Hyacinth reviews Kramers Ergot 7 practically story-by-story. I think my favorite thing about the review is the way his photos of the scanner-busting pages make everything look big enough to be hung on gallery walls. Elsewhere, Dick does the world the public service of creating an actual working Kramers Ergot 7 table of contents.
* Sopranos creator David Chase's next project will be called A Ribbon of Dreams. It's an HBO miniseries with a sweeping story about the rise and presumably fall of two producers from the dawn of Hollywood to the present day. Sold.
* Todd VanDerWerff all but takes a mulligan on critically evaluating the penultimate episode of Battlestar Galactica until he sees its concluding episode this week. Which, wow, that's going to take some getting used to. Anyway, he tentatively likes what he saw this week, as did I. He also takes the time to unpack why Baltar's cult/conversion storyline has been so frustrating, perhaps my biggest pet peeve of the show's final two half-seasons.
* In the latest installment of his continuing, awesome series of posts on '90s superhero comics, What Ifs?, and other extraordinarily geeky topics, Tim O'Neil explains the difference between the "alternate worlds" of What If? and the "analogue worlds" of Elseworlds. Some of you just shrugged your shoulders, and some of you aren't even reading this sentence because you've already clicked over. He also continues to promise a review of Kingdom Come, which I'm looking forward to because I like that book.
* My pals at the Cool Kids Table throw decorum to the four winds and run down the Watchmen spinoffs, sequels, and prequels of their respective dreams.
* Speaking of Watchmen, will the film's relative failure adversely affect the prospects for more full-frontal male nudity in Hollywood films? Given the really egregious and unnecessary Penis Panic that gripped critics both mainstream and geek-centric, to say nothing of modern geek culture's bizarre, bullying hypermasculinity, my guess is that the answer is yes. What a country. (Hat tip: Matthew Perpetua.)
* "Tom Neely sure can draw" update: Tom Neely sure can draw.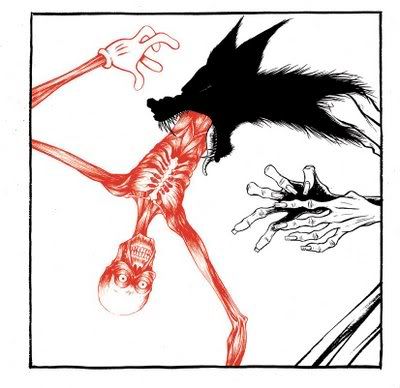 * The last gasp of torture porn? Jason Adams gives pretty high marks to the remake of The Last House on the Left.
* Speaking of torture porn: Take some time, if you're not some phony 24 tough guy and you don't mind having your soul kicked repeatedly in its kidneys for a while, to read the International Committee for the Red Cross's report on torture at America's network of terror-war prison sites. It's the involvement of doctors whose job it was to ensure that everyone was tortured just enough to not die (they weren't always successful) that will be haunting me to my grave. And of course, the repulsive likes of Khalid Sheikh Mohammed and Abu Zubaydah--real-life horror stories themselves--never deserved the emotional martyrdom that their treatment now forces us to grant them.
* Meanwhile, Glenn Greenwald wonders if the Obama Administration isn't the new boss, same as the old boss in several important respects. Faith in good intentions, as we've learned (as I've certainly learned), is just not enough.