* It's been a while!
* Fantagraphics is having a big clearance and closeout sale, and I insist that you purchase Dave Cooper's outstanding, largely forgotten, and probably last-ever graphic novel Ripple for 1/3rd off cover price.
* All-time ADDTF hero Clive Barker is making the interview rounds big-time in support of today's DVD release of the still-unseen-by-me Midnight Meat Train. Here's a long one at Shock Till You Drop, another long one at Dread Central, and a slightly shorter but still interesting one at Fearnet.
* Chris Butcher, Tom Spurgeon, Brian Hibbs, and Tom Spurgeon again react to the news that monopoly direct-market comics distributor Diamond is permanently delisting about 1000 manga volumes from their Previews catalog as part of their recently announced cutbacks of low-selling items. The reason I don't talk about business issues much anymore is because I am manifestly unqualified to do so, but I just can't imagine how cutting off 1000 items from North America's biggest comics publisher from a market entirely in thrall to such decisions is good for the long-term health of the industry. I think Tom raises an important point when he says that the way Diamond is sort of dropping these bombshells out there with little or no explanation of the thought process behind them, leaving it up to interested third parties to explain/excuse/defend these moves, is a strange way to go about making decisions that could effect the shape of the Direct Market forever.
* The cast of Sylvester Stallone's The Expendables, which already included Sly, Dolph Lundgren, Jet Li, and Jason Statham, now includes Eric Roberts...and Arnold Schwarzenegger. This is already the greatest movie ever made. Better than Crank, even.
* Michael Kupperman blogs! Look for previews of future Tales Designed to Thrizzle, deleted scenes from Cheers featuring Tobin Bell as SAW, and more.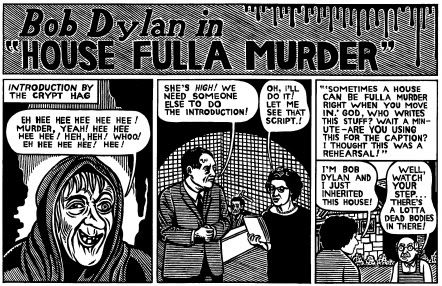 * Kiel Phegley interviews Sammy Harkham about Kramers Ergot 7. It's the full transcript of the interview that he conducted for his piece naming KE7 Wizard's Indie of the Year.
* Josiah Leighton got a review of the Pierre Bonnard show at the Met in his NYCC con report! No, he got an NYCC con report in his review of the Pierre Bonnard show at the Met!
* The Gold In Us is back, pointing out the internal continuity of Grant Morrison's many DC comics. I'd wondered about those little JLAers myself.
* Dave Ortega talks to Dave Kiersh, a longtime ADDTF fave and faithful chronicler of the teenage wasteland, about his books Dirtbags, Mallchicks & Motorbikes, Never Land, and more, and I really just love a lot of what he says. Honestly, this sounds like I wrote it:
Well, I'm not so much a poetry reader in the traditional sense. I do however enjoy music, of course, which is closely related. My early comics were much shorter and with them, I was more concerned with conveying an emotion; story was not so important to me. Even with my longer stories, I have no aspiration for writing a sort of literary graphic novel. When I think of rock and roll songs I like, sometimes they tell a story. But more often what makes them memorable is that they possess a sort of compact nostalgic thrill. Just like an album has a theme that ties songs together, I wanted to create a book of short stories tied together with a common purpose. That's what works for me now, rather than to write a long novel. It's like asking a rock musician to write a song that is an hour long. In that way, it doesn't make sense for me to make a 100 page novel. It has to be interesting for the reader and in doing so avoid repetition. My new book is five short stories not directly related to one another, but you could also view it as one story through the separate characters....For me, a picture story has to have this perfect balance balance between word and picture: that's what keeps a child's interest. I'm not exactly sure what keeps an adult's interest but its similar to music; how I interpret music. Not like Classical music but like Rock and Roll... something that hits you immediately and hopefully sticks with you.
Yes yes yes yes yes.
* Curt Purcell reviews Fletcher Hanks's I Shall Destroy All the Civilized Planets! Not only does he pull some of my favorite images from the book to illustrate the review, but he also articulates something I hadn't been able to put my finger on, which is that the repetition in some of the images is almost evocative of mental illness.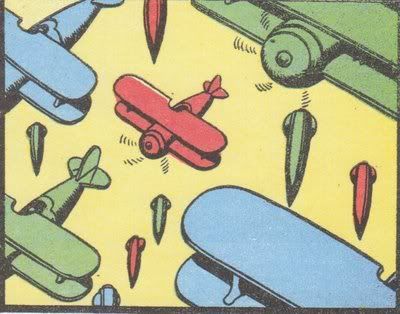 * ADDTF blogfather Bill Sherman's review of the uncut-edition Friday the 13th DVD doubles as a brief and informative history lesson about the movie and its context in the slasher tradition.
* In another of his terrific posts on (mostly) '90s superhero comics, Tim O'Neil explains DC and Marvel's contrasting approaches to character retcons.
* Marc-Oliver Frisch reviews Ed Brubaker & Sean Philips' Incognito. He feels that the series so far lacks a certain emotional heft that the pair's previous hardboiled collaborations Sleeper and Criminal had. My feeling is that it's just gonna take some time to get there since you're dealing with bastards, but he's not wrong for the moment.
* I think Beavis and Butt-Head is truly brilliant and just as funny now as it was when I was Beavis and Butt-Head's age, so seeing a lengthy, thoughtful review of Beavis and Butt-Head Do America by Not Coming to a Theater Near You's Katherine Follett was a real treat. Set your TiVos.
* Chris Butcher and friends (I think?) review Naoki Urasawa's Monster now that it's all over and done with. Chris says the review's spoilery and I'm not even close to having read the whole thing so I'm just bookmarking it for the future, but if you've gone through the whole thing, by all means check it out.
* Of all the things to rip off from Alex Ross, you go with the sourceless white glow???
* Odd blogospheric convergence of the day: Andrew Sullivan reads the, oh, let's call them tea leaves regarding Michael Phelps, millennials, and marijuana through a viewing of the Friday the 13th remake.
* Helena Christensen and Ed Westwick—Gossip Girl's Chuck Bass—in a photo shoot inspired by The Graduate? Sure, I'll eat it.
Delicious. (Hat tip: The Missus.)
* Nine Inch Nails touring—and recording?—with the original line-up of Jane's Addiction as a farewell to the live incarnation of the NIN brand? Sure, I'll eat it—and come back for seconds! In all seriousness, whatever became of the NIN/Jane's style of dark, sexual, vaguely sinister, yet still both extremely thoughtful and hook-oriented school of alternative rock?
* Finally, Frank Santoro is a shy and retiring guy.