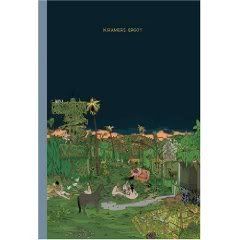 Kramers Ergot 7
Sammy Harkham, editor
Alvin Buenaventura, assistant editor
Sammy Harkham, Shobo Shobo, Martin Cendreda, Walt Holcombe, Shary Boyle, Jerry Moriarty, Aapo Rapi, Ted May, Nick Main, Tom Gauld, Geoff McFetridge, Chris Cilla, Tim Hensley, Daniel Clowes, J. Bradley Johnson, James McShane, C.F., Kim Deitch, Chris Ware, Jacob Ciocci, John Brodowski, Jaime Hernandez, Matt Furie, Anders Nilsen, Ivan Brunetti, Carol Tyler, David Heatley, Dan Zettwoch, Johnny Ryan, Mat Brinkman, Eric Haven, Conrad Botes, Josh Simmons, Richard Sala, Jesse McManus, Rick Altergott, James Thurber, John Hankiewicz, Ben Katchor, Frank Santoro, Seth, Leif Goldberg, Blanquet, Blex Bolex, Will Sweeney, Kevin Huizenga, Adrian Tomine, Florent Ruppert, Jerome Mulot, Anna Sommer, Ben Jones, Pshaw, Jonathan Bennett, Helge Reumann, John Pham, Matt Groening, Xavier Robel, Joe Daly, Souther Salazar, Ron Regé Jr., Gabrielle Bell, writers/artists
Buenaventura Press, December 2008
96 comically huge pages, hardcover
$125
Buy it from Buenaventura
Buy it from Amazon.com
The massive, gutterless, green white and orange panels of Frank Santoro's silent Iraq War morality play. The masterful repetition and variation of John Hankiewicz's three-page classroom vignette. The way Ben Katchor uses space to force your eye back and forth and effortlessly draw you to the conclusion of his strip about a woman reluctant to date a man who works in an ugly building (a LOL moment). Chris Ware's lifesize baby. Mat Brinkman's massive red white and black monsters. Josh Simmons's jaw-droppingly bleak horror story, its dense panels fluttering by so quickly it almost feels like you're watching the comic rather than reading it. Eric Haven's use of blue. Carol Tyler's huge block-letter "NUTS!" Ivan Brunetti and Kevin Huizenga forcing you to flip this gigantic book around. Jacob Ciocci using a Seal lyric as the philosophical lynchpin of a psychedelic freakout (another LOL moment). The electric guitar soundwave in the middle of John Brodowski's page. The delicious candy-colored nostalgia of the vintage bottlecaps lining Kim Deitch's strip. All those James McShane circle panels. The way the traditional altcomix layouts of Tim Hensley, Dan Clowes, and Jaime Hernandez's strips make you feel like you're reading a book from a land of giants. Double that with Adrian Tomine's spread. Tom Gauld's "two guys in a weird, large, isolated environment" schtick being used to tell the story of Noah's Ark like some lost Edward Gorey project. Aapo Rapi's blue yellow and green Grimm Cabbage Patch Kid fairy tale. Walt Holcombe's rock-poster title page. Matt Groening's dorm-poster contribution. Matt Furie's menagerie. John Pham's evocation of the gray urban nightscape in his strip about stray dogs. Gabrielle Bell's spy thriller (!). Ben Jones & Pshaw's color-coded gag strips. Ruppert & Mulot's vertiginous stairway strip. Sammy Harkham's two-tone sunset. Seth's Porcellino-like tribute to Thoreau MacDonald. Anders Nilsen's pastels. Helge Reumann's cycle of violence. Shobo Shobo's bright yellow endpages and nearly useless Where's Waldo table of contents. Sammy Harkham's creepy front cover and Shary Boyle's creepy back cover. Conrad Botes ending things on the downest down note he could play.
When you open these massive covers and flip through these massive pages and read these massive comics, you'll find things that lots of things that knock you out immediately and lots of things that work really well once you read them. You'll also find lots of things that don't work on a canvas this size, and a number of things that probably don't work at all. But all told, a decade from now or two decades from now when someone asks you what this decade was like in alternative comics, this is the book you're going to hand them. This is our era. You were there.