* The new Diamond minimum order cutoffs claim their second major artcomics casualty: Sammy Harkham has announced the cancellation of his short-lived series Crickets. If no other title but this and Or Else disappears, it's still a grievous loss. My guess at this point? The alternative comic book is dead.
* Tom Neeley announces his next project, a book/album collaboration with Aaron Turner called The Wolf. So far, so scary: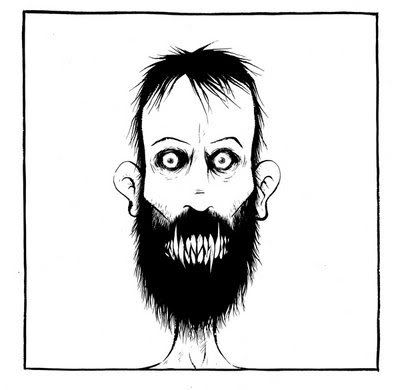 * John Landis is suing Michael Jackson over profits from the "Thriller" video. My second Thriller news story of the week? How did that happen? (Via Whitney Matheson.)
* Fun with close reading: Using a chase sequence from Jeff Smith's Bone, Josiah Leighton dives deep into framing images, and how framing affects pacing.
* And then he picks apart that crazy Pat McEown quadruple-page spread from Dave Cooper's Weasel #1. Oh, Dave Cooper's Weasel. MISS U
* Slate's James Parker reviews/explains Jaime Lowe's Digging for Dirt: The Life and Death of ODB through the lens of spiritual autobiography--in the Ol' Dirty Bastard's case this means his relationship to the teachings of the Five Percent Nation/Nation of Gods and Earths, which is sort of like the Nation of Islam Meets Illuminatus! In so doing he looks at the Wu Tang Clan as worldbuilding project:
Dirty's home in hip-hop was the Wu-Tang Clan, where--commercially speaking--NGE doctrine was part of the package, part of the plan. His cousin and fellow Five Percenter the RZA masterminded it on brooding solo walks around Staten Island, N.Y.: In order to conquer the world, Wu-Tang would have to be a world. Nine killer MCs pickled in late-night kung fu flicks, chess lore, Marvel comics, street life, weed cabbalism, and NGE slang eschatology--a hip-hop Middle Earth, with its own legends and grades of being. No other crew could match the sorcerous allure, the smoky Dungeons & Dragons vibe curling off those minimal Wu-Tang beats. "I lived in at least ten different projects," wrote RZA in The Wu-Tang Manual, "and I got to see that the projects are a science project, in the same way that a prison is a science project. ... And in comics, when a science project goes wrong, it produces monsters. Or superheroes."
Ta-Nehisi Coates
responds and elaborates:
Wu-Tang, to me, was what I always understood black geekdom to be. Karate flicks, Comic Books (but what about the Wonder Woman bracelet), cartoons (form like Voltron), wrestling (My style broke muthafuckin backs like Ken Patera) etc. They took all of that and then filtered through New York, and through the lense of urban black America, at large. It was a great time.
Indeed it was! Speaking as a white Ivy League suburbanite, I think the geek element, and the emphasis on worldbuilding even beyond the geek stuff, is why I maintain a connection with the Wu above and beyond any other hip hop acts. It really, really feels like a shared intellectual experience to me. (The closest anything else comes is Public Enemy growing up on Long Island.) But it's also a really fun and enjoyable art project--the only other artists I can think of who fire up my imagination through sheer totality of vision and expanse of imagination the way the Wu Tang Clan does are the Beatles and Led Zeppelin, who were just as interested in worldbuilding via psychedelia + utter mastery of myriad songwriting traditions/mysticism + exploration and admixture of worldwide roots music respectively.
* Did that make any sense?
* Kiel Phegley lists his 10 Favorite Comics of 2008 that he read. I tell you, this year was the first where I even came close to feeling comfortable leaving off the "that I read" caveat, given that I read so many comics this year. (But there were a few that slipped through the cracks. so don't feel bad if you drew one of them.)
* Dustin Harbin gives the business to The Prestige, which though not quite as stupid as director Christopher Nolan's Batman Begins was indeed pretty stupid. Pretty, but pretty stupid.
* David Allison runs down his master plan for killing off his blog by beating it to death with posts about Grant Morrison and Jack Kirby comics. Or something.
* Chris's Invincible Super-Blog has a preview of the Internet's upcoming run writing Batman.
* Your horrifying news story of the day:
Traditional healers in Tanzania are defying a government ban announced on Friday, intended to stop the killings of people with albinism for ritual medicine.

A BBC correspondent has seen at least 10 healers working openly.

It comes days after the latest murder of an albino man in Tanzania brought the national death toll to at least 40 since mid-2007.

The killers reportedly sell albino body parts - including limbs, hair, skin and genitals - to witchdoctors.
--Via
Bryan Alexander
. I don't know why, but this story reminds me of how I've long wondered why human breastmilk and semen aren't treated as delicacies in highfalutin' restaurants someplace. Maybe they are, I don't know. The most dangerous cuisine, that sort of thing.
* If you are familiar with the horror film The Broken, chances are it's for one of two reasons: 1) Sessy sessy star Lena Headey; 2) Awesome awesome poster featuring the bifurcated head of same. Naturally, the two new American posters for the film lose the powerful imagery and add in the fucking Horror Movie Font. Goddammit. (Good call, Jason Adams.)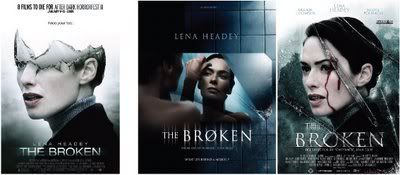 * Becky Cloonan can sure draw a triceratops.
* Make sure to click over to Ryan Catbird's site to see this gallery of Yes Studio album art for the band Maxïmo Park at full size. It's really lovely.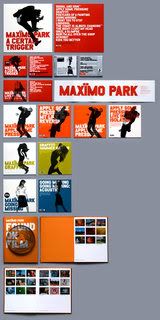 * Lego Twin Peaks!
This is much, much funnier when it relies on accuracy for laffs than it does when it starts riffing, so you end up wishing it had stuck to the script the whole time. It also more or less ignores the Hornes and related characters and events. But still, in the words of Sheriff Harry S Truman, "Yeah." (Via Matt Maxwell.)