* Tom Spurgeon kicks off his annual holiday interview series with a conversation with Fantagraphics co-honcho Kim Thompson. It's both uplifting to hear a great publisher talk about what he does and why/how he does it, and depressing even to hear him joke that had he known then what he knows now he might never have given it a try.
* The two guys who run Michael Bay's horror remake factory Platinum Dunes sound like They're not remaking Rosemary's Baby and might not remake The Birds after all. It's really something to hear how dopey they sound even when explaining non-dopey decisions like that one. (Via Dread Central.)
* Josh Cotter's last few "Driven by Lemons" sketchbook strips have been particularly lovely.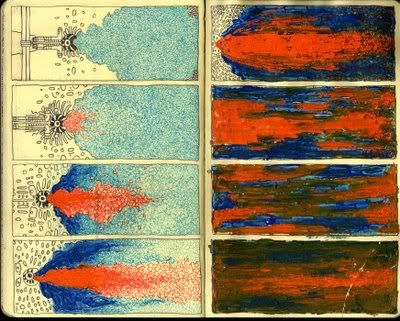 * John Jakala casts a skeptical eye at Brubaker/Fraction/Aja et al's Immortal Iron Fist as compared to similar manga series. To me, though, the way he critiques it just makes it clear that IIF was going for something different than Naruto or Bleach. I suppose it's possible they tried to do a balls-out superhero manga and failed, but it seems unlikely. It's certainly fine to prefer one to the other, of course.
* The Daily Cross Hatch asks a plethora of comics personages to list their favorite books of the year. I could have done with a few fewer NYC comics scenesters plugging their buddies' books, but it's still an interesting sampling of opinions. Capacity gets a lot of love, which is terrific given how close I came to overlooking the book entirely. My favorite bit is Dash Shaw's praise for the great Ross Campbell's Wet Moon 4:
Campbell knows who he is and what he likes and his comics are born out of his personality and obsessions. His work is unique and untouchable. This man is at peace with himself. That is an enviable life. If Optic Nerve was awesome it would look like this. The Abandoned 2 was going to be his masterwork but I'm okay with more Wet Moon instead. Fuck Tokyopop.
I don't necessarily agree with the
Optic Nerve
dig, but Shaw's dead on in detecting a kinship there. It's just the look and the milieu of Campbell's stories that prevents altcomix slice-of-life lovers from jumping aboard, or really even acknowledging its existence. Read
Wet Moon
!