* Rest in peace, Bettie Page. She was beautiful!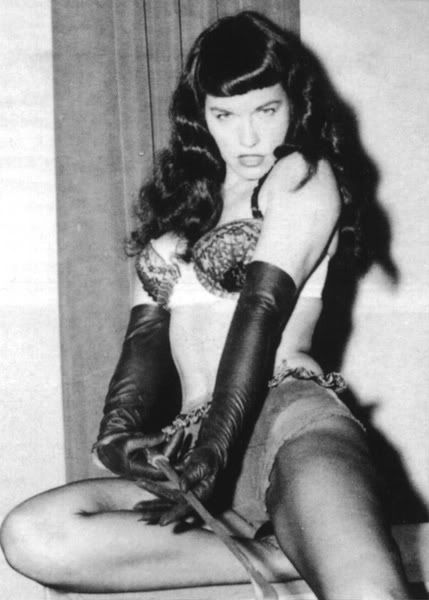 * I linked to this interview with Hans Rickheit a while ago, but since he's long been my number-one "altcomix cartoonist who should be a bigger deal," I really ought to emphasize that he's apparently doing a graphic novel for Fantagraphics. Outstanding news.
* Doomsday: The Series? When was this announced? Was it announced? (Via Rickey Purdin.)
* The Battlestar Galactica webisodes start today!
* Final Crisis #5 was really good, and you can read annotations thereof by Douglas Wolk and David Uzumeri.
* Ben Morse Rickey Purdin suggests 10 things Hellboy and the BPRD could have done instead of what they did in Hellboy II: The Golden Army.
* Quote of the day:
When you do a comic book that seems so easily translatable into film and television, the things film and television does very well begin to expose the comic as unsatisfactory when it comes to aping those elements....Actors have compensating virtues when it comes to suspension of belief. They're real, they have a natural physicality, they bring an incalculable number of tics and idiosyncrasies to the table. This comic misses all of those things, and seems exposed for it.
--
Tom Spurgeon
on Boom!'s
The Remnant
. This passage struck me because it's exactly what I thought about those first Joss Whedon-scripted issues of the
Buffy Season Eight
comic book.
* I could read Jon Hastings talk about different kinds of action movie filmmaking all the livelong day. I suppose I do have to say that I think that in both the nu-Bond and Bourne movies, I'm not seeing the lack of sense of spacial integrity/intelligibility that Jon is seeing. I don't think I ever had a hard time figuring out who was who or what was happening where. Anyway. Where does Rambo fit in your taxonomy, Jon?