* Caprica, the Battlestar Galactica prequel series, has been greenlit. Meanwhile, the Cylon prequel TV movie Edward James Olmos is directing will be called Battlestar Galactica: The Plan and will air after the main series is over. I suppose it's about time to start getting excited about Lost and BSG coming back, huh? (Via AICN.)
* My pal Kiel Phegley presents a lengthy and impassioned list of reasons he loved Batman #681. Sample:
3. Morrison's Batman is the killer B Side to All-Star Superman.

Simply put, if Morrison and Frank Quitely's All-Star Superman is "Hey Jude" – the soft, wholesome crowd pleaser that plays through the expected notes of the genre to perfection – then Morrison's Batman run is "Revolution" – the wild, jagged face melter that mixes the genre's raw essentials up to remind you that the artists started on the fringe of things and will always live there to some extent. Beyond the obvious "reinforce the core of the character by making them repeatedly fight twisted versions of themselves" motif that runs through both, Morrison delivers in each series an epic story that conforms to the core of what is appealing and essential in each property that still entertains after 70 years by embracing the style of each character within his scripts. All-Star spun the science fiction slice of altruistic Americana take on Superman to perfection by bolstering the insanity of the Silver Age with scripting style that focused on the big, boy scoutish, heart-wrenching images. "R.I.P." and its predecessors similarly shined up the improbably unkillable gothic detective myth that is Batman through a careful balance of horrific villainy, baffling detective story plotting and oddly endearing childhood trauma. As fucked up as these issues of Batman have been, when all the trades are in hand, I'm positive you'll be able to hand them to a person and say, "THIS is what Batman's all about" in the same way people have been doing with All-Star.
*
Tom Spurgeon
reviews Lilli Carré's
The Lagoon
, which sounds just up my alley.
* Meanwhile, part one of Spurge's year in review interview with the Daily Cross Hatch's Brian Heater makes for grim reading. (Via Heidi MacDonald.)
* My pal TJ Dietsch reviews several horror movies, including Midnight Meat Train--the most positive take from someone of my acquaintance I've come across so far.
* Maybe it's just that between my recent re-read of World War Z, that real-world plagues piece I did for Marvel's The Stand, and my Twilight-derived hankering to re-read 'Salem's Lot, I'm in the mood for a good viral-infection flick, but this Scottish not-zombie horror flick The Dead Outside seems promising to me. (Via Dread Central.)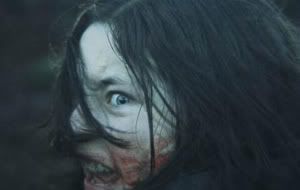 * This shot from Tobe Hooper's The Texas Chain Saw Massacre is breathtaking for several reasons, ranging from the most earthy and obvious to the eventually revealed real reason we got this shot in the first place. It's an establishing shot, you see. (Via Stacie Ponder.)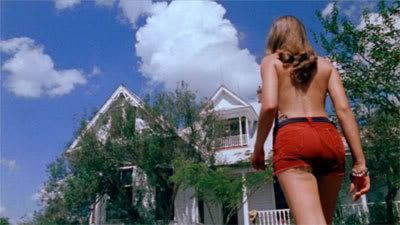 * Alvin Buenaventura went to see Liquid Liquid play a week or two ago, and here's some footage of the band doing "Cavern" at the concert. Someone needs to explain to me what karma lottery Richard McGuire had to win in a past life to be the guy responsible for both "Here" and the bassline from "White Lines" in this one.
* And now, the story of John Belushi's phone conversation with Ian MacKaye regarding the possibility of him dancing onstage during Fear's Saturday Night Live appearance. Man, was that a fun sentence to write. (Via Ryan Catbird of the new group blog MBV.)
* Finally, feels good man. (Via Jog.)