* It's quasi-official: The Road has most likely been moved to 2009, which will take it out of the Oscar running and deny it the attendant exposure and revenue.
* The new He-Man/Masters of the Universe movie has been scrapped by Warner Bros. due to personnel shuffling and an inability to find an A-list director willing to take on the project. (Via Beaks at AICN, who seems a lot more skeptical about the supposedly awesome screenplay than others have been, which makes me feel not so bad about this turn of events.)
* The latest Clive Barker Books of Blood adaptation Dread has been casting people and is now shooting.
* Speaking of Barker, the Hellraiser remake might have a new director--Pascal Laugier.
* The Zach Snyder-supervised blockbuster-scale zombie movie Army of the Dead is, um, well, I'm not sure. I guess the point is that it's still a going concern.
* Despite a post-pilot-episode level of involvement with the show that does not appear to exceed watching the program on his TiVo, Lost co-creator/absentee parent J.J. Abrams is now talking about the possibility of a Lost theatrical movie enabled by the series' firmly set endpoint, though he does dismiss it as a remote one.
* Nerd-movie hack Paul W.S. Anderson is doing a remake of The Long Good Friday set in Miami, for God's sake. (Via Dread Central.)
* Grant Morrison talks about his screenplay for the video game adaptation Area 51.
* Here's a list of theaters and release dates for the limited release of Let the Right One In.
* Missed this when it was first posted because NeilAlien's syndication feed takes weeks before updating, but I rather like how the ur-comics blogger characterizes M. Night Shyamalan's recently expressed desire to finally do an Unbreakable sequel.
Neilalien's a big fan of the film- but for the director who once thought that Unbreakable was taking "so many incredible risks", this sounds like a bad-idea grasp for safety and former glory after a string of bombs.
* My brother in themed-sketchbook arms, Fantagraphics' Mike Baehr, talks to StarWars.com about his
enormously impressive Yoda sketchbook
.
* Hubba hubba part one: Dave Kiersh!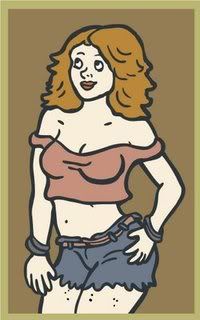 * Hubba hubba part two: Jaime Hernandez! For a good cause!