* My post on me and my friends' Manly Movie Mamajama mini-marathons has now spawned more comments than any other post in the history of this blog. Included therein are outside suggestions (usually along incredulous "What, no [film title]?!?!" lines), a veritable highlight reel of golden MMM moments, and the beginnings of the deliberation process for the next MMM line-up.
* Speaking of the MMM, my pal Justin Aclin sheds a little more light into their evolution, and how they've influenced our work together on Twisted ToyFare Theater, at the ToyFare blog.
* Hey, remember every awesome thing that happened on Lost? So does this list of The Top 50 OMGWTF Lost Moments! Even though it occasionally consolidates nominally connected moments that really each deserve their own entries, it still does a phenomenal, even invigorating job of remind you why you are so into this show in the first place. I quite clearly remember being delighted/horrified/both by pretty much every moment on the list, which when you think about it is quite an achievement for the show. (Via Whitney Matheson.)
* Speaking of good television, I'm continuing to defend my skepticism about GOAT claims for The Wire over at Matthew Yglesias's blog.
* Because you demanded it! Ron Rege Jr. converts the cover for his recent collection Against Pain into the political statement several viewers thought he was making in the first place. (Note that the flub can cut both ways, as a co-blogger at cartoonist Sammy Harkham's Family blog recently titled an anti-Palin post "Against Pain.")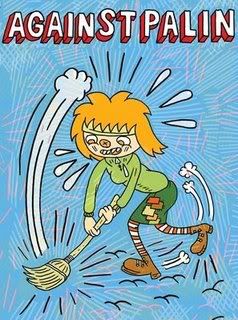 * Speaking of Gov. Palin, it's been a while since I posted a "the state of the beast" link: The Humane Society has endorsed the Obama/Biden ticket--their first-ever presidential endorsement--in large part as a response to Palin's political and personal track record of animal cruelty (via Andrew Sullivan):
Gov. Sarah Palin's (R-Alaska) retrograde policies on animal welfare and conservation have led to an all-out war on Alaska's wolves and other creatures. Her record is so extreme that she has perhaps done more harm to animals than any other current governor in the United States.

Palin engineered a campaign of shooting predators from airplanes and helicopters, in order to artificially boost the populations of moose and caribou for trophy hunters. She offered a $150 bounty for the left foreleg of each dead wolf as an economic incentive for pilots and aerial gunners to kill more of the animals, even though Alaska voters had twice approved a ban on the practice.
* My pal
Rick Marshall
peels back the curtain on adjusting to MTV's corporate culture with his gig at their comics/movie blog Splash Page. Of particular interest is the section in which he describes trying to carve out a way not to just talk about the subject matter, but
say something
about it too.
* Speaking of Splash Page, Brett Ratner is a damn fool. Still, I'm sure The Joker: Lethal Protector will go from his lips to God's ears, goddammit.
* Your NERDS ARE SERIOUS BUSINESS update for the day: Jason Adams bemoans the not-very-good, failing superhero TV show Heroes' systematic removal of fun from the superhero idiom. THESE ARE MODERN MYTHS JASON STFU
* Speaking of NERDS ARE SERIOUS BUSINESS, the reaction to this ought to be a hoot: Samuel L. Jackson refers to Frank Miller's upcoming adaptation of Will Eisner's The Spirit as "Wile E. Coyote with real people." DOUBLEPLUSUNGOODTHINKFUL
* And speaking of Jason Adams, both Jason and his pal Joe Reid damn The Midnight Meat Train with faint praise. Dammit. Between the lukewarm reaction from bloggers I trust and my Missus-mandated current Netflixing of Gossip Girl, seeing this film is slipping lower and lower on my priority list.
* Cullen Gallagher at Not Coming to a Theater Near You reviews Benjamin Christensen's fascinating-sounding 1922 horror/documentary/meta/surrealist hybrid film Häxan.
* This Tom Spurgeon review of a World of Warcraft comic is notable for a couple of reasons. First, it's always fun to watch Tom flay the hide off a dopey comic, especially one you can picture in your head well enough to know it probably deserves it. Second, he kicks it off with a description of his interest in WoW that maps nearly perfectly to my own:
I generally like fantasy. I even enjoy the multi-player on-line version of fantasy that you get in things like World of Warcraft. The participation of so many people with overlapping motivations and gives that game and others reminiscent of its basic model of play a uniqueness that barrels over the massive, derivative nature of those enterprises as stories. I don't care about the in-game play, but I like to read writers like Bruce Baugh talking about it, and I greatly enjoy when something weird happens during gameplay -- someone cheats, someone does something awful -- that results in a YouTube video.
* Speaking of Tom, his review of Robert Kirkman's zombie series The Walking Dead is the best thing I've ever read on that series.
* Michael Stipe is continuing to answer questions about R.E.M.'s lyrics at Matthew Perpetua's Pop Songs 07-08 blog. It's only after reading that he writes his lyrics on a computer that I realized my unconscious picture of all songwriters is that they scribble their lyrics on a notepad or torn sheet of paper or napkin or something. Why would I think that?
* Speaking of inexplicable music memes, it's happened: Dancehall has unleashed a Benny Hill riddim. (Via Douglas Wolk.)