* Grant Morrison announces a new Vertigo series called Warcop, concerning a super-soldier and his hip teenage friend in the post-9/11 world and borrowing its title from a rejected Morrison/Madonna movie idea. How about them apples.
* Frank Miller reacts, pricelessly, to the All Star Batman & Robin c-bomb scandal:
I have no idea how this awful thing happened. It's just one of those terrible and glorious things that happen time to time in publishing.
Italics Frank's, apparently. You can practically hear the sneer! (Via everyone)
* Jon Favreau discusses the potential presence of War Machine, the Mandarin, Matt Fraction, and IMAX 3-D technology in Iron Man 2. Wouldn't it be great if he made another really good Iron Man movie?
* I may not know toys, but I know what I like, and I totally disagree with Topless Robot's Rob Bricken regarding the superiority of the redesigned Masters of the Universe toys to the originals--a hot topic given plans to release a line of new, more articulated figures based on the original look of He-Man and friends. It just seems like a case of surface "coolness" interfering with the simple purity of streamlined ridiculousness, and it reminds me of when grown-up fanboys take beloved childhood comics characters and try to make them seem more grown-up and mature and grim and such. It's He-Man--isn't raw nostalgia the whole point?
* Noel Troll's friend Pumpskin creeps me out.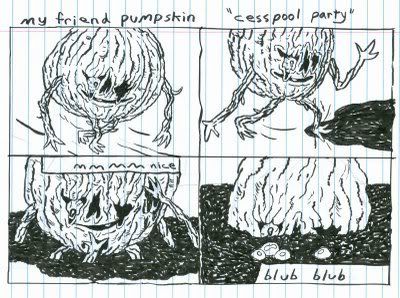 * Dan Nadel is a cat who just don't give a fuck and that comes through entertainingly in this interview about his new Rory Hayes collection Where Demented Wented. (Via Tim Hodler.)
* I greatly enjoy Jon Hastings posts about works we both enjoy, and his recent-vintage reviews of Jason's You Can't Get There From Here and the Wachowski Bros.' Speed Racer are cases in point. Money quotes from each:
Is there something about comics as a medium that encourages so many stories about loneliness and the (often futile) search for companionship? Is it something about cartoonists that they're drawn to tell these kinds of stories? Is there some kind of Harold Bloomian agonistic anxiety of influence working on them so that they're driven to revise and elaborate on Krazy Kat?
and
If the guiding principle of, say, Sin City is "use CGI to bring Frank Miller's comics to 'life'", the guiding principle of Speed Racer is "use CGI to bring a world of computer-generated images to life".
*
Abhay Khosla
hated
Secret Invasion
#6 nearly as much as he loves the sound of his own voice! I dunno, he's probably a wonderful guy, and I don't disagree with him here or on many other things, but whoo, it's grating, I'm not the only one, right?
* David Bordwell waxes titular.
* The haunted house ride from Coney Island's Astroland is up for sale. It really is over.