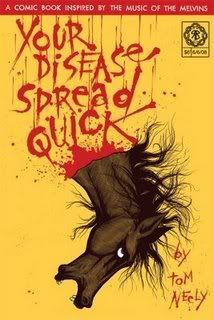 Your Disease Spread Quick
Tom Neely, writer/artist
characters and dialogue inspired by the album (A) Senile Animal by the Melvins
Robotic Boot, Summer 2008
22 pages
$6
Visit Neely's website
You don't need to listen to the Melvins to appreciate Your Disease Spread Work as further evidence, as if any were needed after The Blot, that Tom Neely is working the most fruitful vein of horror-slash-artcomics since Al Columbia. Like Columbia, Neely's work borrows stylistic elements from masterful old black-and-white kids' cartoonists like Otto Mesmer and Floyd Gottfredson, then harnesses it to a unique vocabulary of monstrousness and murder. While Columbia tends toward intimate horror in the work of his I've seen, Neely's best stuff is characterized by a tendency to scale upward and outward at breakneck speed, with threats suddenly emerging as colossal if not outright apocalyptic.
YDSQ addresses that tendency head-on, beginning and ending with words of woe from a doomsday prophesier with the head of a horse. In between we encounter decapitations, an infernal saloon populated with infamous tyrants, Neely's trademark black-ink blots, a sequence reminiscent of that old 7-Up mascot Spot crossed with H.P. Lovecraft, the Big Bad Wolf, a ghoul, a thunderbird, a Fritz Lang-style robot bride, a mummified Baby Herman type, scenes of everyday depravity, and more. At no point does any of this arrive from a predictable direction or feel anything less than profoundly discomfiting. It adds up to a portrait of great unease with the direction of society, coupled with a gallows humor about it all (there's a Hostess ad parody on the back cover to cleanse the palate). What it has to do with the Melvins I may never know, but it works as both an ad for the band and a statement completely independent of them.