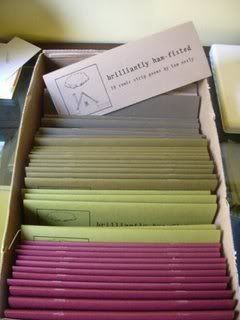 Brilliantly Ham-fisted
Tom Neely, writer/artist
I Will Destroy You, July 2008
20 pages
$5
Visit Neely's website
They can't all be winners, but this collection of "19 comic strip poems" originally published on Tom Neely's blog boasts some very strong work, including among them some of my favorite comics of the year. Constructed by juxtaposing a simple sentence against a four-panel strip's worth of largely abstract imagery, these comics are a veritable catalogue of Neely's visual preoccupations: Tall houses with crooked chimneys, Gottfredson-style white gloves, deep-black, viscous blots of ink, lone trees, holes, the severing of heads or hands. At times they're used to strike a harrowing tone of confusion and despair--"Seething Rage" is a memorable portrait of a literally beaten man, while "House of Cards" plays off one of my personal favorite tropes for utter senselessness, roadkill. Given my own predilections it's probably no surprise that the book's more hopeful moments--"New," touting the power of hope in the form of a newborn; "R.R.I.P.", a declaration of ars gratia artis inspired by painter Robert Rauschenberg--leave me cold, leaning a little further toward the mushiness that is an occupational hazard of "comic poetry." Still, "O.K.," a full-color strip that overwhelms with the beauty of its palm-trees-at-sunset vista while the text celebrates the acceptance of a proposal, proves that Neely has the illustrative chops to give even his most (understandably!) sentimental inclinations real punch.