* Tom Spurgeon interviews editor Sammy Harkham about his needlessly "controversial" giant-size anthology Kramers Ergot 7. Check out this creator line-up for pete's sake!
Rick Altergott, Gabrielle Bell, Jonathan Bennett, Blanquet, Blex Bolex, Conrad Botes, Shary Boyle, Mat Brinkman, John Brodowski, Ivan Brunetti, C.F., Chris Cilla, Jacob Ciocci, Dan Clowes, Martin Cendreda, Joe Daly, Kim Deitch, Matt Furie, Tom Gauld, Leif Goldberg, Matt Groening, John Hankiewicz, Sammy Harkham, Eric Haven, David Heatley, Tim Hensley, Jaime Hernandez, Walt Holcombe, Kevin Huizenga, J. Bradley Johnson, Ben Jones, Ben Katchor, Ted May, Geoff McFetridge, Jesse McManus, James McShane, Jerry Moriarty, Anders Nilsen, John Pham, Pshaw, Aapo Rapi, Ron Rege Jr., Xavier Robel, Helge Reumann, Ruppert & Mulot, Johnny Ryan, Richard Sala, Souther Salazar, Frank Santoro, Seth, Shoboshobo, Josh Simmons, Anna Sommer, Will Sweeney, Matthew Thurber, Adrian Tomine, C. Tyler, Chris Ware, and Dan Zettwoch.
Stupid Publisher Tricks: Too Many Awesome Anthology Contributors
* Speaking of absurdly stuffed packages of comicsy delights, Grant Morrison has a lengthy interview up with IGN's Dan Phillips, and it's as good as you've come to expect from the guy. It's more or less equally split between Morrison's trademark close reading of superhero tropes and metacommentary on the making of a modern superhero story, but I thought there were a couple of points particularly worth pointing out. First, here's a bone that many hardcore DC fans will be glad to have been thrown:
IGN Comics: I don't want to spend too much time on this topic, because you've addressed it elsewhere, but there have obviously been some discrepancies between parts of FinalCcrisis - mainly, the death of Orion - and Countdown and Death of the New Gods. At what point did you realize this would become an issue, and do you think it will affect any other aspects of your story?

Morrison: There were a couple of discrepancies which affected the early issues of Final Crisis and which came about because of the way the two books were being written out of order and to different deadlines.

Ultimately, it comes down to me as the last guy in the chain to fix it all, which is what I'm going to do. I'm actually going to make all the discrepancies work and tie in, and I've got a plan to fix it. To me, it was just like, "Oh guys, don't worry about it." Sometimes human error just creeps into the system. But I also realize that a lot of readers have a genuine emotional investment in the strict coherence of these patchwork fictional universes, so it seemed only fair that I should use the Crisis to clean up any lingering problems.

IGN Comics: That's interesting, because Crises have always sort of been used to clean up continuity problems.

Morrison: Yeah, they always did that sort of thing with Crises, didn't they? And I didn't want to make this any kind of continuity reboot, which it's not. But I did realize, well, why not set time and space right ? I can easily provide a reason for why things played out differently in different books.
That soon leads into this:
Remember also that, despite my inexplicable reputation among certain fans as a 'difficult' writer, I'm actually one of the most successful people in the comics business and have been for a long time. I wrote what's still the highest-selling original graphic novel ever, I wrote DC's biggest selling book for years with JLA, I wrote Marvel's most popular X-title.
It is easy to forget that for all of Morrison's well-deserved rep as being one of superherodom's most idiosyncratic and artful writers, his stories tend to be rigorously titled to whatever he sees as being the demands of the zeitgeist. His lengthy pitches almost always include an explanation of why his ideas, besides being strong on the merits, will
sell like the Dickens
. Anyway, the whole interview is juicy like this. Give yourself half an hour before Obama's speech tonight and dig in. (Via
Kevin Melrose
.)
* WANT: CineFile Video's auteur/metal mash-up T-shirts! (Via Keith Uhlich.) Drooooool...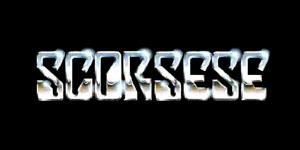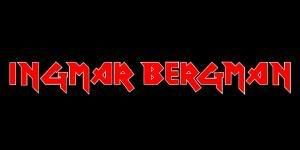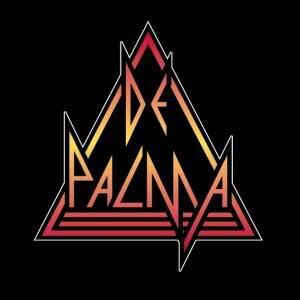 * Matthew Perpetua salutes Trent Reznor and Nine Inch Nails for their...work ethic?
* On the "three great tastes that taste great together" front, Paul Pope draws a nude woman reading Watchmen.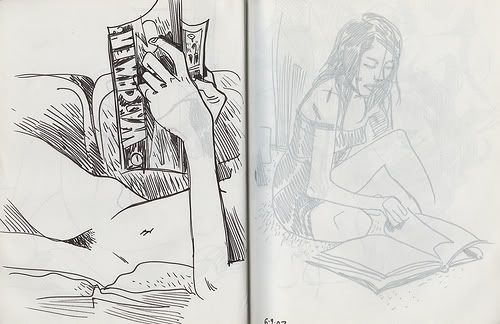 * I've often thought that furries are an underserved demographic in the soft-drink market, haven't you? (Via Andrew Sullivan.)
* Finally, Tom Spurgeon gives you a present in the form of this incredible gallery of art as we all wish a very happy 91st birthday to the late Jack Kirby, the King of Comics. Here is my favorite thing he ever drew.