[Editor's note: This is the third in a series of interviews I'll be posting that were rescued from WizardUniverse.com's now-defunct archives. Originally posted on July 20, 2007.]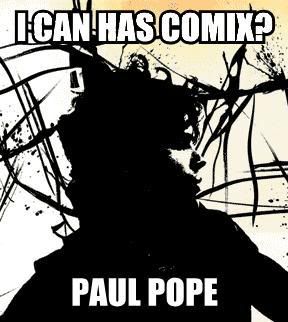 I CAN HAS COMIX?: PAUL POPE
The Batman: Year 100 and THB writer-artist on making his new art book, reinventing the fight scene and becoming a comic book rock star
By Sean T. Collins
Paul Pope once told me his approach to personal style was to look like he'd stepped out of one of his own comics. The same, it seems, can be said of his approach to interviews. Speaking with Pope about his work, and about art in general, is as dizzying and dazzling an experience as reading one of his books.
The creator of futuristically sexy series such as 100% and Heavy Liquid, intensely personal superhero projects like Batman Year 100 and the fiercely independent schoolgirl-action series THB, Pope boasts an astonishingly broad set of influences and references. Within minutes he'll name-drop Frank Miller and Oscar Wilde, Pixar and Picasso, John Cassaday and John Cale, "Star Wars" and Toulouse-Lautrec--each in service of a fresh insight into his stylish, sci-fi-heavy sequential art and illustration.
Pope's list of upcoming projects is just as wide-ranging and impressive. His lavish new art book PULPHOPE: The Art of Paul Pope debuted to critical acclaim and sellout sales at this summer's MoCCA Art Festival in New York. At next week's San Diego Comic-Con, PULPHOPE will be joined by the latest installment of THB, subtitled Comics From Mars; both projects are published by indie outfit AdHouse Books. Meanwhile, Pope's working on more THB, as well as stories for the upcoming Marvel Underground indie-creators-on-Marvel-superheroes anthology, a massive action epic for First Second called Battling Boy, a pulp-hero thriller called Bionica and a dream-comic collection called Psychenaut for French publisher Dargaud, plus various ads, design projects and film work.
And between it all, the self-labeled "Comics Destroyer" somehow found time to talk to Wizard Universe about it all.
WIZARD: Congratulations on PULPHOPE. It was the book of the show at MoCCA and looks poised to be huge at San Diego.
POPE: Well, it's good to see that people are into it. You're sitting on a thing for 15 months and you reach a point where you're like, "What am I doing? This is no good." It's so abstract until it comes out. Then you're getting reactions from people because it's not comics. Comics are different. When you do them it's like, "Oh, this is funny and it makes me laugh." But this stuff is like, "Wow. Is this too personal? Is this too maudlin? Is this too risqué?" It's that kind of thing.
It's interesting to see how much of the book are your essays on various topics and really kind of spilling your guts as to what you think and what your process is with stuff. Why did you go in that direction instead of just doing the big giant portfolio type thing?
POPE: Well, for one thing, as I've gotten more and more into book design and print design, I just honestly don't think that I've seen a good cartoonist book yet. There are great monographs, but I feel like what I don't really like with comics--I don't think that it does a service to either the artist or the medium to have these hodgepodge books put out where it's like a little bit of the sketches and this and that. The books that I've seen just feel like they don't have much of a center. If I think of a well-designed book I'll think of like Dave McKean's John Cale book [What's Welsh for Zen]. It's either artists' or musicians' biographies, or monographs, or prints books--things like this. That's kind of what I was thinking. Also, one of my favorite books is Iggy Pop's I Need More. I'm sure that you've seen it. It's very scattered and disjointed and it's designed that you can read it any direction that you want, basically. It's interesting, because you do get a sense of a person and a biography out of it, which is good. The other thing, too, is that aside from having all of this material that I wanted to publish, including erotica, which was personally sort of a challenge to publish, I thought, "I also write and I would regret it if I didn't publish some of this stuff." I mean, I did go to art school and spent time considering academia, and so the stuff is researched and is enjoyable. It seems like there's this new crop of younger cartoonists who see me the way that I would see someone like Dave McKean when I was 19, kind of at the artistic end of the medium. I feel like there are always younger cartoonists asking me life-goal questions, guru questions, which makes me uncomfortable. So it was like, "Well, let me put a book out with some secrets in it and the wise reader will hopefully find what they're looking for."
It does sort of have a Letters to a Young Cartoonist feel to it.
POPE: But it's also partly like putting the young cartoonist in me to bed. That's what that whole essay about being 35 years old is, because you just reach this point.…Earlier on, when I was first breaking into this industry, the real exciting part was getting to meet Steve Rude or getting a book signed by Chester Brown, that kind of stuff, and hanging out with whoever. Then you do it, and you reach a point where you get a sense that the people you've admired, whether that's [Frank] Miller or [Mike] Mignola or Moebius, they are aware of you and there's a certain level of respect that they have for you as a young guy. Then you reach a point of, "Okay, now what? I've seen my stuff in print. I've worked in superheroes. I've worked in indie. So now what?" This was hopefully a chance to make a definitive break for the next 35 years. That's the deep purpose. That's the depth-charge purpose.
The "comics destroyer" purpose?
POPE: Yeah, and that's the other aspect of it too. Hopefully this book is going to raise the ante a bit. I mean, in all humility, we went through 10 drafts of it and put a year and a half into it. It was definitely not slapped together in a weekend.
I remember Chris Pitzer, AdHouse's Publisher, telling Wizard about it a long time ago.
POPE: Yeah, and then [the proposed film adaptation of Michael Chabon's] "Kavalier and Clay" happened. My life went into deep freeze for 6 to 8 months.
How was it working on that?
POPE: It was very enlightening. It was interesting and great. It was like a crash course in animation. I got to meet tons of people and made some great discoveries. Who knows where that stuff will go in the future, and especially for that film in particular. I hear routinely that it's off and then it's back on again and off and on again. They're saying 2009, so we'll see.
It seems like you've always had your fingers in various other pies. You mentioned the design conferences that you've already participated in, and you're soon doing one with Pixar in Amsterdam. But in your book, you say that it wasn't ever anything that you really envisioned yourself getting involved in.
POPE: I mean, look at the landscape that we have today. The thing that I'm curious about now is this whole nebulous aspect of contracts which entail online publishing. For comics, no one is quite sure what that is yet, and that's exciting. I tend to think that from now on, publishing contracts have got to deal with it, number one. Number two, it will probably have to change every five years, the legal definition of what online publishing is. So I've been lucky to be at these design conferences. I've got lots of friends who do advertising and guys working in building software for Pixar and artificial intelligence stuff and just far-out creativity.
If I had to characterize your stuff in one particular way, as apt as "comics destroyer" is, I would think "comics synthesizer" first and foremost. You incorporate many different influences: illustration and fine art, manga and bandes dessinées, science fiction and romance, superheroes and indie comics, and then also these other disciplines that you're interested in, like design and film and fashion and music.
POPE: That's why I wanted to put that bit in--in fact, if there's more time for the second edition of the book, I do want to expand on the essay about design and persuasion, because what I find is that it's really communication arts. It's rhetoric. It's understanding how to manipulate symbols according to the audience, knowing what their expectations are and how you're able to communicate effectively with people. I've been kind of troubled by this "indie" term. I've been talking to Coke about doing a poster for them next month, and I'm like, "Well, I don't see how I can be indie if I'm doing work for Coke." But then I'm working on this small-press stuff. It's all over the map. I think that if anything, "indie" is probably just a term that people use loosely to sort of suggest a drawing style which isn't your typical kind of Jim Lee American superhero--that kind of thing.
When I was trying to come up with a title for this column, I realized that all the titles that you'd use for something of this kind, dealing with essentially the "indie" or the "alternative" end of the spectrum, a lot of those terms don't really mean anything anymore. ACME Novelty Library is published by Pantheon, part of a huge New York publishing house.
POPE: And it's in The New York Times. So, yeah, it's a strange one, isn't it?
You seem like the kind of person who puts some thought into those definitional debates.
POPE: Oh, yeah. Especially having gone to art school and suffered under this high-art/low-art prejudice, which I'm completely against. I'm all in favor of craft. So [the high-art/low-art dichotomy] is another thing that's worth destroying, I would say, because I feel like that's an intimidation. That benefits curators. It doesn't really benefit creative people. I've never been comfortable with that, especially considering that in art school, where I went to school, there was such a prejudice towards video arts, conceptual work, performance. Something that was traditionally craft-based--whether it was print making or life drawing, which is what I was interested in, and draftsmanship--it was really looked down upon, which really bothered me. In art school, I was actually kicked out, but eventually I got to the point where I would take in a toothbrush as my project and a lot of times I would get really good grades just because I would play the game.
That's straight out of "Art School Confidential."
POPE: Oh, yeah. I've got some stories like that.
One specific theoretical aspect of your work that fascinates me lately is the way that you did Batman in Batman Year 100. You put so much thought into how he looked and how he dressed and how he got around and did the things that he does.
POPE: Oh, yeah. Before doing Batman, I did a lot of research. I read every DC monthly comic for probably a year and a half. By the time that we got the contract for that signed, I had about two or three years to really think that thing through. I'd seen the Hong Kong action stuff by then. The "Star Wars" [prequels] were coming out and you could see what you could've done better with those and what worked and what didn't work. The thing with Batman, and I've said this before, but with that character--I always look at something like that, which is so well known and above the radar, so to speak, and think, "What haven't we seen with this guy yet?" I just feel like there isn't enough physical action in superhero drawings. It's exciting, and I love that in an action film: that sense of what I call hyper-violence, or not hyper-violence, but hyper-real. It's like what [English writer] Kingsley Amis called "unreal estates." He said in reading The Lord of the Flies, there were descriptions of the trees and the water and the beach that were almost feverish. It's like you only sense these things when you have the flu. I love that notion, that you can put that much detail into a comic and it's something that you would only sense if your senses were really tweaked, like if you had the flu or something. So that was kind of the inspiration there.
Seeing the combat you've portrayed in Batman or THB through the lens of the erotic work of yours we're really seeing for the first time in PULPHOPE, I'm curious as to whether the physicality of both areas springs from the same mindset.
POPE: Actually, no. That's one thing that's been fascinating, doing more work for print design and for posters, illustrations for magazines. The conceptual work that goes into a single image or cover art, for that matter, books or comics, it's very different. I talk to James Jean about this a lot. I find that if I do an illustration, even if it's something where the drawing style is fairly breezy, you do a lot of conceptual thinking. It really makes me revalue the storytelling aspect of comics because it's not necessary for any particular picture to be perfect or to be completely illustrative of this or that idea. The comic works as a series of chain links. I find that often in the time it takes to do…if you saw that Wired piece that I have out right now, the "Transformers" illustration that I have in the new issue with "Transformers" on the cover--it's gone over really well and everyone is really happy with it, but surprisingly it took 30 or 40 hours to draw, all told. If that were a page in THB I could probably draw it in 2 hours with the same level of detail and everything, aside from coloring, which is its own issue. Conceptually, when it works as a part of the comic, somehow it's just easier. That also goes for THB versus what I always call big-budget comics like Batman where you can really pull out the stops. Again, though, one thing that I've really noticed and appreciate about American superhero comics is that attention to detail is really important. People love and want to see all of the gadgets. If it's a table it has to really look like a table. Otherwise, people not knowing George Grosz or Phillip Guston, it just looks like it's kind of badly drawn when in fact it's intentionally made that way.
But frequently I find that when you get to the action it's not rooted in a sense of place or even where people are in relation to one another.
POPE: Everybody's got their strengths and weaknesses. Someone who I admire a lot who works in comics would be someone like, let's say, John Paul Leon. Even a guy like that has his strengths and his weaknesses. It's funny. Even back before I was into comics, even as a kid, of course I read comics, but just on the artistic side of it. The kind of stuff that I liked was MC Escher or Hieronymus Bosch--anything where there was strong composition, a strong placement of figures and objects--and Edward Hopper. Realistic art, I guess you would say. It's a taste that, as with food, your palette develops over time.
It's interesting to hear you talk about comics in such visual-art terms. I feel like these days, with the exception of underground artists from avant-garde collectives like Fort Thunder and PaperRad, comics is mainly seen in a narrative tradition, along with film or prose literature. The exceptions tend to be less in your direction and more in the "20th Century Masters" vein. It's like, "Look at the stuff from the good old days."
POPE: You mean like pop art?
No, more like seeing a George Herriman Krazy Kat page up on the wall next to a Chester Gould Dick Tracy…
POPE: I see. Age has a certain authenticity. You do think about that. I don't know. That's an interesting one. I have a friend, Jenny Schlenzka, who's a curator at MoMA, in fact--ironically, after [I was] dissing contemporary gallery stuff--but she did a big thing on [German filmmaker Rainer Werner] Fassbinder in Berlin recently. She's curating a show about comics in the next year or so, and they asked me to come in and just talk to them about it. It's not that I'm going to be in it, really, but [they wanted me to] just kind of approach it that way. I've been to some shows up there, and I've seen [Art] Spiegelman's stuff there and maybe Katzenjammer Kids--some other old things too. So much of it must be a reflection of the Jewish diaspora, too, because so much of the New York experience is really immigrant. I think that comics are so much tied up with this emotional aspect of culture and New York culture and this kind of nebulous thing. I noticed that working on "Kavalier," really.
I think that book helped form a conventional wisdom about what's interesting about comics, and created a very specific narrative about how the art form progressed.
POPE: If you go back to the history of advertising, such as it is, if you think about clarity and design persuasion, there's not a lot of substantial difference between cartooning and printmaking or advertising in the hands of someone like a Steinlen or a Toulouse-Lautrec, [Alphonse] Mucha, these kinds of guys. The drawing values are still the same. There's an emphasis towards clarity and individual hand and style. I think that's something that we always value. You might even trace that back earlier to the Austrian secession movement with guys like [Gustav] Klimt and [Egon] Schiele. Not to say that it's the first time in history that there's ever been simplicity in drawing, but you really did sort of start to see, in the birth of Expressionism, this sense of a triumph of style and the whole "art for art's sake" thing. I think that was a pretty significant move. That's getting pretty far out there though. [Laughs] That's one thing that I feel so aggressive about. I want to really trumpet comics' place in art history, because it belongs there, in art culture. Comics belong in art culture.
Do you feel like you've created a single work that you would point to as being your most successful stab in that direction?
POPE: In that sense I think that I would have to go in that music metaphor. You and I are both music aficionados. I think that being a cartoonist, as a sort of pop artist, you have popular hits. If you look at it like that, I think that 100% is a strong statement, I think that Escapo is a strong statement, as composite works. PULPHOPE feels pretty good. It feels like this is a statement. There are probably things in THB that feel strong in the same sense. Well, that's a different work, that's a living work that's still going on, but there are a few things like that. Some of the stuff in Solo. Working on extended projects, the problem is that there's a point where your creative acceleration--you still have the exponential curve of the more you do it, the better you get, the more you think about it, the more time that you have to research and reflect. That's the hard stuff. I always feel like you're two steps ahead of yourself in terms of the stuff that's published being at least 8 months old. That's one thing that I miss about the self-publishing, because you could have this great idea for a short comic and then be in print in a month.
Is that part of the impetus behind your blog, just a desire to get things out there?
POPE: The blog is an extension of the book. I can really credit Warren Ellis for this, because I had to buy a laptop and just get completely Darth Vader while I was working on "Kavalier" because I needed to be. Otherwise I was in trouble. As you follow it, I have a total ambivalence about this slouch toward cyborgism that our culture is currently having. We're not going to go back again, short of nuclear war. I don't see us changing, but it's a tool that's there and it's an experiment. So I feel like the blog's an extension. A friend of mine said that it's sort of the DVD supplemental materials for PULPHOPE.
Much of your work is science fiction, and it tends to be near-future science fiction. It's not so far out there, so it seems clear that you're thinking about current technological issues.
POPE: I would say worrying about them. [Laughs] I'm worrying about them.
Which fits, because despite the futuristic content, a lot of the "Paul Pope vibe" has a sort of "ink-stained wretch" vibe to it.
POPE: I know what you mean. It's funny, because I'm not totally happy with my visual style. I feel like after years of work I've reached a point where I can basically draw whatever I can think. It never looks like I intended it to work, which is why I really enjoy doing things like the big-screen prints or the big store installations or comics animation. It's just trying to develop as much versatility as a visual thinker as I can. And I definitely like making objects. I like making things. That's one great thing about comics: There's actually a document of your time. It's there. It's mass-produced, and that's great.
You were one of the first people to open my eyes in terms of the comic as an object. The way that you put it in PULPHOPE is that a story told in words or pictures is called "a comic" or "a graphic novel," but so too is the thing that you hold in your hands in which that story resides. That had never occurred to me before.
POPE: Spiegelman said this ages ago. He said all outdated communication forms become art because they become useless. One thing that's really been shocking to me has been the tendency that people now have to download entire movies onto an iPod. They're watching them on there. I was talking to John Cassaday, of all people, another cartoonist, who said he was taking a flight that night and that he downloaded a couple of movies to watch on the plane. I said, "How does that work?" I could do it with my iPod, but I just don't. I realize that the experience of watching a film on an iPod is not the same and is not intended to be the same and is not expected to be the same--it just isn't--as watching it in the theater or watching on hi-def TV or whatever. I also think that this is something that comics as a two-dimensional-object-printing industry is going to have to deal with just because of how much encroachment we're getting from films and games, from online. It has changed the role. I feel like we're at the stage now where we can celebrate, and it sounds corny to say this, but comics as objects are hard to make and take a long time and are relatively expensive. Anyone can really do it, but it's not the first thing that people think of anymore when they think about expression. I think that now the Internet has made things so quick. I noticed this with the blog, the immediacy of it. I do a drawing and think, "I could put this on the Web tomorrow." Then you could start getting feedback from people if you have that enabled. The one thing that I always do think when I meet 18- or 19-year-old kids, first-year art school students, is that they don't remember a time before computers. I do. I remember playing with Popsicle sticks as a kid and having hours to use your imagination. Now the only way to interface with my nephews is to talk about video games with them. Sometimes I go see movies with them and I watch where their eyes go on the screen. I had this weird experience with them going to see "Harry Potter" or "Spider-Man" for the first time with them. I thought, "Wow, I wonder if a kid this young can tell the difference between CGI and reality?" I think that you're conscious of it if you'd never seen it growing up and it had never existed. But if you never knew anything but a world with mousepads and track-balls, who knows what's coming next? So actually, rather than a weakness, it's an advantage to have been born in the '70s and to have grown up in that era because all the advantages of two-dimensional picture-making still exist. They're timeless.
Even though I read webcomics, I just find it more satisfying to hold the object in my hands. I wonder if that generation will shake that taboo entirely.
POPE: Yeah, I wonder. I guess that we've yet to see all the different ways--I guess what's going to happen is that comics will exist in the future in different formats. They'll be like the ghost in the machine in the same way that film is now. I mean, film is film. It's cinema. You go to the theater and watch it and it's light projection, but really it's the experience. I'm certain that this "Transformers" film is designed to be watched in slow motion on a laptop. It can exist in a number of functions. The "Transformer" virus, such as it is, can exist in toys and it'll exist in games and it'll exist in comic books. That's good news, aside from the fact that Disney won the copyright and public domain battle, and Superman will win next. It's good news for all the established entertainment icons. It's good for Elvis.
How is it for someone like you?
POPE: Well, the responsibility is to not sell out and not to trade your brains off to the highest bidder to help flesh out their mediocre ideas if you know that you've got great ones. That challenge, frankly, goes for everyone, and I'm saying that quite plainly. I'm not saying that every idea I have is great, but I do think that I've had some good ones, and those are the ones that I want to be really loyal to in the future. But the great thing is that it isn't really either/or in the same way that indie/mainstream isn't either/or. I've done a lot of different types of work, and to varying degrees there are some that are more satisfying than others. Film is an interesting medium, too, because it's different from comics. It's essentially collaborative and it's political and it's slow, all this kind of stuff. Even the little bit of time that I've spent on it has shown me that.
How do you mean "political"--office politics or corporate politics or politics politics?
POPE: Well, you have a hierarchy, you've got personalities to deal with, and it's not like a family where you're kind of letting it all hang out. You have a sense of who's in charge and what you can do and what sort of liberties you can take and what sort of influence you can have. A lot of people in film are in love with it. There's such a love affair there. But I'm a little bit more ambivalent about it, having been aligned to print media. However, it's great stuff and great things happen in films and I'm not against it at the same time.
In terms of your ideas that you want to be really careful about shepherding, is there anything in particular right now?
POPE: Yeah, THB and Battling Boy. The problem with the long-form comics, especially living in Manhattan, is that it's hard to make a living. The cost of living in Manhattan is high. And it's hard also with narrowing down the possibilities, because you don't want to be this sensualist who goes for the newest thing, whatever it could be. Now it's billboard art or whatever. Do you know what I'm saying? Any of the possible things that come along that you could do. I think that there is a certain gregarious side to me that is interested in working on collaborative projects. I have a couple of things now that are collaborative for sure, where I'm part of a team. But in terms of creating a story, an identity, something like THB--at the end of the day that's really the thing that I care about. At this point I'm interested in trying to develop these different interesting projects that are out there on the fringes while at the same time having enough breathing space in order to do the personal work.
It seems as though at any given time you've got several different projects in some stage of development. Is there a particular appeal to that? Do you ever feel like you want to concentrate on just one thing at a time?
POPE: Well, I think that you have seasons of work. Like last year, in 2006, I did spend a lot of time working on other people's projects. Batman was a two-and-a-half-year project, and I basically just worked on Batman and THB during that time. In the last 12 to 18 months I have been working a lot more in what I would consider to be multimedia stuff, while at the same time really trying to get some of my personal stuff launched. I also get interesting opportunities, like to go out and meet guys from ILM and do a presentation for their animation department, and I got to see 10 minutes of "Transformers" on the screen there when they were cutting it. That's exciting. It's like, "Hey, what's going on? What are you guys doing?" That stuff is neat, and it does give you a lot to think about. The convention season is coming up, so there's a lot of travel and a lot of event planning and managing things like that, which is time consuming. But at this point it's definitely important and necessary to get 2, 3, 4 days a week to just shut things off and work. I've allotted more time for these other things, this sort of intangible area of work that combines meetings and contract-reading. Then you do the Wired thing--I had no idea how much time it was going to take. "What? 30 hours?" Okay, well, that's how long it took.
In terms of the peripheral activity that surrounds actually writing and drawing, there was one phrase that literally everyone I talked to at MoCCA who stood on line for the PULPHOPE signing used to describe you: "rock star."
POPE: Yeah, well, there's the performance aspect. My girlfriend is a performer and a lot of my friends are performers--circus performers, burlesque performers, musicians. There really isn't a stage in comics and what works for performance doesn't really work for our medium, but I'm an expressive person and I'm into fashion and I'm into music. I get a ton of inspiration from it. I mean, there is definitely Oz and then the man behind the curtain, but I'm pretty much the way that I am. If I walk around the streets I'm the same guy that I am now. Part of that is acute agoraphobia. It's just easier to focus things so that I'm able to meet as many people as possible in 1 day and basically I don't have to see anyone after that for 6 months. [Laughs]
So it's not like a tour rockumentary where you're ready to throw yourself out the tour bus window?
POPE: No, definitely not. [Laughs] I suppose there are some rock star moments, but I'm not sure exactly what that term means. It doesn't mean what it used to. It must just mean complete license to be an assh--- in public and get away with it, or just kind of like--it's the old Dionysian/Apollonian thing that Frank Miller always likes to talk about. It's the battle of cleaving to the senses or cleaving to reason. I guess that if you look back on the history of it, too--I've always been interested in kind of trying to trail this back--if you look at someone like Oscar Wilde, you could probably describe him as a rock star in some sense. He was this larger-than-life character. I don't know. I think that what's important now when I look at musicians I respect or artists I respect, someone like Matthew Barney, I think that it's [about] really going for it, really believing in what you do. It sounds banal, but being very definite and determined about your expression. Ultimately, we just sort of fabricate ideas and we weave them together in some format.
In terms of the aspects of your persona that have those rock star echoes--
POPE: Well, everyone that I hang out with looks the same way. [Laughs] It's totally normal where I come from.
That's kind of what I'm getting at. It could easily be used as an excuse to act like an assh---.
POPE: No, I'm definitely respectful of people, especially at something like MoCCA where it's like, "Christ, you people bothered to show up! Thank you." I mean, you take a guy like Jon Spencer [of the Jon Spencer Blues Explosion and Heavy Trash]. I can't say that we're good friends, but we're friends. We've collaborated before and we talk once in a while and we hang out once in a while. He's one of the nicest guys that I know.
Maybe things will change in comics now that major media players are much more involved, but in general the crazy assh---s are well known and one can steer clear of them if one wants.
POPE: Yeah, and they would probably be assh---s if they were plumbers. They're probably just assh---s.
That's a good point. I had a similar conversation with Nick Bertozzi about how perhaps the "rock star" aspects of Picasso are overvalued and the fact that he was a workhorse who thought a lot about art and tried really hard was undervalued.
POPE: Yeah, he gets a bad rap too just because of the whole macho aspect to his character. He was definitely public enemy No. 2 or 3 when it came to art school. The political correctness crowd definitely doesn't go for him. He's quite an amazing and prolific character. Obviously, he's a big influence on my creative thinking, a huge inspiration. But the important thing too is that I buy Marvel comics. I love Carl Barks. I read 100 Bullets. I wouldn't want to come off as some sort of elitist. I guess that I am in a sense, but I'm curious, and I'm into the stuff that I'm into, that's for sure. If anything, I've kind of narrowed my comics library down to basically the first 5 years of Heavy Metal, the manga that I'm into and some European artists. There are a couple of exceptions there in Jeff Smith, Jim Woodring…Hugo Pratt, but he's European. At a certain point you have to shut off the spigot and look at your own work because there is so much stuff to look at and think about.
And we're really in a golden age of reprints. Things I could only read about when I first got into comics, I can now buy the entire run of.
POPE: It's funny, too, because I have some friends who teach up at SVA [School of Visual Arts], and having gone up there, it's probably the closest to a sense of envy that I ever felt. I thought, how different my life would be if I were a student entering college in a position where I could study at SVA under Marshall Arisman and my graduating class would've been people like Yuko Shimizu. Well, probably not, because she was much later than me, but you see what I'm saying though. But then again, I probably wouldn't have had the determination and probably the "anti" attitude I had just because of the hostility that I felt from the schooling that I had. It's amazing: If I were 18 or 19 going into school with an interest in arts, I would be very excited because I feel like there's a real need for people who draw, whether that's ultimately illustration, animation, comics.…It's become magic, because it's hard to do and it's not something that, even if you can cheat fairly well, you can cheat at and become great. I think that's what we value in a guy like a Mignola, who's had enough time and concern to develop a style that is persuasive. Or the Hernandez Brothers, because I love them--or anyone, for that matter, who has a strong style.
You just have to hope that, like the Hernandez Brothers, they have the confidence, whereas an artist like Mignola is almost overwhelmed by his own perfectionism.
POPE: I understand that feeling. In fact, he and I have had this discussion a couple of times. A couple of my things got close to looking like they were going to come through for film stuff [but didn't]. I mean, there's definitely a downside to that aspect of it. But then again, I think that you look at a guy like [Alex] Toth--he's one of the biggest mysteries in the comic industry. If anything, everyone has a timeframe, like an arc, if you want to think of it in that way. Some guys are intended to draw for their entire lives, like [Joe] Kubert, and some guys like Bernie Krigstein draw for a very short time. I think also when you're good like Mignola and you have a good idea, something that's really strong, the opportunities get bigger and bigger. It'd be interesting if you could interview someone like Warren Ellis or [Neil] Gaiman and ask them about that. I've often wondered, ultimately, about those guys. Look at someone like Gaiman who essentially isn't a professional cartoonist. He's definitely put in a lot of trench work in comics, but I think that he's the next guy to break out and really become even more like a public figure for comics. I think that he's going to be big.
I guess that he already is. I mean, his prose novels certainly do him well.
POPE: Yeah, but you've never seen Stephen King direct a movie, do you know what I'm saying?
Well, you have, but it was "Maximum Overdrive," which by his own admission the worst Stephen King movie ever made, which is saying something. [Laughter] To shift gears, what are you working on now and what's coming up next?
POPE: I have a new issue of THB [THB: Comics from Mars #1, on sale at the San Diego Comic-Con]. I'm excited. I've been to Ray Kurzweil's website. Do you know this guy?
The Singularity.
POPE: Yeah. He really blows my mind, and I'm like, "Man, I'm tired of seeing good ideas that I come up with appear in other places. I have to start getting this stuff out." So that was a huge inspiration for me. Then I'm working on some sort of announcement for THB, which I hope to have together by San Diego. In the short term I'm gearing up for a number of other things. The joke is that I have a dog in this fight and a dog in that fight, and a friend of mine said, "You have so many dogs that you have a dog sled." [Laughter] I've got a few illustration things coming up. I'm doing more work for Wired and GQ and I'm doing some sort of project for Coca-Cola. I'm not entirely sure what it's going to be--some sort of poster. That's just the illustration and advertising side of it. I'm kind of preparing for this design conference in some form in Amsterdam. I need to get a better sense of what the thesis will be for the talks, but I have an idea what I'm going to do for that. Then in the short term, or I guess in terms of comics, I'm working hard on this French book that I'm doing called Bionica [for publisher Dargaud]. And I'm trying to get enough Battling Boy [from First Second] together. I've been working on this thing for a year. We're not publishing like a one-shot for San Diego, which we've discussed. It's too soon to do that, but we're definitely going to have sequential stuff to show people. It's a 400-page book. It's huge.
That's got to be the biggest thing that First Second has published.
POPE: It's the biggest thing they've done. After Batman I felt so contained because of how long I was taking. [DC VP-Executive Editor Dan] DiDio was like, "Hey, can you cut some of this material?" That was better for [Battling Boy] because it forced me to learn how to edit for comics, which has only been strengthened by working in film and getting to know film editors and really watching the process and how it's done. But in this case I can actually use the 400 pages, in reaction to Batman and feeling like I could make this 20-page fight sequence 35 pages. So that's going to be the fun there. It's designed to be a story that's fairly simple and fairly mythic, so it's hopefully fairly universal, but there's a lot of room for character development and fantastic imagery. I've got a few things going in there that have hopefully never been seen before in comics. That's really what I want to do with this thing, in the same way that when you watch "Crouching Tiger" you're like, "Holy sh--, I've never seen that before."
Absolutely. I remember that so vividly.
POPE: That's what I want. There's massive destruction in Battling Boy. There's tons of fights and crazy things. Building on Batman, I really want to get into the physical aspects of the hero, the superhero. I've got a huge cast of villains and they're all really funny. There's a whole bunch of little eddies of storytelling. There are little petty disagreements that the monsters have amongst themselves that play back into the main storyline. It's the kind of stuff that I do in THB; I'm just giving myself some breathing space to improvise. It's in full color, which is nice too. That's the great thing about Solo and Batman. Having done enough stuff in color--that's a challenge when you've done probably done 1,000-plus pages in black and white. Making a jump to color is a new way of thinking, because suddenly it's like going into a new dimension. Color establishes so much of a mood and timing and these other aspects, control with the eye looks. Well, I don't want to say that it's another dimension, like 2-dimension to 3-dimension. It's just different somehow.
And you're doing a dream-comics thing too?
POPE: I've got this ongoing thing [called Psychenaut] that it looks like Dargaud is going to publish in French, and I'm sure that we can find someone here. It's reacting to the body of work that Rick Veitch and Winsor McKay have done in dreams. I know that other people have done some--David B.'s done some. There's an interesting…I guess you have to call it a sub-narrative to dreams. I find that I have repetitive imagery in my dreams. That's the thing. I just do these for myself. I was in Spain with Yves Schlirf, my editor for Dargaud, and was like, "Oh, check these out." He was like, "These are great. Let's publish them." So I have 20 or 25 of them, and there's really no rush on this. It's just when I get the time and the interest on getting the next one down. When we get enough, we'll publish it.
That's a lot of projects.
POPE: I know it's a lot, but it keeps me out of trouble usually. Sometimes, anyway. At least before midnight.