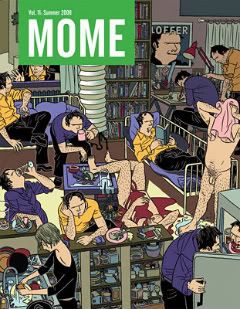 Mome Vol. 11: Summer 2008
Kurt Wolfgang, Al Columbia, Killoffer, Nate Neal, Ray Fenwick, Eleanor Davis, Dash Shaw, John Hankiewicz, Emile Bravo, Andrice Arp
Conor O'Keefe, Tom Kaczynski, Paul Hornschemeier, writers/artists
Eric Reynolds and Gary Groth, editors
Fantagraphics, March 2008
120 pages
$14.99
Buy it from Fantagraphics
Buy it from Amazon.com
I've said it before and I'll say it again: Mome is a heckuva value on the dollar for fans of alternative comics. Itss range of style, tone, and (yes) quality simply give you a lot to chew on. In this particular volume, for example, some contributors hand in their best stuff yet. Al Columbia essentially creates my ideal horror comic (as my past stabs at the stuff would probably indicate) with the possibly BTK-inspired silent story "5:45 A.M." Tom Kaczynski produces the knockout he's clearly had in him for some time with "Million Year Boom," another one of his psychoeconomic fables, one where his trademark mounting sense of disconnection and dread wind their way through several symbolically engrossing episodes (a beautiful mystery woman, strange stone circles, phantom poopers) toward a legitimately surprising and powerful conclusion. Eleanor Davis metonymizes last-minute life-saving action in a series of still panels soaked in loose watercolor in "The 10,000 Rescues." Dash Shaw combines his love of science fiction and clever use of color with his art school background to uncomfortable effect in "The Galactic Panels," a story an artist and his acolyte that demonstrates an astute understanding of how to manipulate time within a story. Paul Hornschemeier's wordy short prose story "The Guest Speaker" nearly garnered a "tl;dr" from me, but after I bit the bullet I was impressed by the Vonnegutian address he grants the title character and the overall tone of jealous resentment and loss we feel regarding our college-aged selves. (At least I do. Don't you?) And of course, cover artist Killoffer does his thing with alarming alacrity; it might be nice to see something that doesn't involve a million Killoffer doppelgangers get translated, if such a thing exists, but I'll take it.
Yet at the same time a few contributors explore blind alleys. Emile Bravo does another pictogram-heavy political-commentary strip, and at this point I'm kinda like yeah, okay, this is what you do. Newcomer Nate Neal and regular Ray Fenwick do the umpteenth "they're cute and vulgar, yuk yuk yuk" underground-indebted comics you've seen. Neal's chops are there and his color palette is ambitious but the parts never feel like a whole. I preferred the work of the other new additon, Conor O'Keefe, whose wispy line is reminiscent of Winsor McKay had he exchanged manic whimsy for melancholy, though the dialogue feels forced. I'm a little concerned that the book's gestalt comes off a little undercooked, but I'll be back for Vol. 12, duh.