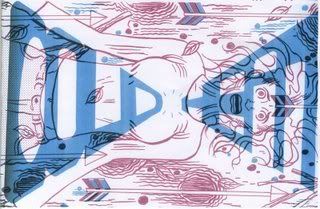 Cold Heat Special #3
Frank Santoro & Dash Shaw, writers/artists
PictureBox Inc., 2008
16 pages
$3
Buy it from PictureBox, maybe
I was an enthusiastic early supporter of Cold Heat--you may know me as the guy who wrote about it for Wizard, which is certainly how its creators know me. Perhaps it's the associations raised by that experience that make me think there's something fitting about co-creator Frank Santoro spinning off a Cold Heat-verse, complete with guest artists, kinda like what Mike Mignola is doing with Hellboy and the B.P.R.D. This particular one-shot guest stars rising star Dash Shaw, who seems to do handsomer work every time I look at a new thing from him. In this case, though, he surely owes a lot to the layouts provided by Frank Santoro, who makes excellent use of the pages' landscape format by providing plenty of images that lend themselves to that type of framing--protagonist Castle sneering out a bus window at a cop passing by on horseback in the foreground, a cavalry of knights galloping through a forest or charging directly at the reader, Dark Knight Returns-style. For his part, Shaw draws faces like no one else in comics (as usual), effectively conveys the cacophony of mass-transit public address systems, and crafts an striking fold-out cover.
Until we see the conclusion of Cold Heat it's difficult to tell whether this alt-genre romp will amount to more than the sum of its parts or less, and I could see that being a point in the minus column for potential buyers of such books as these, but for now I'm enjoying the ride.